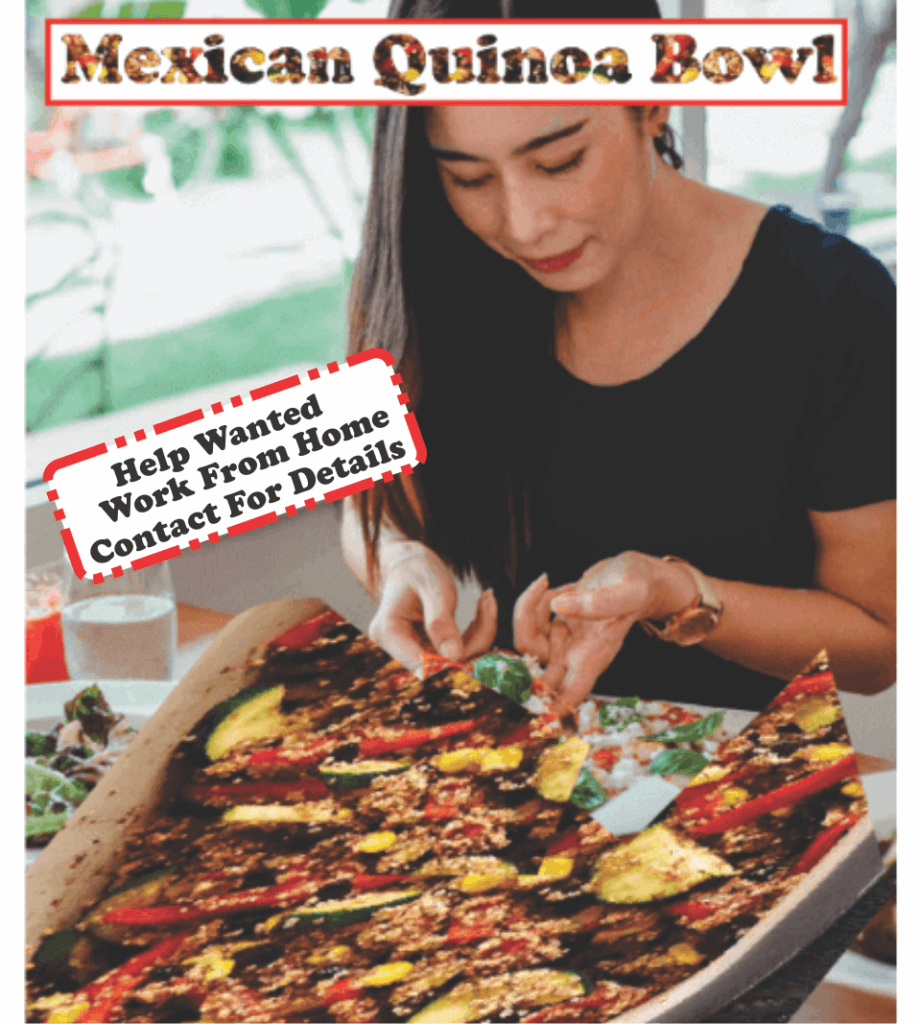 Sharing is caring: GracefulTouch.org/blog/mqb
Pampered Chef Independent Consultant

Please Like our FB Healthy Kitchen Page @ www.facebook.com/GTHealthyKitchen/


Ingredients
1 cup (250 mL) uncooked quinoa
1 cup (250 mL) vegetable broth
1 orange or red bell pepper, stem removed, seeded
1 medium zucchini, ends trimmed and cut into 3" (7.5-cm) pieces
1 cup (250 mL) fresh corn kernels (about 2 ears)
2 garlic cloves
1 can (15 oz/425 g) low-sodium black beans, drained and rinsed
1 can (14.5 oz/411 g) fire-roasted diced tomatoes, undrained
1-2 tbsp (15-30 mL) Tex-Mex Rub
¼ cup (50 mL) fresh cilantro leaves
Diced avocado, sour cream and lime wedges (optional)
Directions
Combine the quinoa and broth in the Deep Covered Baker. Cover and microwave on HIGH for 10 minutes.
Meanwhile, cut the bell pepper into quarters and the zucchini in half lengthwise. Using the Quick Slice, cut the bell pepper (skin-side up) into strips. Slice the zucchini halves crosswise.
Remove the baker from the microwave. Stir in the vegetables, garlic pressed with the Garlic Press, beans, tomatoes with juice, and rub.
Microwave, covered, for 8–10 minutes, or until the quinoa has absorbed the liquid.
Remove the baker from the microwave and let it stand, covered, for 5 minutes.
Snip cilantro in a small bowl with the Professional Shears.
To serve, sprinkle the quinoa with cilantro and top each serving with avocado and sour cream, if desired.
Yield:
5 servings of 1 1/2 cups (375 mL)
Nutrients per serving:
Calories 230, Total Fat 2.5 g, Saturated Fat 0 g, Cholesterol 0 mg, Sodium 660 mg, Carbohydrate 46 g, Fiber 9 g, Sugars 8 g, Protein 11 g


Cook's Tips:
2 tsp (10 mL) chili powder and 1 tsp (5 mL) of ground cumin can be substituted for Tex-Mex Rub.
To make this recipe on the stovetop, increase vegetable broth to 1½ cups (375 mL). Combine the quinoa and broth in Rockcrok® Dutch Oven and cover. Bring to a boil over medium-high heat; reduce the heat to a simmer for 10 minutes. Continue as directed in steps 2 and 3. In step 4, bring to a simmer, covered, for 15 minutes or until quinoa has absorbed the liquid. Let it stand 5 minutes. Continue as directed.

Top Ingredient Benefits
Garlic is an excellent source of vitamin B6 known to fight common sickness, including Common Cold and blood pressure.
Vegetables are a rich source of B vitamin that helps your body make new red blood cells. 

Yummy Recipe Categories
Click To Contact Your PC Consultant Today
Ask us why Virtual Parties are more fun.
Click To Contact Your PC Consultant Today
Ask us why Virtual Parties are more fun.
Benefits of This Recipe
If there is a dish that tries best to include almost every nutrient is the Mexican Quinoa Bowl. It includes vegetables, fruits, and other natural farm products that are rich in minerals essential in your body.
In this article, we will highlight each ingredient included in this recipe before concluding it is a recipe worth considering.
Uncooked Quinoa
Quinoa is a popular ingredient in health recipes considering it has all nine amino acids. It is gluten-free and is rich in fiber, potassium, magnesium, calcium, vitamin B, iron, phosphorus, and vitamin E.
Vegetable Broth
Vegetables are nutritious and healthy foods for everyone. It helps to maintain your health and supply important nutrients. Vegetable broth is not only delicious, but it also brings many benefits. Vegetable broth is easy to make.
Orange or Red Bell Pepper
Red bell pepper contains almost every vitamin that your body needs to stay healthy. Some of the vitamins packed in this ingredient include vitamin A and potassium. Red bell pepper also has significant doses of iron, folate, and fiber.
Fresh corn Kernels
Corn kernels serve two purposes in this recipe. First, it is used to smoothen the texture of the recipe. Second, it is supplying this recipe with essential minerals which include fiber, zinc, copper, magnesium, iron, and manganese.
Garlic Cloves
Whenever there is a discussion on the best natural products to improve human health, you can be sure to have garlic in the basket. Garlic is rich in nutrients, and it has low amounts of calories. Garlic is known to fight common sickness, including Common Cold and blood pressure. The Active Compounds present in garlic products are in charge of lowering high blood pressure.
The following two tabs change content below.
Guy is a dedicated vegan, who prefers natural remedies to treat root causes of physiological problems, instead of turning to medication to merely treat symptoms. When he learned in December 2017 he was suffering from high blood pressure (hypertension), he turned to massage as a potential answer for his problem. Rather than engage massage as a client, Guy chose to become a massage practitioner and enrolled in the Black Hills School of Massage in Hermosa, SD. He is now licensed to provide Swedish, Deep Tissue and Trigger Point massage among other modalities. He, and his wife Irene who is also a massage practitioner, have joined forces with the Fountain of Youth Waterstore in Rapid City where they provide clients with comforting relief from body aches and pains. Be sure to ask Guy what happened with his blood pressure when you see him for your initial treatment session.
Latest posts by LMT Guy Siverson (see all)