The bamboo tree was traditionally used to make beauty products and by some people to make furniture. However, the use has changed over time and now many people know it as a massage tool. Nathalie Cecilia is behind the popularity of bamboo sticks because she believes they played a very big role in making her wrists and hands heal. Through the use of the sticks, she explained that massage was felt deep in the tissues and it was more penetrating. This is perhaps why you should search Rapid city warm bamboo massage therapy near me to get connected to a nearby therapist who offers the service.
Depending on what you want to achieve, different lengths or thickness of a warm bamboo stick is recommended. For example, thicker sticks are better for rolling or gliding larger muscles. In many cases, your therapist will use these sizes when working on thighs and back. Shorter and thinner sticks work best on smaller surfaces and that is why they are preferred when working on trigger points and tight knots. Massage therapists prefer using warm bamboo sticks in cases where there is a need for repeated deeper pressure work. The stick adds the pressure significantly and that's why every deep tissue massage therapist should have one.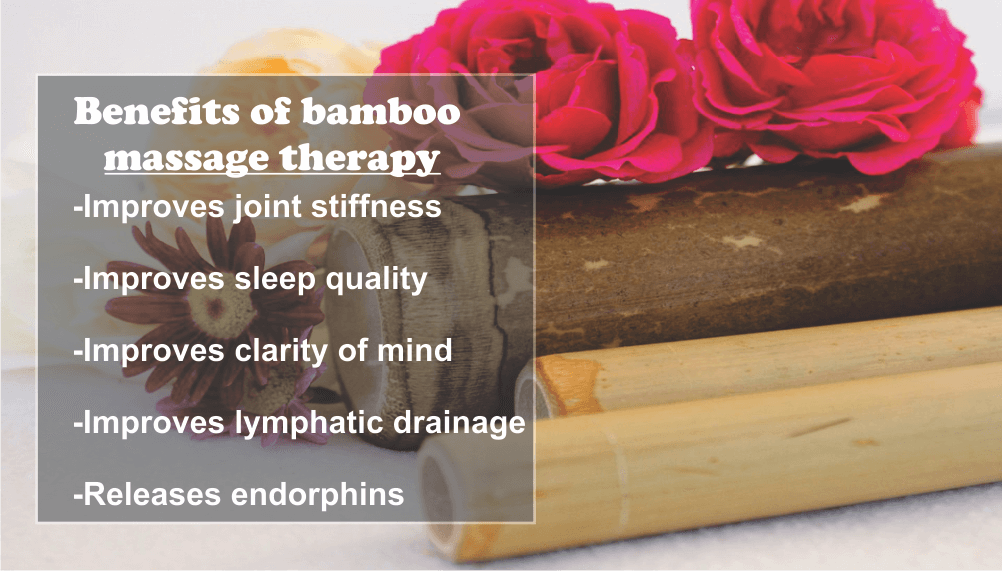 If you are experiencing deep wrist or hands pain, you should always visit your nearest warm bamboo massage therapist. In Rapid City, there are many warm bamboo massage therapists and you can make use of their services. Graceful Touch is one of the best in Rapid City and it is run by Licensed therapists. Graceful Touch address is 2040 W Main St #209 or you can also contact us via phone at 605-574-1998.
The capability of bamboo sticks to sustain heat during a massage makes it very efficient. Heat can penetrate deep into the tissues and the deeper the heat goes the more your muscles get relaxed. Sometimes the problem is tensed muscles as a result of cold and by just applying heat the problem can be solved.
Some of the well-known benefits of warm bamboo massage therapy include:
Acts a natural antioxidant
The bamboo tree is naturally an antioxidant because it contains silica a product that ensures efficient absorption of magnesium, calcium, and potassium in the body. Some of the advantages of having the essential minerals in the body include having glowing skin that is free from irritations.
A better way to penetrate into the deeper tissues

Bamboo sticks especially when warmed can reach very deep muscles that cannot be reached using other techniques. If you get a massage from a therapist who uses the stick you will feel relaxed much faster. Many people visit massage therapists with burning pain and the duration they will take to heal matters.
Provides another level of relaxation

Any massage therapy done by an expert will help you relax but the fact remains, the level of relaxation differs. If you search rapid city warm bamboo massage therapy near me, you will enjoy twice or even thrice relaxation as compared to other massage modalities. Kneading and rolling the muscles using the stick broadens the targeted area in a gentle manner and that is why the relaxation is optimal.
Improved blood flow

The warmth stimulates the blood vessel in an amazing way, especially when massaged with help of warm bamboo sticks. The rolling of skin also enhances the flushing of toxins that build in the muscles. Toxins that build in the muscles usually cause fatigue and irritation but through massage, relaxation can easily be achieved. Blood supply nutrient and oxygen to all parts of the body and that is why your entire health is likely to get improved by simply having a massage.
Clear muscle tension and inflammation
Inflammation and tension are mostly a result of insufficient blood flow or the build-up of toxins in the muscles. Warm bamboo sticks stimulate muscles and by doing so the blood flow is increased. In many cases, pain and tension are usually a result of blockage of blood pathways and therefore a massage clears the pain almost immediately. Massage can also enhance relief for people living with chronic conditions such as arthritis and migraines. In fact, many consider massage as a natural painkiller.
Warm bamboo massage offers both emotional and physical benefits. One major difference between warm bamboo massage and other techniques is it treats muscle pain by making them more flexible and softer. Unlike other massage techniques that are aimed at achieving relaxation, bamboo massage is more like a treatment.
Your muscles might become painful anytime and therefore knowing the nearest warm bamboo massage therapist can be of much help. There are several ways to connect to a nearby person who can offer the service by the simplest one is searching for rapid city warm bamboo massage therapy near me if you live near Rapid City.
The following two tabs change content below.
Guy is a dedicated vegan, who prefers natural remedies to treat root causes of physiological problems, instead of turning to medication to merely treat symptoms. When he learned in December 2017 he was suffering from high blood pressure (hypertension), he turned to massage as a potential answer for his problem. Rather than engage massage as a client, Guy chose to become a massage practitioner and enrolled in the Black Hills School of Massage in Hermosa, SD. He is now licensed to provide Swedish, Deep Tissue and Trigger Point massage among other modalities. He, and his wife Irene who is also a massage practitioner, have joined forces with the Fountain of Youth Waterstore in Rapid City where they provide clients with comforting relief from body aches and pains. Be sure to ask Guy what happened with his blood pressure when you see him for your initial treatment session.
Latest posts by LMT Guy Siverson (see all)