In today's world where there are children, daycare can often be found. That's why we created a directory for day cares in Rapid city for your convenience.
What You Should Know About This Rapid City Daycare Directory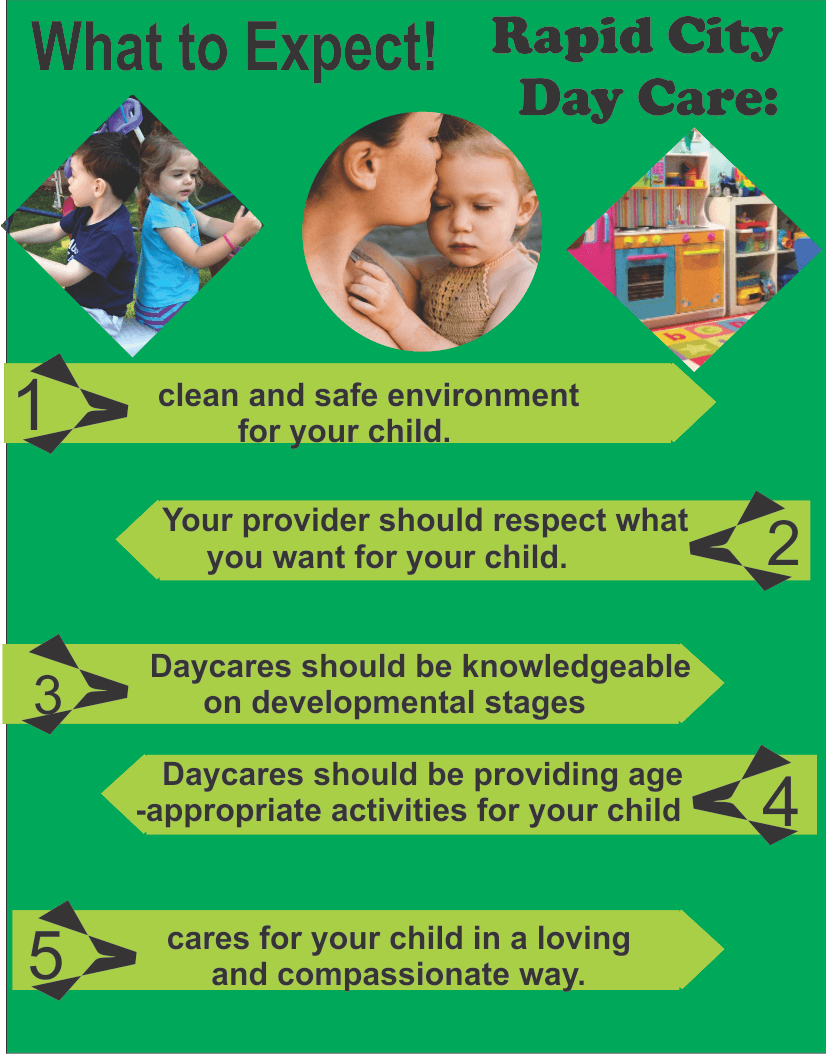 Busy parents are all too familiar with one important fact.
Living in the digital age is a super busy place to be.
Question is, what do you do with your precious children?
When Rapid City Daycares become the answer to that question you need a place to turn.
Unfortunately, we have a problem.
Due to the hectic lifestyle that we are all living things change rapidly. That means new daycares come on the scene while others disappear.
This leads to trouble with keeping this daycare directory accurate and fresh for everyone.
The good news is that by commenting below we can all help one another have the latest greatest details available about daycares in Rapid City.
Is there something new that needs to be shared?
Do so in the comments below. As I have an opportunity, I will update my info accordingly.
Thanks for your help.
List of Day cares in Rapid City and their Addresses
Harmony Childcare and Preschool of Rapid City
ADDRESS: 606 E Indiana St, Rapid City
CONTACT: (605) 343-5437
WEBSITE: Harmony Childcare and Preschool of Rapid City
FACEBOOK

Harmony daycare believes that children should grow at their own pace. This why having a teacher to nurture their strengths is very important. Harmony daycare does precisely this, and they spend time with your kid until all the potential is unlocked
Little Owl's Daycare and Preschool
ADDRESS: 110 N Cambell St Suite E, Rapid City
CONTACT: (605) 718-0132
WEBSITE: Little Owl's Daycare and Preschool
FACEBOOK

Little owl daycare is determined to ensure that your child brain and physical growth are well balanced. They use a curriculum that accommodates both physical lessons to keep fit and conventional learning syllabus.
Our Little Treasures Daycare and Preschool LLC
ADDRESS: 1123 Kansas City St, Rapid City
CONTACT: (605) 431-7677
WEBSITE: Our Little Treasures Daycare and Preschool LLC
FACEBOOK

Little treasure mainly focuses on children aged between 6 weeks and 12 years. Their mission is to provide families with a safe facility where their children's talents and strength can be nurtured. Their curriculum is age-specific, and therefore each child gets what they deserve
Little Nest Preschool
ADDRESS: 3459 Jet Dr, Rapid City
CONTACT: (605) 430-4268
WEBSITE: Little Nest Preschool
FACEBOOK

Are you a busy parent and you are looking for a safe place for your child? Little nest offers high-quality early childhood education to prepare your baby for the next level of education. By so doing, parents always have peace of mind at their workplace.
Fit-N-Fun Child Care & Preschool
ADDRESS: 3660 Sturgis Rd, Rapid City
CONTACT: (605) 341-0078
WEBSITE: Fit-N-Fun Child Care & Preschool
FACEBOOK

This facility is built in such a way that it resembles your homes environment. At this facility, children develop their talents and essential skills since the trainers here can quickly notice the interests of your kid.
Kids Kastle
ADDRESS: 1620 Concourse Ct, Rapid City
CONTACT: (605) 348-9731
WEBSITE: Kids Kastle
FACEBOOK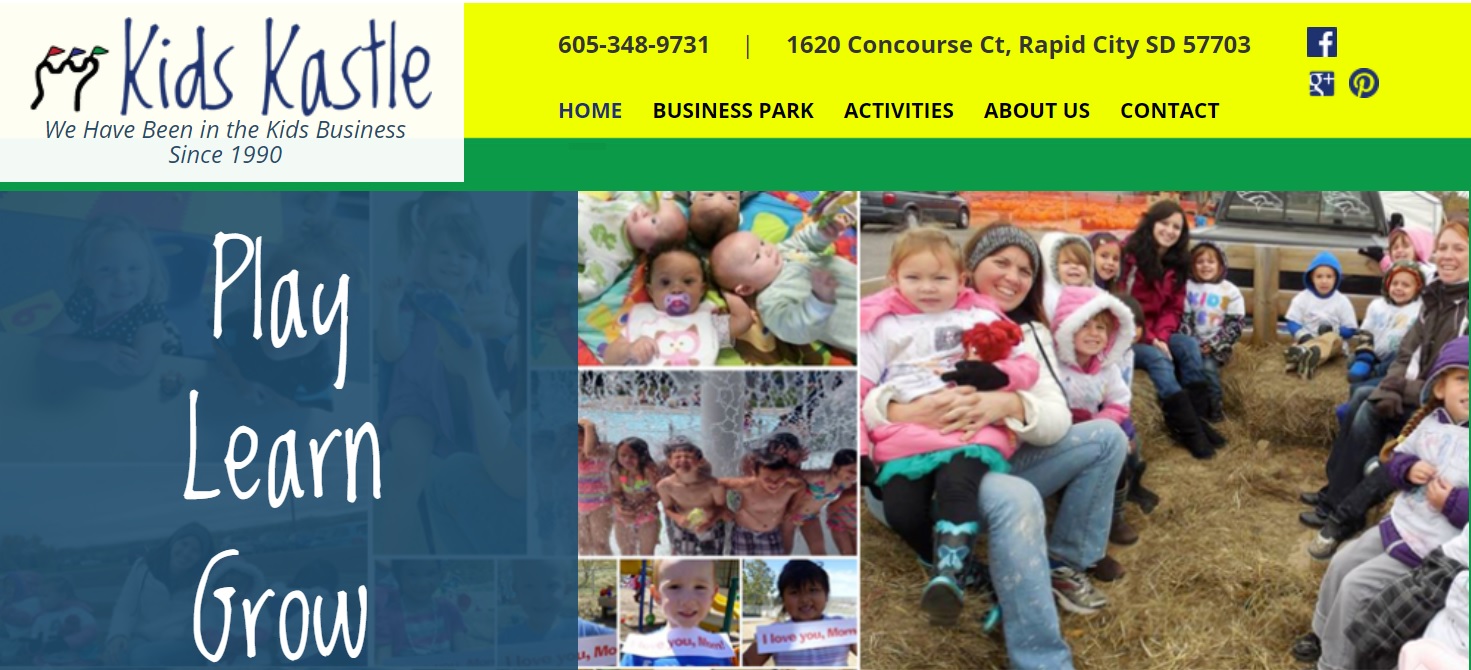 This facility's main focus is making sure kids reach their full potential in preparing your children for Kindergarten. They also staff only the very best teachers and caregivers. They make sure that all staff are childcare experts and trained in CPR.
CJ's Playpen Daycare & Preschool
ADDRESS: 4021 Range Rd, Rapid City
CONTACT: (605) 484-7023
WEBSITE: CJ's Playpen Daycare & Preschool
FACEBOOK

CJs Plaspen is a certified babysitting facility. All members who are entrusted with your child go through special education, such as the first aide to ensure maximum care for your child. The team here uses songs, toys, and games to spices their lessons thus ensuring the kids develop a positive attitude towards education
Children's House Montessori
ADDRESS: 3520 W Main St, Rapid City
CONTACT: (605) 341-0824
WEBSITE: Children's House Montessori
FACEBOOK

Janell Jewett is the founder of this facility. The main goal for setting up this preschool was to provide education opportunity to families living in Rapid City and surrounding. The facility has now grown big, and currently, they can make an enrolment s of up to 135 children.
Dot 2 Dot Child Care

ADDRESS: 1414 Degeest Dr, Rapid City
CONTACT: (605) 716-0574
WEBSITE: Dot 2 Dot Child Care
FACEBOOK
Susan Dotsan developed a passion for children at a very early stage. She enjoyed having a good time with families such as camping and hiking together. This is the same passion that prompted her to begin a daycare facility, and she is doing it very well.
Why Parents Need Massage Therapists
No matter if your child just started with daycare or has been going for a while, raising a family comes with its fair share of stress and strain.
Massage Therapists reduce stress and relieve pain all in the course of an hour.
This empowers your ability to return to the parenting scene with fresh energetic vigor.
The directories that follow will guide you to a variety of options when considering massage.
Why are Day cares in Rapid City important?
Daycares are typically used when a parent needs quaily childcare for their children while they work. Daycares are typically high quality and they keep your children safe and healthy while incorporating some learning activities.
Some daycares are even open later in the day so that if you have errands to run you can get things done after work as well without having to worry about finding someone to keep your children to do them.
Your health and well-being are just as important as your child's, so this would be a great way to incorporate some time for yourself and work on your health. A great way to do that would be to have a Deep Tissue Massage. While it can help you relax, it also heals back pains and other conditions caused by strain while working.
What should a parent expect from Day Cares in Rapid City?
When sending your child to daycare it can be hard to know what to expect from your daycare provider. The following are things you should look for:
You want to find a daycare that has a very open line of communication. They should be able to reach out to you if something is going on with your child and you should be able to reach out to them if you have questions.

Your daycare provider should provide a clean and safe environment for your child.

You should be able to pop in at any time during the day if you want to check on your child's well-being.

Your provider should respect what you want for your child.

They shouldn't offer unsolicited advice or critiques of your parenting skills.

Your daycare should be reliable and you should be able to count on them for childcare when it is requested. If they have a change in hours, they should be able to give you those changes in advance so you're able to accommodate them.

Daycares should be knowledgeable on developmental stages and milestones to help your child reach those important milestones.

Daycares should be providing age-appropriate activities for your child. You do not want your toddler in a room with tiny toys and they should ensure that doesn't happen.

Your daycare provider should be aware of all things that go on with the children in her home and know where every child is at all times.

Parents should have a list of written policies and procedures from their daycare provider.

Most important of all you want a daycare that cares for your child in a loving and compassionate way. Your provider should make your child feel safe and happy.
Why Day cares in Rapid City Take Safety measure seriously
When you're looking into finding somewhere for your child to stay while you're away working during the day you want to make sure that you find a nice and safe environment for them to be in so that you're not constantly worrying while you're working.
Every state has regulations in place that every daycare has to abide by to keep their daycare safe for every child. There are routine inspections that are performed by the state to ensure they are keeping up with these regulations. If you file a complaint about a daycare, they are followed up on and inspected to see if the wrong-doing is still going on and worked on to be resolved quickly.
If you ever get too stressed out about the safety of a facility you should reach out to local officials and report them. Another way to destress and let go of some of the worries while waiting on it to be investigated would be to get a Deep Tissue Massage and just relax!
Why most Day cares in Rapid city incorporate Early childhood education
Most daycares have at least a small portion of education incorporated in the day to day activities. Younger children typically learn while playing as well as structured learning programs. A lot of children who attend a daycare up to the preschool level know their alphabet and write letters and sight words as well as can do basic addition and subtraction.
Learning all these things at a younger age and going somewhere outside of the home or a family member's house during the day helps the child transition into a traditional Kindergarten environment when the time comes.
Socialization is an important factor in day cares in Rapid City
A lot of parents worry that their child isn't around enough children their age or that they will miss out on making friends. By taking them to a reputable daycare, you will be sure that they are around children their own age and making friends at an early age.
This also helps with language skills even before a child is talking they are constantly listening and taking in everything around them. So hearing other children around their age is a great way for them to learn to use that language when they are old enough to. Children who aren't around other children before they go to kindergarten can sometimes have a harder time adjusting to being around other children and feeling like they fit in with them.
Daycares in Rapid City put your child's health first
Day cares in Rapid city make sure that your children are eating healthy well-rounded meals and snacks. Daycares also are required to make sure that your child gets enough exercise and physical activities throughout the day.
Children usually enjoy going to daycare because they get to play games and do activities with other kids their age which makes exercise more fun and not like a chore. Daycares know how to make it fun for all kids of different ages.
Putting your health first is just as important as your children. Massage therapy is a great way to incorporate your health and well-being. Massage therapists also make sure that you are very relaxed during the process as well!
Daycare in Rapid City,SD FAQS?
How do daycares operate in Rapid City?
Rapid City daycares provide a variety of daycare services, which include part-time and fulltime. A daycare can be operated in or out of an individual's home. Depending on the daycare you choose, there might be a variation of the education system. An education system may cover a single language or multiple languages.
How can I find the best dare care in Rapid City, SD?
Finding the right daycare for you can be difficult, especially if you don't follow the correct procedures. The best way to filter down the best daycare for you is based on distance and Zip code. Reviews and operational hours should also be considered when seeking a daycare service.
hat question a daycare provider expect from parents?
To avoid the future in convinces, a daycare facility in Rapid City, SD should be ready to provide accurate information on operation hours and terms of operation. Providing licensing information is also a great way to show the daycares integrity.
The following two tabs change content below.
Guy is a dedicated vegan, who prefers natural remedies to treat root causes of physiological problems, instead of turning to medication to merely treat symptoms. When he learned in December 2017 he was suffering from high blood pressure (hypertension), he turned to massage as a potential answer for his problem. Rather than engage massage as a client, Guy chose to become a massage practitioner and enrolled in the Black Hills School of Massage in Hermosa, SD. He is now licensed to provide Swedish, Deep Tissue and Trigger Point massage among other modalities. He, and his wife Irene who is also a massage practitioner, have joined forces with the Fountain of Youth Waterstore in Rapid City where they provide clients with comforting relief from body aches and pains. Be sure to ask Guy what happened with his blood pressure when you see him for your initial treatment session.
Latest posts by LMT Guy Siverson (see all)