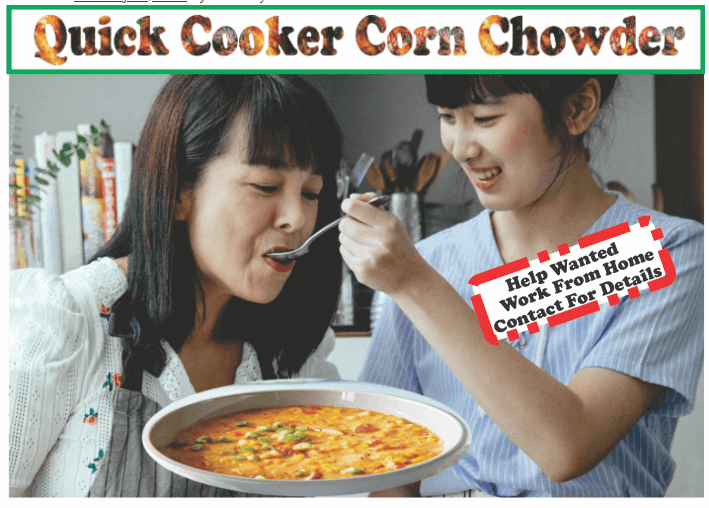 Sharing is Caring: GracefulTouch.org/blog/qccc
Pampered Chef Independent Consultant

Please Like our FB Healthy Kitchen Page @ www.facebook.com/GTHealthyKitchen/


Ingredients
1 medium onion
1 red bell pepper
1 green bell pepper
3 small red potatoes (10 oz./300 g)
1 tbsp (15 mL) olive oil
3 garlic cloves
2 tsp (10 mL) Smoky Barbecue Rub
1½ tsp (7 mL) salt
4 cups (1 L) unsweetened almond milk, divided
3 cups (750 mL) fresh or frozen corn kernels
2 tbsp (30 mL) cornstarch
2 green onions
Directions
Cut the onion into chunks and place them into the Manual Food Processor; process until coarsely chopped; set aside. Cut the top off the bell peppers and remove the seeds and veins with the Scoop Loop®. Cut the peppers into quarters. Place the peppers into the processor and process until coarsely chopped.
Slice the potatoes with the Simple Slicer on the No. 2 setting, then quarter the potato slices.
Set the Quick Cooker to SEAR and press START. Heat the oil in the inner pot for 3 minutes. Add the onion, bell pepper, garlic pressed with the Garlic Press, rub, and salt. Cook uncovered for 4–5 minutes, stirring occasionally.* Press CANCEL.
Add 2 cups (500 mL) of the almond milk, corn, and potatoes to the inner pot. Lock the lid and select the SOUP/STOCK setting. Adjust the time to 8 minutes and press START.
When the timer is up, press CANCEL. Press the steam-release button to manually release the pressure.
Remove the lid, set to SEAR, and press START. Add 1¾ cups (425 mL) of the almond milk to the pot and bring to a boil. Dissolve the cornstarch in the remaining almond milk and stir the mixture into the soup. Stir constantly for 5–6 minutes, or until the soup is thickened. Press CANCEL.
Thinly slice the green onions and garnish before serving.
Yield:
Nutrients per serving:
U.S. nutrients per serving: Calories 150, Total Fat 4.5 g, Saturated Fat 0 g, Cholesterol 0 mg, Sodium 760 mg, Carbohydrate 27 g, Fiber 3 g, Sugars 4 g, Protein 4 g
Cook's Tips:
Smoky Barbecue Rub gives this soup a deep, smoky flavor, so it's rich and savory without any meat or dairy.
*Safety Tip: The stainless steel inner pot will be hot during and after cooking. Use a long-handled utensil when stirring and removing food.
Top Ingredient Benefits
Olive oil is rich in  vitamin E, iron, copper, and calcium and therefore it helps in maintaining a healthy heart and the entire body.
 Red potato are excellent sources of iron and calcium and therefore they help in strengthening of bones and blood building.
Yummy Recipe Categories
Click To Contact Your PC Consultant Today
Ask us why Virtual Parties are more fun.
Click To Contact Your PC Consultant Today
Ask us why Virtual Parties are more fun.
Benefits of this Recipe
Quick Cooker Corn Chowder contain different components that are super good in detoxification. Other components such as olive oil is great in maintaining a heathy heart and therefore it is obvious this recipe can help in improving your overall health.
To understand the strength of this recipe this article with highlight the major ingredients used and the benefits associated with each ingredient
Red Potatoes
Red potatoes are rich in different nutrients major ones being potassium, iron, vitamin B and fiber. Significant amount of fiber comes from the potato skin which is super thin. Following its fineness, it hard to feel its texture or even taste.
Olive Oil
Olive oils are rich in healthy fats that helps in maintaining a healthy heart through lowering cholesterol levels
Garlic Cloves
Whenever there is a discussion on the best natural products to improve human health, you can be sure to have garlic in the basket. Garlic is rich in nutrients, and it has low amounts of calories. Garlic is known to fight common sickness, including Common Cold and blood pressure. The Active Compounds present in garlic products are in charge of lowering high blood pressure.


Barbecue Rub
Barbecue rub is in charge of creating crust while at the same time adding moisture and flavor.
Unsweetened Almond Milk
Having a high level of cholesterol is the starting point of having all types of illness. Many think that exercises are all you need to lower cholesterol but what you eat also contributes. Almonds are good at burning fats and therefore they can help you maintain a healthy heart.
Fresh or Frozen Corn Kernels
Frozen corns are rich in vitamin C which protects your body cells from being attacked by illnesses such as heart diseases and cancer. Corn also improves eye health through the help of compounds zeaxanthin and carotenoids lutein which prevents lens damage
Green Onions
Onions are a reliable source of vitamin K and they can only be equated to chards or green spinach.




The following two tabs change content below.
Guy is a dedicated vegan, who prefers natural remedies to treat root causes of physiological problems, instead of turning to medication to merely treat symptoms. When he learned in December 2017 he was suffering from high blood pressure (hypertension), he turned to massage as a potential answer for his problem. Rather than engage massage as a client, Guy chose to become a massage practitioner and enrolled in the Black Hills School of Massage in Hermosa, SD. He is now licensed to provide Swedish, Deep Tissue and Trigger Point massage among other modalities. He, and his wife Irene who is also a massage practitioner, have joined forces with the Fountain of Youth Waterstore in Rapid City where they provide clients with comforting relief from body aches and pains. Be sure to ask Guy what happened with his blood pressure when you see him for your initial treatment session.
Latest posts by LMT Guy Siverson (see all)