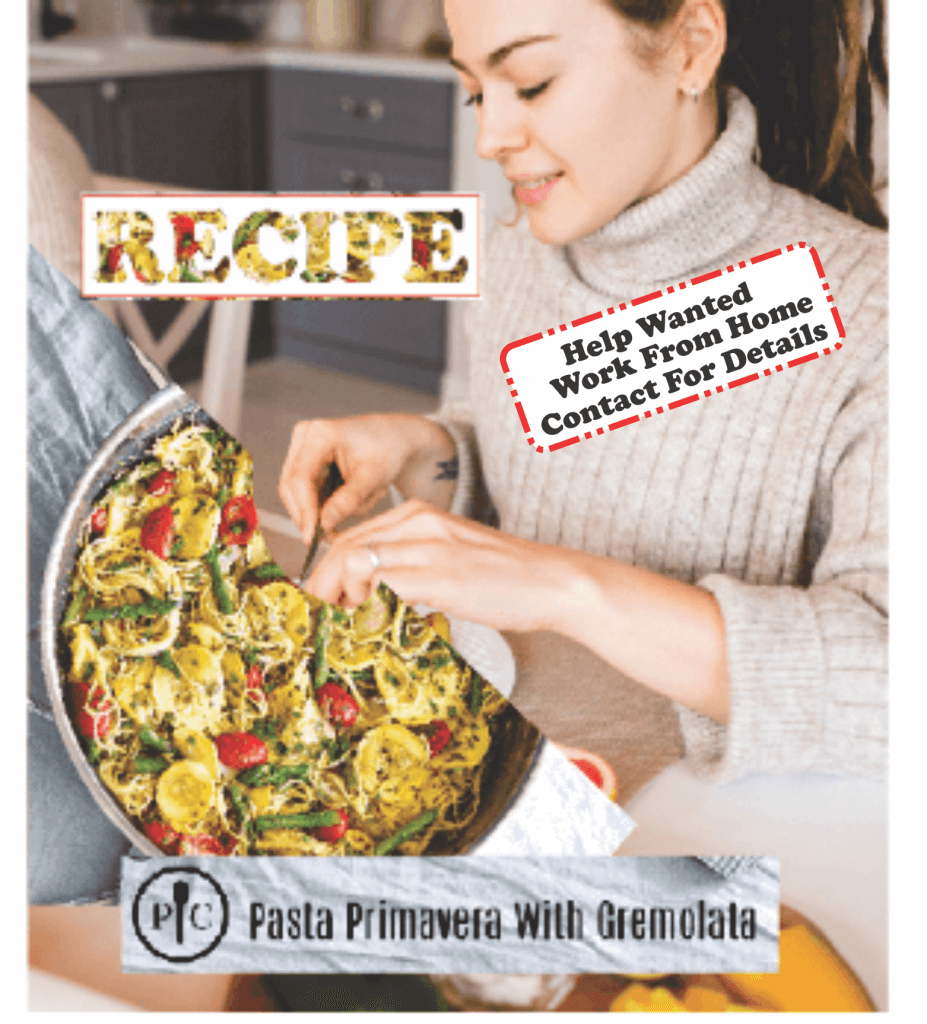 Sharing is caring: GracefulTouch.org/blog/pasta
Pampered Chef Independent Consultant

Please Like our FB Healthy Kitchen Page @ www.facebook.com/GTHealthyKitchen/


Ingredients
1 lemon
1 cup (250 mL) parsley leaves
1 cup (250 mL) arugula
2 garlic cloves, pressed
3 tbsp (45 mL) olive oil
¼ tsp (1 mL) salt
⅛ tsp (0.5 mL) black pepper
½ onion
1 large yellow squash or 2 small
1 oz. (30 g) fresh Parmesan cheese (½ cup/125 mL grated)
1 cup (250 mL) grape tomatoes
1 bunch asparagus, trimmed
1 tbsp (15 mL) olive oil
¼ tsp (1 mL) salt
⅛ tsp (0.5 mL) black pepper
8 oz. (250 g) angel hair pasta
1¾ cups (425 mL) water
Directions
Zest the lemon with the Microplane® Zester. Juice half of the lemon with the Juicer to measure 2 tbsp (30 mL). Add the lemon zest, juice, and remaining gremolata ingredients to the Manual Food Processor and process until the mixture resembles a paste, scraping down the sides as needed.
Use the Quick Prep Food Grater fitted with the slicing blade to slice the onion and squash. Use the fine grating blade to grate the Parmesan. Place the tomatoes into the Close & Cut and use the Coated Chef's Knife to cut them in half. Cut the asparagus into thirds.
Heat the oil in the Stainless Steel Nonstick Wok over medium-high heat for 3–5 minutes. Add the onion, salt, and pepper, and cook for 3–4 minutes. Add the tomatoes and cook for 1–2 minutes, or until the veggies are softened, stirring occasionally.
Break the pasta into thirds. Place the pasta and water into the wok and gently mix with the Large Chef's Tongs. Place the asparagus and squash on top of the pasta. Cover with the lid and reduce the heat to medium-low. Cook for 7–8 minutes, or until the pasta is al dente and veggies are cooked.
Add the gremolata and stir to coat. Serve with the grated Parmesan.
Yield:
Nutrients per serving:
U.S. nutrients per serving (1 cup/250 mL): Calories 270, Total Fat 11 g, Saturated Fat 2 g, Cholesterol 5 mg, Sodium 270 mg, Carbohydrate 35 g, Fiber 2 g, Sugars 5 g, Protein 8 g
Cook's Tips:
To break the pasta into thirds without making a mess, wrap it in a clean, dry towel and twist to break.
Gremolata is an Italian condiment that's usually made with lemon zest, garlic, parsley, and anchovy. Our version omits the anchovy and adds a subtle peppery note with arugula.
Top Ingredient Benefits
Olive oil is rich in vitamin E, iron, copper, and calcium and therefore it helps in maintaining a healthy heart and the entire body.
Grape tomatoes are rich in Vitamin C which help in boosting immunity. Tomatoes also help in reversing leptin resistance, reducing inflammation and it ensures your body is holding the required levels of water.
Yummy Recipe Categories
Click To Contact Your PC Consultant Today
Ask us why Virtual Parties are more fun.
Click To Contact Your PC Consultant Today
Ask us why Virtual Parties are more fun.
Benefits of This Recipe
Pasta Primavera with Gremolata recipe contains different ingredients that boost the immune system of human beings. The nutritional value in the recipe does not complement the sweetness of the dish. Many go for this recipe not because of its nutritional value but its delicious nature. In this post, we will breakdown each ingredient used in the recipe to uncover the overall benefit of this recipe.
Lemon
On the top of the recipe ingredients is a lemon. The benefits associated with lemon are so many but we will only highlight the major ones. Lemons are rich in vitamin C and fiber and these two components are essential for a healthy body. Vitamin C helps in strengthening the immune system while fiber boosts metabolism which is key in weight loss. Some studies have also shown that individuals who eat lemon-related products have a lower risk of cancer. The support is based on the fact that some compounds contained in lemon prevent malignant tumors that commonly develop on the tongues, lungs, and colons of rodents.
Parsley Leaf
Parsley is a leafy plant native to the Mediterranean. There are many species of this plant but the common ones include the Italian flat-leaf and French curly-leaf. Parsley is known to have significant medicinal benefits and over the years it has been used to treat allergies, inflammatory diseases, and conditions such as high blood pressure. Some people also use it to add flavor to food and therefore having it in this recipe is a big plus.
Olive Oil
Research shows that the antioxidants and fatty acids in olive oil have enormous benefits to the human body and it can significantly lower the risk of having heart diseases. Olive oil is a natural product since it is extracted from the fruits of the olive tree. Adding olive oil to this recipe does not only make the dish more delicious but also healthier.
Grape Tomatoes
Having tomatoes in this recipe adds this dish to other diets that help in weight management. Tomatoes help in reversing leptin resistance, reducing inflammation and it ensures your body is holding the required levels of water. Leptin is critical when it comes to balancing metabolism and that why with this recipe you can be sure to manage your weight with much ease.
Black Pepper
For spices lovers, black pepper remains the king and it has been a staple ingredient all over the world for decades. In addition to adding flavor to this recipe, black pepper can be used as an antioxidant. Antioxidants have a variety of health benefits and can be used to manage different types of illnesses.
Closing thoughts
Eating healthy does not necessarily mean eating food that has all forms of nutrients but also the food that you love. There are millions of recipes out there and therefore you have a choice to pick a nutritious recipe that you enjoy eating.
The following two tabs change content below.
Guy is a dedicated vegan, who prefers natural remedies to treat root causes of physiological problems, instead of turning to medication to merely treat symptoms. When he learned in December 2017 he was suffering from high blood pressure (hypertension), he turned to massage as a potential answer for his problem. Rather than engage massage as a client, Guy chose to become a massage practitioner and enrolled in the Black Hills School of Massage in Hermosa, SD. He is now licensed to provide Swedish, Deep Tissue and Trigger Point massage among other modalities. He, and his wife Irene who is also a massage practitioner, have joined forces with the Fountain of Youth Waterstore in Rapid City where they provide clients with comforting relief from body aches and pains. Be sure to ask Guy what happened with his blood pressure when you see him for your initial treatment session.
Latest posts by LMT Guy Siverson (see all)