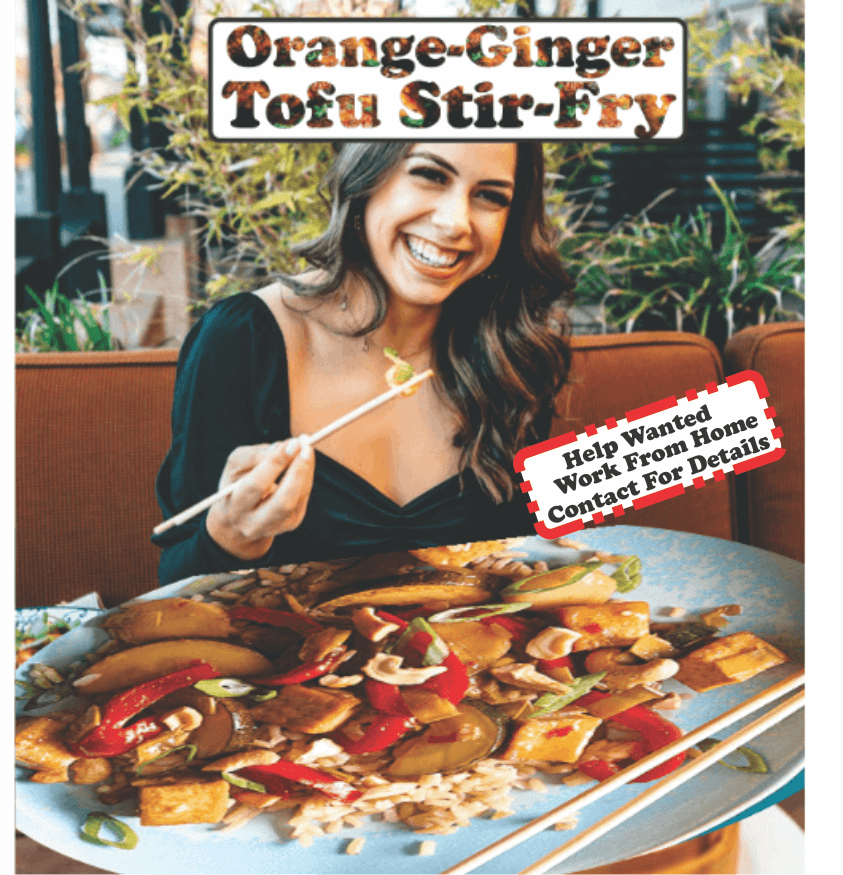 Sharing is Caring: GracefulTouch.org/blog/ogts
Pampered Chef Independent Consultant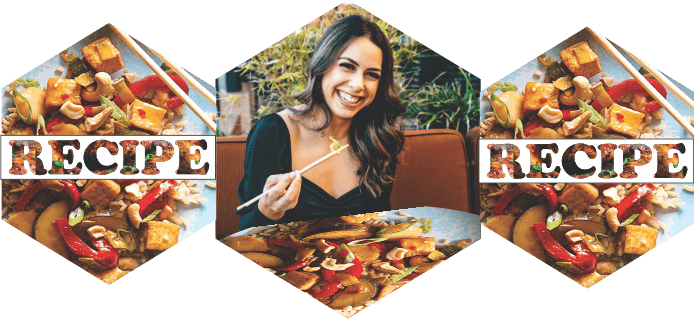 Please Like our FB Healthy Kitchen Page @ www.facebook.com/GTHealthyKitchen/


Ingredients
1 pkg (14 oz. or 350 g) extra-firm tofu
3 tbsp (45 mL) cornstarch
¼ tsp (1 mL) salt
3 tbsp (45 mL) canola oil, divided
1 zucchini
1 red bell pepper
8 oz. (250 g) fresh snow peas
2 green onions
½ cup (125 mL) water chestnuts
2 cups (500 mL) cooked brown rice
¼ cup (50 mL) whole roasted cashews, chopped (optional)
1 1″ (2.5 cm) piece fresh gingerroot, peeled
1 orange
3 tbsp (45 mL) reduced-sodium, gluten-free soy sauce
3 tbsp (45 mL) agave nectar or honey
¼ cup (50 mL) red wine vinegar
2 garlic cloves, pressed
¼ tsp (1 mL) red pepper flakes
Directions
Cut the tofu into 1″ (2.5 cm) squares. Line a Flexible Cutting Mat with paper towels. Place the tofu on the mat and top with another paper towel. Place something heavy, like a sheet pan on top to drain excess moisture.
For the sauce, use the Microplane® Adjustable Fine Grater to grate the ginger to measure 2 tsp (10 mL). Grate the orange to measure 1 tbsp (15 mL) of orange zest. Juice the orange with the Juicer. Add the ginger, orange zest, juice, and remaining sauce ingredients to a Small Batter Bowl and whisk until combined; set aside.
Uncover the tofu and place it in a shallow bowl. Sprinkle with cornstarch and salt; toss to coat.
Heat 1 tbsp (15 mL) of oil in the 12″ (30‑cm) Stainless Steel Nonstick Skillet over medium-high heat for 3–5 minutes. Add all the tofu and sear for 2–3 minutes. Flip and sear for an additional 2–3 minutes, or until it's browned on two sides. Remove the tofu from the skillet.
Trim the ends off the zucchini and cut the zucchini in half lengthwise. Cut the top off of the bell pepper, and remove the seeds and veins with the Scoop Loop®. Cut the pepper into quarters. Slice the zucchini, bell pepper, and snow peas with the Quick Slice.
Thinly slice the green onions; set aside the greens for the garnish.
Heat the remaining oil in the pan. Add the whites of the green onions, zucchini, bell pepper, and snow peas; saute for 4–6 minutes, or until crisp-tender. Add the water chestnuts, tofu, and sauce and stir to coat. Cook for 2–3 minutes, or until the sauce is slightly thickened.
Serve the stir-fry over cooked rice. Top with the reserved green onions and cashews.
Yield:
Nutrients per serving:
U.S. Nutrients per serving: Calories 330, Total Fat 6 g, Saturated Fat 0 g, Cholesterol 0 mg, Sodium 440 mg, Carbohydrate 55 g, Fiber 6 g, Sugars 19 g, Protein 15 g
Cook's Tips:
You can substitute the tofu with 1 lb. (450 g) of chicken tenderloins cut into 1″ (2.5-cm) pieces.
Top Ingredient Benefits
Tofu is rich in protein and contains the essential nine amino acid. Human body uses amino acids to make proteins to help in body building.
Zucchini is packed with very efficient antioxidants such as zeaxanthin and lutein which help in boosting the immune system.
Yummy Recipe Categories
Click To Contact Your PC Consultant Today
Ask us why Virtual Parties are more fun.
Click To Contact Your PC Consultant Today
Ask us why Virtual Parties are more fun.
Benefits of this Recipe
The list of ingredients used in making Orange-Ginger Tofu Stir-Fry is long and it is obvious the list of benefits that comes with this recipe is equally long. The recipe tries to balance almost every nutrient that our bodies need but more importantly those that focus on improving the immune system.
Here are the ingredients used and the benefits they have to the human body.
Extra-firm Tofu
Tofu is rich in protein and contains the essential nine amino acids. It also has minerals that are very useful in the human body namely phosphorus, manganese, and calcium. Other nutrients present in this ingredient in small quantities include vitamin B1, copper, zinc, and magnesium.
Cornstarch
Cornstarch serves two purposes in this recipe. First, it is used to smoothen the texture of the recipe. Second, it has high calories and carbs and low amounts of vitamins, fiber, minerals, and protein.
Canola Oil
Canola oil is rich in omega 6 and 3 fatty acids which are considered healthy for the human body. Consuming healthy fats helps in weight management by cutting down cholesterol. Canola oil also has vitamin K and E which are responsible for healthy skin.
Zucchini
Zucchini is packed with very efficient antioxidants such as zeaxanthin and lutein which help in boosting the immune system. It has low calories, sugar, and fat and it is highly recommended in the world of nutrition.
Red Bell Pepper
Red bell pepper contains almost every vitamin that your body needs to stay healthy. Some of the vitamins packed in this ingredient include vitamin A and potassium. Red bell pepper also has significant doses of iron, folate, and fiber.
Fresh Snow Peas
Fresh snow peas are rich in folate and dietary fiber. Other nutrients contained in snow peas include iron, calcium, and potassium which are critical in maintaining strong bones and regulating blood pressure. They are also an excellent source of energy considering they can supply up to 138kJ
Green Onions
Onions are a reliable source of vitamin K and they can only be equated to chards or green spinach.
Water Chestnuts
Chestnuts serve as an excellent antioxidant and therefore eating them can save you from suffering from chronic diseases caused by free radicals. They also have significant amounts of fiber, minerals, and vitamins and therefore they are linked to several other health benefits including improving digestion.
Cooked Brown Rice
One of the major ingredients in this recipe is brown rice which is known for high fiber. Additionally, it has selenium a substance known to reduce chances of catching common illnesses such as arthritis, cancer, and heart diseases.
Gingerroot
Gingerroots are famous all over the world because they are used to extract medicines. Even though it adds flavor to food, it mainly acts as a guard to the human body since it cures or prevents you from getting ill. Other benefits of using gingerroot include lowering blood sugar and maintaining a healthy heart.
Garlic Cloves
Garlic is known to combat common illnesses such s cold and therefore having it in a diet is a plus. It also adds flavor to food and so many use it to make food tasty without knowing the many health benefits that are hidden beneath the white cover. The active compound present in garlic is excellent in preventing heart diseases and maintaining the recommended blood pressure.
The following two tabs change content below.
Guy is a dedicated vegan, who prefers natural remedies to treat root causes of physiological problems, instead of turning to medication to merely treat symptoms. When he learned in December 2017 he was suffering from high blood pressure (hypertension), he turned to massage as a potential answer for his problem. Rather than engage massage as a client, Guy chose to become a massage practitioner and enrolled in the Black Hills School of Massage in Hermosa, SD. He is now licensed to provide Swedish, Deep Tissue and Trigger Point massage among other modalities. He, and his wife Irene who is also a massage practitioner, have joined forces with the Fountain of Youth Waterstore in Rapid City where they provide clients with comforting relief from body aches and pains. Be sure to ask Guy what happened with his blood pressure when you see him for your initial treatment session.
Latest posts by LMT Guy Siverson (see all)