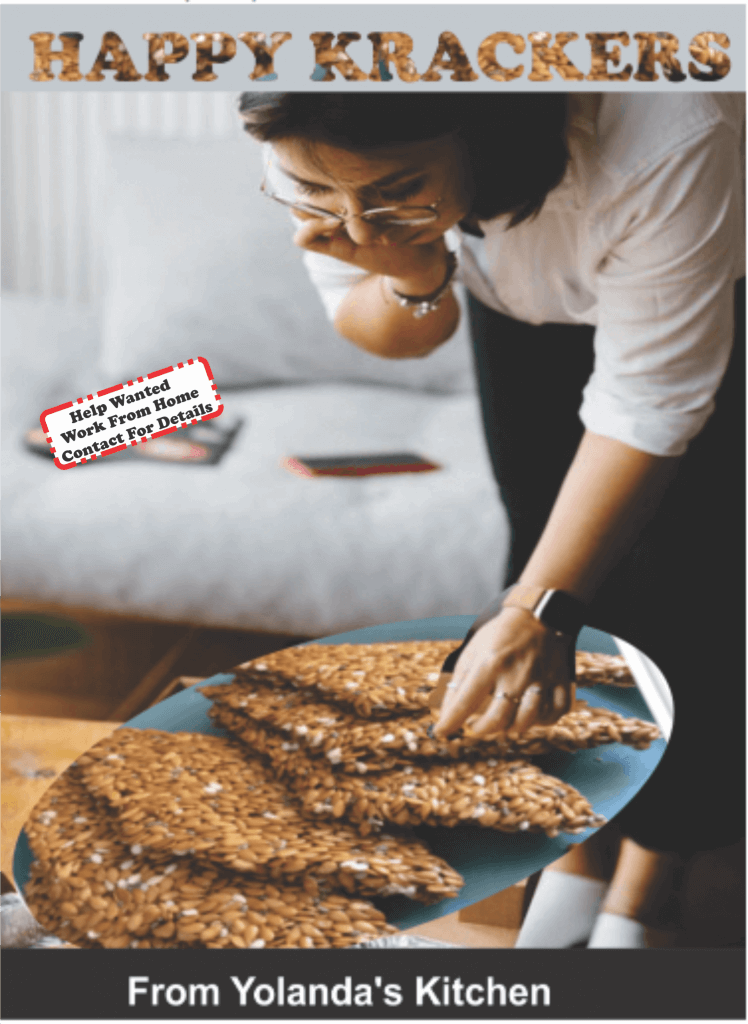 Sharing is Caring: GracefulTouch.org/blog/hk
Pampered Chef Independent Consultant
Please Like our FB Healthy Kitchen Page @ www.facebook.com/GTHealthyKitchen/


Ingredients

1 cup very hot water
1 cup golden flax seeds
1 teaspoons Seasoning Salt
1 Tablespoon Chia Seeds
1 Tablespoon Sesame Seeds
1 Tablespoon sunflower seeds
Instructions
Stir all ingredients together in a small bowl.
Let sit for about 5 min and give it another stir.
Place on stone or prepared cookie sheet. Flatten to edges with spatula.
Score into Krackers.
Bake at 200° F for 7-8 hours or until crisp and dry. If you have a convection ovenbake at 200° for 4 hours.
Top Ingredients Benefits
Flax seeds are rich omega -3 fatty acid and fiber. Omega-3 help in fighting anxiety and depression and can improve eye health and brain development.
Chia seeds are very rich in fiber, antioxidants and omega-3 fatty acids. These three components help in reducing risk of heart diseases, improving digestion and boosting immunity
yummy Recipe Categories
Click To Contact Your PC Party Host Today.
Ask us why VIRTUAL PARTIES are more fun.
Click To Contact Your PC Party Host Today.
Ask us why VIRTUAL PARTIES are more fun.
Benefits of this Recipe
Happy Krackers is made by combining several seeds that are rich in essential nutrients. Here is the list of seeds used and the associated health benefits.
Golden flax seeds
Flaxseed's hidden power is in health omega -3 fatty acid and fiber. Omega-3s Can Fight anxiety and depression and Can Improve Eye Health. Flaxseeds also help in the development of the brain and that why they are recommended during Pregnancy.

Chia seeds
Chia Seeds is rich in various essential nutrients and therefore with its lower levels of calories it is considered very healthy. Additionally, it is a powerful Antioxidants feature that makes it an immune system booster. It can also help in solving digestive issues because of the fiber present in the seed.
sesame seeds
Sesame seed can do wonders in your body following the many components that are packed in it such as healthy fats, minerals, protein, antioxidants, Vitamin B, and fiber. This compound is critical in controlling blood sugar, managing arthritis, and lowering cholesterol.
sunflower seeds
Sunflower Seeds are a good addition to a weight loss diet. They also help in digestion they are filled with fiber. Other components contained in it include essential minerals like vitamin E, folate, and copper. Having an efficient digestion process is key to having a healthy weight.
The following two tabs change content below.
Guy is a dedicated vegan, who prefers natural remedies to treat root causes of physiological problems, instead of turning to medication to merely treat symptoms. When he learned in December 2017 he was suffering from high blood pressure (hypertension), he turned to massage as a potential answer for his problem. Rather than engage massage as a client, Guy chose to become a massage practitioner and enrolled in the Black Hills School of Massage in Hermosa, SD. He is now licensed to provide Swedish, Deep Tissue and Trigger Point massage among other modalities. He, and his wife Irene who is also a massage practitioner, have joined forces with the Fountain of Youth Waterstore in Rapid City where they provide clients with comforting relief from body aches and pains. Be sure to ask Guy what happened with his blood pressure when you see him for your initial treatment session.
Latest posts by LMT Guy Siverson (see all)