Upper back massage targets the muscles and tissues around the upper area of the spine. Depending on the end goal of the massage, different techniques can be applied during upper back massage sessions. This technique has a wide range of benefits with a major one being heating up the upper back muscles that encourage circulation of blood to different parts of the body. Blood is responsible for distributing nutrients and oxygen to all body parts and therefore having an efficient circulation system is very important.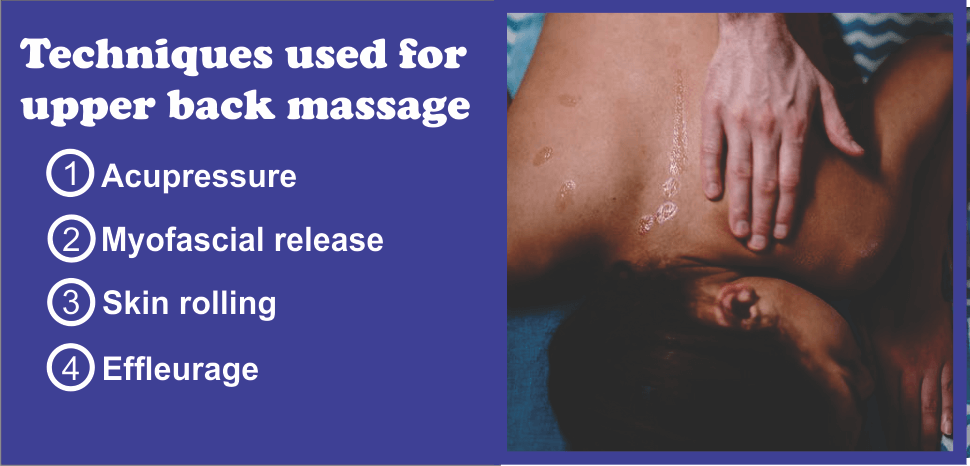 Some of the techniques used for upper back massage include:
Acupressure
This technique applies pressure on different areas of your upper back to clear muscle tension. The targeted points during massage are known as acupoints and they stimulate the body for better blood circulation.
Myofascial release
This technique focuses on relieving contracted muscles on the upper back. Contracted muscles can restrict the flow of blood and lymphatic drainage and therefore it is important to soften tight muscles.
Skin rolling
Skin rolling focuses on making skin soft to clear muscle tension. Apart from making the skin soft, this technique decreases pain while at the same time making muscles flexible.
Effleurage
Effleurage applies a series of soft strokes which can be compared to Swedish massage. By soothing the upper back skin, the body is stimulated to stay active, and this is how relaxation is achieved.
Upper back massage has gained a lot of popularity because it helps in achieving the following:
Used to reduce Acute Pain
Acute pain includes fatigue, muscular pain, and muscle tension. Upper back massage is one of the best ways to correct this condition. The technique works by heating the muscles hence increasing flexibility while at the same time relieving tension and pain. Pain can also be caused by the inactive lymphatic system but the good thing with massage is that it stimulates the lymphatic system as well. The lymphatic system also helps in clearing toxins and therefore by making it efficient, the whole body feel relaxed.
Relaxation
Upper back massage also helps in achieving relaxation. Tight muscles can cause a lot of discomfort and stress especially when it is causing some pain. Upper back massage applies some heat to the targeted area to reduce tightness. Tight muscles can cause serious damage to the body because they can block the normal flow of blood. Increased blood flow, initiates the release of relaxation hormones such as dopamine and serotonin that determines the general feeling. A relaxed body means a healthy body both mentally and physically.
Stress
Tension, pain, or even strain can easily cause stress. Stress can cause serious damage both mentally and physically. Upper back massage is very helpful because it helps in muscle relaxation that clears stress through decreasing cortisol hormone.
Post-surgery
The human body can experience serious changes after surgery because the process involves interfering with the normal body structure. In many cases, the challenges are usually related to movement because of tightness that happens after the process. If the affected area is not exposed to exercise in the early state, sometimes it is impossible to restore flexibility. Upper back massage reduces the tightness by applying heat on the targeted surface to allow expansion. Stimulating the lymphatic system is another factor that quickens the healing process. Surgery can mess up the lymphatic system but through massage, the system can be reactivated. A failure in the lymphatic system can cause bacteria accumulation and other infections can arise as a result.
Increased healing
Healing is a process that requires a favorable environment for it to happen effectively. Back massage creates a favorable environment by enhancing blood circulation. Blood circulation is very important because it is in charge of transporting nutrients and oxygen to all body organs. Back massage also improves the working of the lymphatic system that helps in clearing toxins from the body. By making sure the cells of the healing area are getting enough oxygen and are free from toxins, the healing process is automatically quickened.
Improved posture
Tight muscles can cause tension on different body parts and this is likely to change your posture. Contracted muscles can also pull the skin in a specific direction and if the condition is not corrected in good time, the positioning can become permanent. Upper back massage helps in making the body flexible and therefore it is a great way to maintain the right posture. Posture correction can be done after the damage but the process is very painful and sometimes it even doesn't work. Always go for massage in good time because you are sure of results and the process is affordable and efficient.
Closing Thoughts
By searching rapid city upper back pain services near me, you can find a list of massage therapists that operate in your location. In Rapid City, Graceful Touch has won the heart of many because of the quality of service they offer. You can reach Graceful Touch by phone at 605-574-1998 or through their address 2040 W Main St #209 – Rapid City, SD.
The following two tabs change content below.
Guy is a dedicated vegan, who prefers natural remedies to treat root causes of physiological problems, instead of turning to medication to merely treat symptoms. When he learned in December 2017 he was suffering from high blood pressure (hypertension), he turned to massage as a potential answer for his problem. Rather than engage massage as a client, Guy chose to become a massage practitioner and enrolled in the Black Hills School of Massage in Hermosa, SD. He is now licensed to provide Swedish, Deep Tissue and Trigger Point massage among other modalities. He, and his wife Irene who is also a massage practitioner, have joined forces with the Fountain of Youth Waterstore in Rapid City where they provide clients with comforting relief from body aches and pains. Be sure to ask Guy what happened with his blood pressure when you see him for your initial treatment session.
Latest posts by LMT Guy Siverson (see all)