Sciatica massage therapy is designed to relieve pain along the sciatic nerve. If this nerve is under pressure the pain is felt along the lower back, hips, buttocks and sometimes it can go down each leg. The sciatic nerve extends through all these parts of your body and therefore it can cause serious discomfort.
Sciatica affects only one side of the patient's body and some of the indications to show you have the condition include feeling weak, tingling, and numbness in the leg and foot. Sciatica massage therapy in Rapid City has become very popular because many people use it as an alternative to taking a painkiller. What makes a massage a better option is the ability to stay comfortable for longer and sometimes the problem is fixed permanently.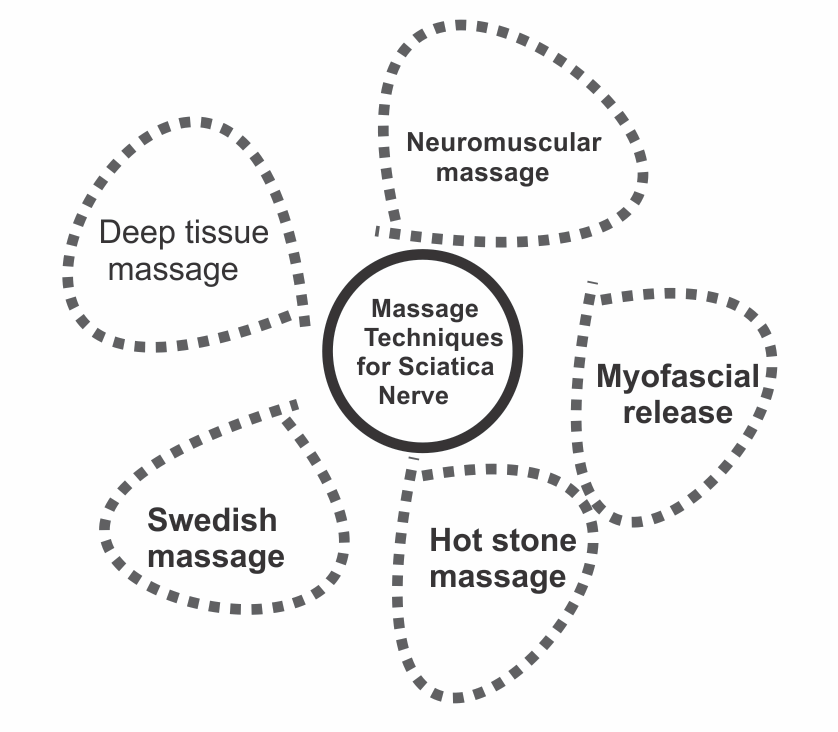 Sciatica can sometimes cause a severe effect on your body and in such cases, it is advisable to seek medical advice. This is because sometimes other medical conditions can exhibit the same symptoms.
When medical examination confirms the problem is the sciatica nerve they are likely to refer you to a massage therapist. That is why Rapid City sciatica massage therapy services have become very popular because it a cool way to heal without pain. If you are searching for a nearby sciatica massage therapy in Rapid city you are lucky because Graceful Touch has the whole package for you.
Massage techniques for sciatica nerve.

Several approaches can be used to give an effective Sciatica massage therapy. Depending on what you are trying to achieve, your therapist is likely to suggest one of the following techniques.

Deep tissue massage
This technique is preferred by many because it reaches the inner tissues in the body. Its aggressive nature makes it suitable for releasing muscle tension considering it is thorough and slow. Massage therapists apply deep pressure using fingers but sometimes they can use massage aids. The deep strokes ensure the connective tissues are made flexible and that is how back pain is treated.

Swedish massage
The power of Swedish massage is hidden in its ability to stimulates the nerves. How the body responds to massage is amazing because by just touching, the nervous system becomes more active making the flow of blood more effective. Relaxed nerves also help in releasing tension and that is why this technique is great for relaxation. Unlike deep tissue massage, Swedish apply minimal pressure and a kneading motion is made on the body to stimulate different organs.

Neuromuscular massage
Nerve pressure is sometimes caused by contracted muscles. The neuromuscular massage focuses on releasing tight muscles and it can combine a number of massage techniques. The most common combination is deep tissue and applying some friction on the targeted surface.

Myofascial release
This approach is sometimes referred to as trigger point massage. The idea behind it is to release tension in the membrane that surrounds the muscles to offer support. Myofascial tissues sometimes get tough and making any movement becomes very difficult. Myofascial massage clears the tension by stretching the trigger points to untie the knots that cause sciatica pain.

Hot stone massage
One of the best methods to release muscle tension is the use of hot stones on the affected area. The approach used during massage is similar to that of Swedish massage but this time hot stones are used to apply heat to the muscles. Heat makes the muscles soft and that is how tightness is removed from the muscles.
Sciatica massage therapy is linked to many health benefits but many people have it to clear sciatica pain. Here is a more elaborate list of benefits of having Sciatica massage therapy.
Remedy for lower back pain
One of the symptoms of having sciatica is back pain and that is why it is advisable to have Sciatica massage therapy. By having a regular massage, the pain goes away naturally and therefore massage can be used as an anti-inflammatory drug.
Relaxes tight muscles
Tight muscles are the key cause of pressurized nerves and to be more specific sciatic nerve. Unlike other medications, massage soothes your muscles to reduce pressure and when done regularly, it can fix underlying causes of the condition. On top of clearing the pain related to sciatic nerve complications, you also enjoy other benefits of massage in the process such as relaxation.
Improves Blood Flow
Blood is in charge of distributing nutrients to all body organs and that is why it is important to ensure your blood circulation system is effective. If an organ is not receiving the correct levels of blood, it is likely to raise an alarm which happens inform of pain. The sciatic nerve will cause pain in your back if the blood is not flowing as expected in the surrounding area. Massage is one of the best ways to fix the problem considering it is natural.
Enhance Flexibility
A problem with the sciatic nerve can reduce your flexibility to an extent of having a problem doing your daily routine. The earlier indication of the problem is burning pain when walking. The pain can get serious when involved in too much motion and that is why you should seek treatment as early as possible.
Improves emotional wellness
Pain is a major cause of anxiety and stress. People experiencing sciatica pain are always anxious and tensed because of the discomfort that comes with the condition. By fixing the problem via a massage, they become calm and relaxed.
The quality of service offered is aimed at achieving maximum relaxation and healing. You can reach Graceful Touch by phone at 605-574-1998 or through their address 2040 W Main St #209.
The bottom line
If you are not sure how your body will respond after having the massage, you can seek medical advice before searching sciatica massage therapy near me in Rapid City. After getting a green light from your health provider, you can go ahead and book an appointment with your nearest sciatica massage therapy professional.
The following two tabs change content below.
Guy is a dedicated vegan, who prefers natural remedies to treat root causes of physiological problems, instead of turning to medication to merely treat symptoms. When he learned in December 2017 he was suffering from high blood pressure (hypertension), he turned to massage as a potential answer for his problem. Rather than engage massage as a client, Guy chose to become a massage practitioner and enrolled in the Black Hills School of Massage in Hermosa, SD. He is now licensed to provide Swedish, Deep Tissue and Trigger Point massage among other modalities. He, and his wife Irene who is also a massage practitioner, have joined forces with the Fountain of Youth Waterstore in Rapid City where they provide clients with comforting relief from body aches and pains. Be sure to ask Guy what happened with his blood pressure when you see him for your initial treatment session.
Latest posts by LMT Guy Siverson (see all)