When it's a leaky roof your facing it is nice to know where to get roofers in Rapid City to help you in fixing it. That's what this page is all about.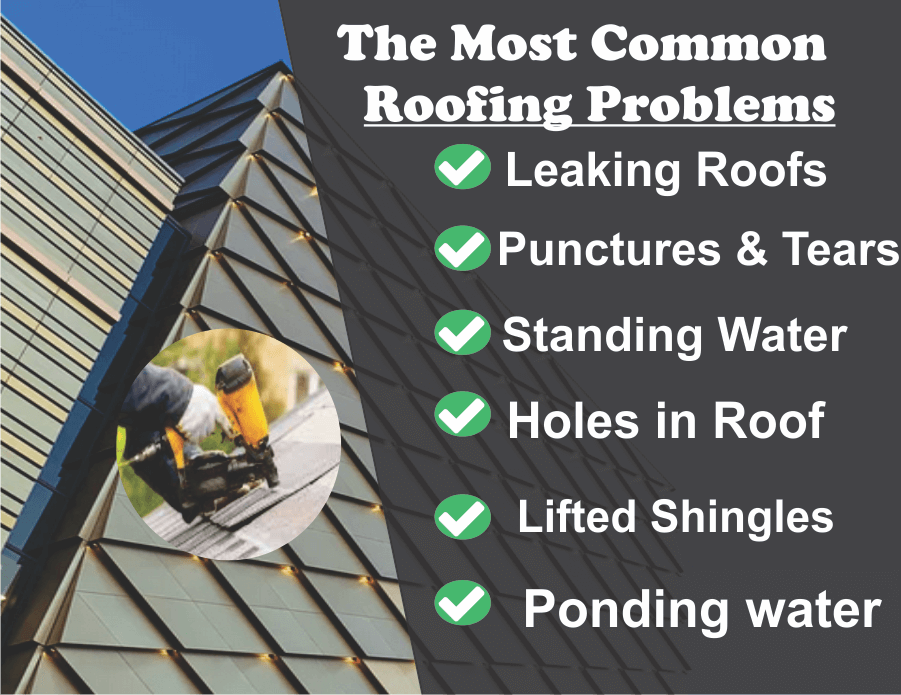 What You Should Know About This Roofers in Rapid City Directory
Face it, roofs keep us all safe and sound from unpleasant weather.
That's just for starters.
Without roofers in Rapid City, our climate life would simply be much more complicated.
Before we share our directory with you we have a favor to ask.
If you like the details and information but find something incorrect, let us know.
Know of a new roofer starting?
Let us know.
Has a business changed hours or closed?
Let us know.
The more we know by your comments below the better able we will be to keep this directory up to date for you and all your roofing needs.
That said, here is our roofing directory for you to review.
Weather-Tite Exteriors
ADDRESS: 2605 Commerce Rd, Rapid City
CONTACT: (605) 939-0208
WEBSITE: Weather-Tite Exteriors
FACEBOOK

Weather-Tite Exteriors provides contractor services including roofing, siding, gutters, replacement windows and building restorations.
Pro Exteriors & Construction LLC
ADDRESS: Rapid City
CONTACT:(605) 877-4450
WEBSITE: Pro Exteriors & Construction LLC
FACEBOOK

Pro Exteriors & Construction LLC is a full-service exterior remodeling and restoration company. They make sure that you know what to expect and help you find options that fit into your budget needs.
Reimer Construction & Handyman Services
ADDRESS: 4316 Circlewood DR., Rapid City
CONTACT: (605) 390-0561
WEBSITE: Reimer Construction & Handyman Services
FACEBOOK
Reimer Construction & Handyman Services has offered outstanding general contractor services for many years. Their main goal is satisfying our customers by extending the affordable, high quality and professional services.
Black Hills Roofing & Sheet
ADDRESS: 1840 Samco Rd # 102, Rapid City
CONTACT: (605) 343-6488
WEBSITE: Black Hills Roofing & Sheet
FACEBOOK

Black Hills Roofing & Sheet is highly experienced to tackle any roofing job no matter how big or small. They focus on providing outstanding service and quality products at a fair price.
All-Weather Roofing
ADDRESS: 1802 Elm Avenue, Rapid City
CONTACT: (605) 393-8387
WEBSITE: All-Weather Roofing

All-Weather Roofing is a licensed roofing company in Rapid City. All-Weather Roofing will make sure you have all of the details of the work to be performed and will keep you updated along the way.
Bang Up Roofing and Construction
ADDRESS: 3914 Brookside Dr, Rapid City
CONTACT: (605) 718-9286
WEBSITE: Bang Up Roofing and Construction
FACEBOOK

Bang Up Roofing and Construction is a fully licensed and insured roofing service. They are equipped to take on large and challenging jobs and provide free estimates and a military discount.
Grant Bolt Roofing
ADDRESS: 1421 E St Joseph St, Rapid City
CONTACT: (605) 716-1765
WEBSITE: Grant Bolt Roofing
FACEBOOK

Grant Bolt Roofing has a great reputation with his community for providing high-quality roofing services in Rapid City and surrounding areas.
RainTite Roofing & Construction
ADDRESS: 4498 Universal Dr, Rapid City
CONTACT: (605) 391-1334
WEBSITE: RainTite Roofing & Construction
FACEBOOK

When you get a roof repaired it can be intimidating. RainTite works to make it go as smoothly as possible. They make sure that you know what's going on along the way and keep you up to date with what the timeline will be.
Why Turn To Massage Therapists When Your Roof Is In Trouble
The stress and strain of required roof repairs can be a pain both physically and mentally.
No matter if you need to experience stress relief or the loosing of tight muscles massage can help.
These 3 directories can help you find the exact right Massage Therapist for you.
The Most Common Roofing Problems
There are so many problems that you wouldn't think of that can occur no matter what type of roof you have. The most important thing is to either be able to maintain your roof and do routine maintenance or hire a professional contractor in Rapid City to help you with the maintenance needs to keep your roof in good condition.
Leaking Roofs
Over time even the most sturdy shingles may cause leaks in your home. If moisture soaks into the roof, it can leak into the house, creating mold and mildew in your house.
Lifted Shingles
When you have severe weather and high winds can lift shingles on your roof. If this happens, lifted shingles need to be nailed down and resealed back onto the roofing of the home.
Standing Water
If you have any areas on the roof that are dented in it allows for water to pool. This would cause moisture could seep in overtime causing future leaks in your house.
Holes in Roof
Debris from high winds can create holes in your roof. Open holes invite in not only rain and wind but insects and other small problem animals. Identify and repair holes immediately when they happen.
The Most Common Metal Roofing Problems
If you have a metal roof, it's important to keep an eye out for some common causes of damage typical for that roofing material. You need to stay on top of small repairs as needed this will ensure that your metal roof will last longer.
Roof Leaks
Roof leaks are one of the most common problems that you can experience with metal roofs. Most of the time this is a result of poor craftsmanship. Often times there are gaps that need to be covered due to this. If you notice a leak, make sure to address it as soon as possible. because leaks usually grow over time and you will end up saving yourself a lot of money and stress.
Blow-offs
This typically happens if your metal roof isn't installed properly. If the flashing is poorly attached the open seams and laps can cause parts of the roof to blow off. If you have it installed properly by a professional contractor you can avoid blow-offs initially can save you from costly roofing repairs later.
Punctures & Tears
If there is a lot of foot traffic on your metal roof, then punctures and tears are more likely to occur. This typically happens during a roof's initial construction, but may also arise during routine metal roofing maintenance. Caulking is often used to repair tears and punctures. Metal roofing is prone to a lot of movement, caulking may not prevent future problems. The best way to minimize the occurrence of tears or punctures is to keep food traffic on your roof to a minimum.
Ponding water
If water collects on the roof, it causes pressure and may lead to leaks and other problems. Maintenance can save you a lot of money and stress. You should be regularly clearing pools and puddles of water. Mostly after heavy rainfall is when you should check for pools of water. This way you can avoid problems that would otherwise be caused by ponding water.
Roofers in Rapid City FAQS
How should I book an appointment with a roofer during the COVID-19 period?
The best way to engage a roofer during the COVID-19 period is to use an online platform to get the right person to fix your problem. To minimize movement to your home, you can use a video-sharing platform to help the roofer access the roof's condition. The roofer can then show up for the real fixing, but social distancing should be observed, and payment should be made using liquid money.
How do I know if a roofer is approved to offer an essential service during COVID 19 pandemic?
The only way to get accurate information is through the use of government data. Depending on your location, you can find a list of approved roofers near you and their addresses.
How can I maintain social distance while working with a roofer?
The use of technology is the best way to achieve this. Instead of face to face meetings, you should go for video chats. Avoid physical contact with the roofer and sanitize all the surfaces the roofer might have touched while fixing the roof.
The following two tabs change content below.
Guy is a dedicated vegan, who prefers natural remedies to treat root causes of physiological problems, instead of turning to medication to merely treat symptoms. When he learned in December 2017 he was suffering from high blood pressure (hypertension), he turned to massage as a potential answer for his problem. Rather than engage massage as a client, Guy chose to become a massage practitioner and enrolled in the Black Hills School of Massage in Hermosa, SD. He is now licensed to provide Swedish, Deep Tissue and Trigger Point massage among other modalities. He, and his wife Irene who is also a massage practitioner, have joined forces with the Fountain of Youth Waterstore in Rapid City where they provide clients with comforting relief from body aches and pains. Be sure to ask Guy what happened with his blood pressure when you see him for your initial treatment session.
Latest posts by LMT Guy Siverson (see all)