People Learning massage in Rapid City are inspired by different reasons. Some people learn massage to pursue a career while others do it for personal benefits. In the modern world, the mode of training is also different but, in many cases, it is either a physical school or an online class.
Benefits of taking a massage course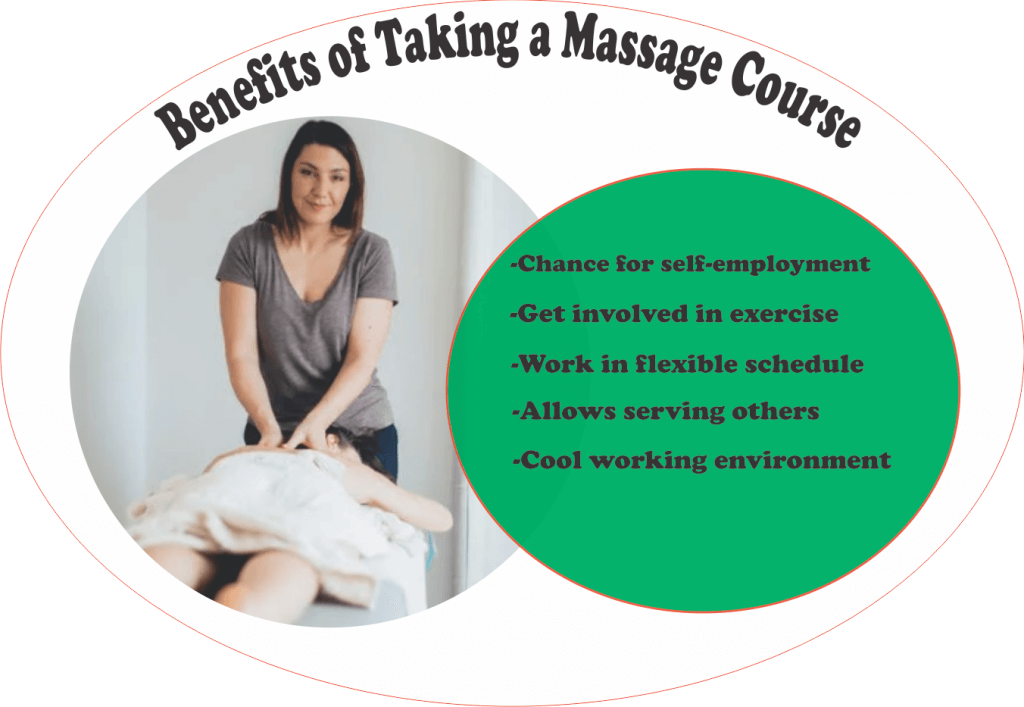 Learn massage classes helps you understand your own body

Massage classes include a thorough study of how human muscles work, classification of tissues, skin formation, and even circulation system. Apart from helping you get a license as a massage therapist; these skills can help in many aspects of life. For example, you can easily understand different body changes that happen to you and you can take action at the right time. This means you stand a better chance in preventative measures and this might save your resources in the future.
Learning massage allows serving others
They say man service is service to God and that is why every human feels happier when serving others. Imagine a person gets to your massage place without even walking because of pain and after the massage they walk from your office smiling. Making other people smile gives a lot of joy to human life. Some of the things that can cause discomfort in human life but can be fixed via massage include stress-related tension, sleep disorders, cancer-related fatigue, diabetes, high blood pressure, depression, and back pain. Giving people a chance to unwind gives a massage therapist much joy especially if clients benefit from the service.
Massage therapists are always involved in some exercise
It is rare to get a well-paying career that keeps you physically active. Many careers require one to seat in front of a computer with minimal movement. This is not good for your health and that's why massage therapy can be a good choice. During the massage, your therapist will help you make the different moves and this means he will also do the same. As a result, many therapists are always healthy and their body shapes are amazing.
Learn massage classes gives a chance for self-employment
Many people who study different courses end up being employed. In the field of massage, things are different because many people who take massage courses end up in self-employment. This allows them to grow considering they make their own decisions without interference.
The working environment for Massage therapists is in relaxing
Imagine working in a place with soothing music is playing, controlled temperature, and scented candles. A massage therapist works in this kind of environment and that is why they rarely get stressed.
Massage therapists work under a flexible schedule
Massage therapists work with appointments made. In many cases, they will have an online platform that allows people to book in the available time. This is very cool because a therapist can mark a certain period as unavailable to give a chance for personal time. Some careers have tight schedules and professionals rarely get some personal time. In many cases, people who operate in such an environment end up under stress.
Massage therapists can work anywhere in the world
Massage therapy is in demand in the whole world and what determines where you work is your skills. A therapist can move to any country as long as they have work permits and they can start working immediately.
If you are interested in taking a massage class for whatever reason, Graceful Touch is in process of setting up a platform to help you in your journey of learning massage. You can reach Graceful Touch via address 756 Earleen #A or you can also contact us via phone at 605-574-1998.
Before visiting the nearest learning massage center, you should have a choice of the massage course you want to take. This will help you to focus more on your area because in a massage school you will be taught only common massages. Some of the common massage modalities include Swedish, reflexology, and shiatsu massage.
Other skills that you will learn in a massage school include pathology, kinesiology, and anatomy. Massage therapy requires more than just massage skills. You should easily connect with your clients both emotionally and physically to ensure they are satisfied.
Conclusion
Other than attending a massage class, you can further your skills by working under a practicing therapist. Hand-on skills are very important and you can only get them through doing the real massage. You can get a practicing therapist by using friends' referrals or by searching online for a massage learning near me.
The following two tabs change content below.
Guy is a dedicated vegan, who prefers natural remedies to treat root causes of physiological problems, instead of turning to medication to merely treat symptoms. When he learned in December 2017 he was suffering from high blood pressure (hypertension), he turned to massage as a potential answer for his problem. Rather than engage massage as a client, Guy chose to become a massage practitioner and enrolled in the Black Hills School of Massage in Hermosa, SD. He is now licensed to provide Swedish, Deep Tissue and Trigger Point massage among other modalities. He, and his wife Irene who is also a massage practitioner, have joined forces with the Fountain of Youth Waterstore in Rapid City where they provide clients with comforting relief from body aches and pains. Be sure to ask Guy what happened with his blood pressure when you see him for your initial treatment session.
Latest posts by LMT Guy Siverson (see all)