Individuals who have regular hand massage improves their hands' strength while at the same times reducing stress. For individuals living with critical conditions such as arthritis, hand massage help to ease pain, and therefore it can complement treatments.
Some of the hand massage benefits that makes it very popular include: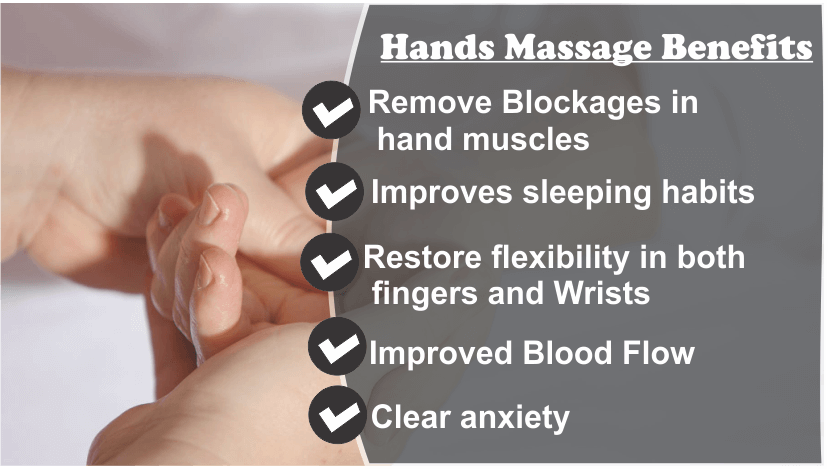 1. Hand massage Remove Blockages in hand muscles and Tissues
Having energy imbalance in the hands causes tension in the entire body. In some cases, the strain can be felt in other body organs. The longer you take without correcting the problem the more you suffer and therefore it is unnecessary considering you now know of a solution. Hands blockage is common in people who leave with a condition such as irritable bowel syndrome.
2.Hand Massage help in improving sleeping habits
If your hands are not relaxed, we can simply conclude your entire body is not relaxed. By having a hand massage, you relieve pain and tension and as a result, you get some peace of mind. The quality of sleep you get is dependent on the state of your brain. Hand massage initiates a release of serotonin which helps in improving sleeping patterns.
3.Clear anxiety
Anxiety is caused by many factors which include fearful thoughts and overthinking. Anxiety can build up to stress and that is why it is important to release it through hand massage
4.Hand massage can restore flexibility in both fingers and Wrists
Conditions such as arthritis affect the joints in a serious way and in many cases, it reduces the joints range. The shortened muscles can be stretched by the use of hand massage. People living with conditions that cause stiffness should embrace hand massage because it is one of the best ways to maintain flexibility even when ill.
5.Reduced Swelling
Hands can swell because of many reasons but accumulated fluids are the common cause. Hand massage can help in releasing the fluid naturally without using complex approaches.
6.Improved Blood Flow
The hand is a very essential part of our body and maybe it is the most used. Body organs need oxygen and the delivery is done by blood. If blood is not flowing as expected in the body there are high chances of feeling soreness and stiffness in your hands. Hands massage is a great way to ensure your hands get enough nutrients. Hand massage clears any form of blockage in the blood vessels by softening the tight muscles.
7.Stop Headache
Headache is usually an indication of unstable nerves, muscles, or even blood vessels. Hand tension in many cases causes discomfort in both neck and shoulders and that is why the effect is likely to show up in form of a headache. Having a hand massage stimulates hands muscles directly and other organs indirectly thus improving blood flow. A smother blood flow ensures a better distribution of nutrients is the body thus relieving stress and tension
Other conditions that cause hand pain and can be fixed through a hand massage include neuropathy and carpal tunnel syndrome.
Keeping all these benefits in mind, you should book an appointment with your nearest hand massage therapist. For individuals living in Rapid City And neighborhoods, Graceful Touch is there for you and their quality of service is exceptional. They are reachable via 756 Earleen #A – Rapid City, SD. You can also reach them via phone at 605-574-1998.
The reason why you should know the nearby hand massage professionals is because of ease of access. Sometimes we have limited time to do things and therefore having a closer option can work best for many people.
Closing thoughts
For some reason, sometimes it is impossible to get a massage from a professional. This is should not stop you from having a hand massage because the option of self-hand massage is can be used as a substitute.
It true using special tools and special oils can help achieve a much better experience but self-hand massage is equally important. Self-massage shows better results when done at least 15 minutes every day. Depending on your case you should understand the approach that works best for you. For example, when you have hand pain, you should apply moderate pressure.
The following two tabs change content below.
Guy is a dedicated vegan, who prefers natural remedies to treat root causes of physiological problems, instead of turning to medication to merely treat symptoms. When he learned in December 2017 he was suffering from high blood pressure (hypertension), he turned to massage as a potential answer for his problem. Rather than engage massage as a client, Guy chose to become a massage practitioner and enrolled in the Black Hills School of Massage in Hermosa, SD. He is now licensed to provide Swedish, Deep Tissue and Trigger Point massage among other modalities. He, and his wife Irene who is also a massage practitioner, have joined forces with the Fountain of Youth Waterstore in Rapid City where they provide clients with comforting relief from body aches and pains. Be sure to ask Guy what happened with his blood pressure when you see him for your initial treatment session.
Latest posts by LMT Guy Siverson (see all)