If there is one part of the body that deserves appreciation is your feet. Remember how much stress your feet go through when you go shopping, walking to work, walking around with friends, or even when driving. Feet play a vital role in day-to-day activity and therefore you should have foot massage regularly to relax the strained muscles.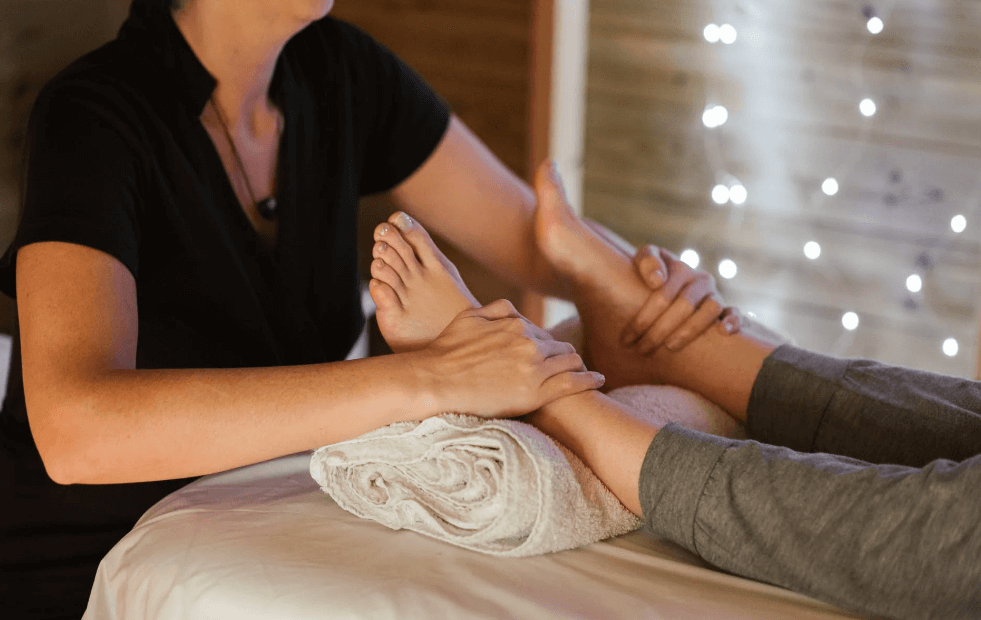 Some people believe that massage only benefits the neck, shoulder, or back but they forget the feet. Visiting your nearest foot massage therapist can help improve blood circulation which can play a vital role in maintaining a healthier foot. Other benefits linked to foot massage include:
Spices Sex Life
Sex life can never be perfect if your mind is full of frustration and annoyance that happen as a result of deals of the day. Having a foot massage with massage oil and some cool music in the room can help rejuvenate you're your mood. By massaging your foot your body naturally gets aroused and the feeling gets transferred to the inner thighs and knee area. Having a quality sex life can contribute to many other benefits both social and physical and therefore foot massage is very important.
Boosts blood circulation
The foot is hardly involved in any form of exercise especially for people who work when seated. What makes the condition worse is having uncomfortable shoes that is tight. Blood flow in a free area and therefore the pressure caused by the shoe can block the flow of blood in a significant way. If your body organs have been experiencing a shortage of blood for a long time, you can expect failure anytime. Some of the indications that your organs are operating in stress include pain, tension, and numbness. People living with conditions such as diabetes are likely to suffer more when blood is not flowing as recommended and therefore, they should be more careful.
Clear anxiety and depression
Many people see foot massage as just a technique to help the body relax during a massage but they could be wrong. Studies that included people living with the chronic condition including cancer showed that massage improved their overall health significantly. One of the factors that contribute to a deteriorated health condition when ill people is psychological strain. By working on the emotional part through massage, the healing process gets much smoother.
Used to Correct Flat Feet
Flat feet are defined by abnormal foot arch. The condition is mainly caused by ligament laxity and is characterized by a collapsed arch. Some people live a normal life with the condition and they don't even realize they have fallen arches. For some people, collapsed arch causes serious discomfort which can occur in form of pain especially after physical activities. Having a foot massage is a cool way to clear inflammation and when combined with deep tissue massage, arches can get improved significantly.
Used to manage menopause and PMS Symptoms
PMS is characterized by many symptoms which include mood swings, sadness, anxiety, fatigue, and headache. These signs also happen to people approaching menopause or those already in this stage. Insomnia and fatigue may also happen to some people but what is important is knowing how to handle all these symptoms. Any feeling of sadness that may result in depression can be cleared through regular massage. Massage release a feel-good chemical and that is all you need to overcome many stress and depression-related complications.
Used to manage edema during pregnancy
Swelling or edema is a condition caused by excessive retention of fluid in ankles or the entire foot during pregnancy. Having a regular massage and having enough rest can be used to control the condition. If done regularly the condition can even be fixed completely.
There are several places to get a foot massage in Rapid City but it is important picking the right therapist. In terms of quality, Graceful Touch is a great place considering the quality of the service they offer. They can be reached by phone at 605-574-1998 or through their address 756 Earleen #A – Rapid City, SD.
Foot massage is one of the oldest types of massage in history. In the past, it was mostly used for relaxation but these days it is linked to a wide range of health benefits. Stimulating the nervous system by applying pressure on different pressure points releases energy to other parts of the body thus causing a feeling of relaxation.
You can get connected to the nearby foot massage therapist by simply searching foot massage near me. A massage therapist can use hands, to treat you or some special tools such as sticks or rollers to stimulate your muscles.
The following two tabs change content below.
Guy is a dedicated vegan, who prefers natural remedies to treat root causes of physiological problems, instead of turning to medication to merely treat symptoms. When he learned in December 2017 he was suffering from high blood pressure (hypertension), he turned to massage as a potential answer for his problem. Rather than engage massage as a client, Guy chose to become a massage practitioner and enrolled in the Black Hills School of Massage in Hermosa, SD. He is now licensed to provide Swedish, Deep Tissue and Trigger Point massage among other modalities. He, and his wife Irene who is also a massage practitioner, have joined forces with the Fountain of Youth Waterstore in Rapid City where they provide clients with comforting relief from body aches and pains. Be sure to ask Guy what happened with his blood pressure when you see him for your initial treatment session.
Latest posts by LMT Guy Siverson (see all)