Day Spa's in Rapid City.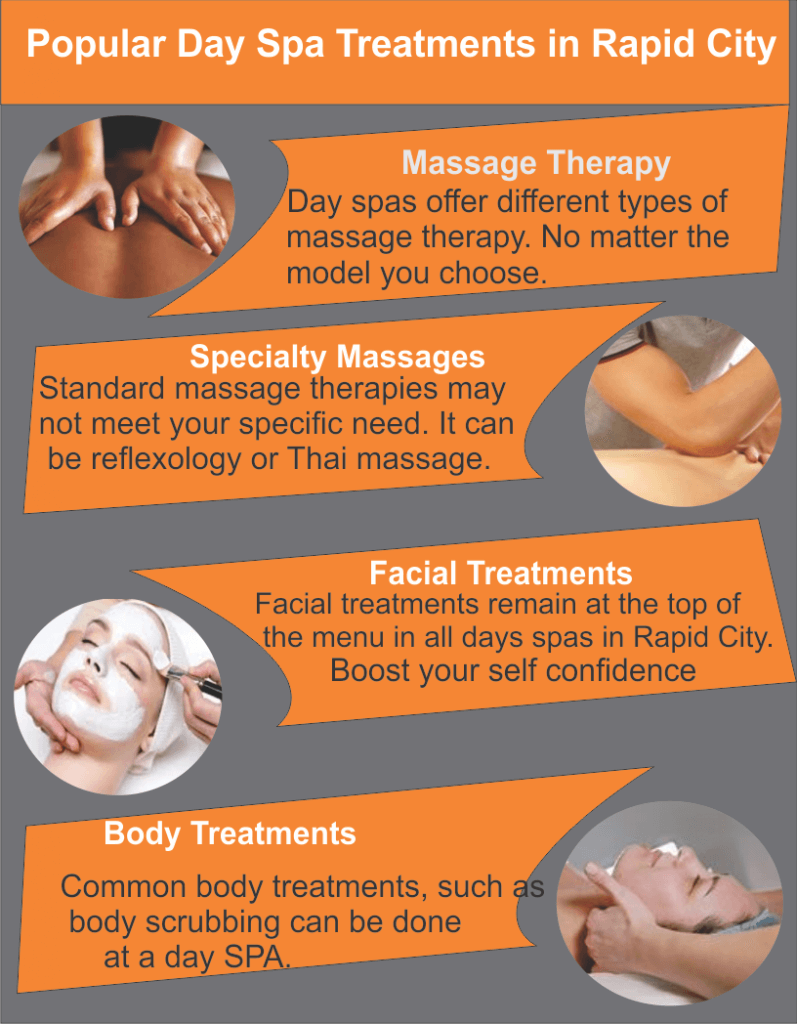 Which one is the right one for you?
This list of 10+ options will help you navigate that answer to success.
Day Spa Services Near Me Table Of Contents
Mystique Edge Day Spa & Salon
AJ's Wicked Salon & Spa
Quintessence Salon and Spa
Leo Thomas Salon & Spa
Sibelle Salon & Spa
Black Hills Medical Spa
Revolution Salon and Spa
The Body Spa & Cryotherapy at The Body Spa
Spa Med
My Day Salon and Spa
Willow Salon and Spa Black Hills
Day Spa Listings
Mystique Edge Day Spa & Salon
ADDRESS: 318 Mt Rushmore Rd E, Rapid City
CONTACT: (605) 737-0095
WEBSITE: Mystique Edge Day Spa & Salon
FACEBOOK

The Mystique Day Spa has been operational in Rapid City since 1999. Some of the services offered in this spa include facials, manicures, and pedicures. The Spa is separated from the salon, thus making the whole place extremely good.
AJ's Wicked Salon & Spa
ADDRESS: 610 St Joseph St, Rapid City
CONTACT: (605) 791-5898
WEBSITE: AJ's Wicked Salon & Spa
FACEBOOK

AJ's Wicked Spa delivers a whole menu of spa services. They are outstanding in natural-based services. They believe in offering high-quality services all the time
Quintessence Salon and Spa
ADDRESS: 512 Main Street Suite #230, 2nd Floor, Rapid City
CONTACT: (605) 716-6780
WEBSITE: Quintessence Salon and Spa
FACEBOOK

The location of this day spa is fantastic. Being in the middle of the main street and Rapid City downtown creates a beautiful look. The well-trained professionals can quickly provide customized services that fit your specific need.
Leo Thomas Salon & Spa
ADDRESS: 816 South St, Rapid City
CONTACT: (605) 721-6970
WEBSITE: Leo Thomas Salon & Spa
FACEBOOK

Leo Thomas is a full-service salon that is located in the heart of South Dakota. This creates a relaxing atmosphere while enjoying customized spa services at the same time. The team of experienced and certified professionals can quickly help you get a new look.
Sibelle Salon & Spa
ADDRESS: 325 Omaha St #3, Rapid City
CONTACT: (605) 791-5112
WEBSITE: Sibelle Salon & Spa
FACEBOOK

This day spa is run by experienced professionals who have exceptional customer care skills. Through their cosmetology as well as creativity, you can be sure to have excellent experience in this day spa. Additionally, the professionals here are always ready to teach their clients how to maintain their beautiful look.
Black Hills Medical Spa
ADDRESS: 3615 5th St, Rapid City
CONTACT: (605) 343-7208
WEBSITE: Black Hills Medical Spa
FACEBOOK

Black Hills Spa focuses more on cosmetic surgery. This includes plastic surgery, reconstructive surgery, and non-surgical treatments. Cosmetic surgery requires a lot of expertise, and that is why a team of highly trained surgeons run this day spa.
Revolution Salon and Spa
ADDRESS: 3618 Canyon Lake Dr., Suites 110-11, Rapid City
CONTACT: (605) 209-8842
WEBSITE: Revolution Salon and Spa
FACEBOOK

You can have a new look and at the same time do away with all the stress. The staff here is patient enough, and they ensure their customers are satisfied all the time.
The Body Spa & Cryotherapy at The Body Spa
ADDRESS: 3535 Sturgis Rd #16, Rapid City
CONTACT: (605) 391-1678
WEBSITE: The Body Spa & Cryotherapy at The Body Spa
FACEBOOK

Are you searching for a cool place to relax and have some private time? This day spa has some private bathrooms and private parking that are convenient for everyone. Here you can be sure to rejuvenate your mind as well as your body.
Spa Med
ADDRESS: 7236 Jordan Dr, Rapid City
CONTACT: (605) 342-2900
WEBSITE: Spa Med
FACEBOOK

Spa Med remains one of the elegant day spas in Rapid City. It is run by a team of well-trained staff who are focused on making their clients relaxed all the time. Here you can be sure to enjoy a batch of elegant services.
My Day Salon and Spa
ADDRESS: 3023 Quad Ct, Rapid City
CONTACT: (605) 721-0468
WEBSITE: My Day Salon and Spa
FACEBOOK

At My Day Salon & Spa, you can treat your skin organically. Facial treatment is done using vegetables, fruits, and specials herbs that create a unique natural beauty. They only use products that are free from harmful cosmetic chemicals such as petroleum and colorants
Willow Salon and Spa Black Hills
ADDRESS: 5312 Sheridan Lake Rd ste 109, Rapid City
CONTACT: (605) 718-3797
WEBSITE: Willow Salon and Spa Black Hills
FACEBOOK

Quality service remains a priority at this day spa. Every guest at this Spa gets a customized treatment to achieve a unique look. Willow Salon goal is to ensure each guest who visits them feels truly pampered all the time.
The Right Day Spa With Or Without Massage In Rapid City
Now that you have read the content of this directory check out these 3 massage directories that can further bring relaxation and comfort to your life just like a day spa is meant to do.
In this busy world, we sometimes need a moment just to chill,
massage is an excellent answer.
When dealing with pain and discomfort that won't go away,
massage is an excellent answer.
Simply put, no matter what may be the question,
massage is an excellent answer.
Here are our 3 directories for you to checkout.
In order to keep our Day Spa directory in top shape, we need your help.
Businesses open.
Businesses close.
Businesses move.
If you find outdated items in our directory, please let us know in the comments below.
If you find items missing that should be in this list, let us know that too by commenting below.
The more you help us to provide the best resource possible for Rapid City the greater the possibility that all the details will remain in top condition for a long time to come.
Thanks in advance for your help.
Popular Day Spa Treatments in Rapid City
Day SPA offer offers a wide range of services, which includes makeup applications, facials, hair services and also massage therapy. Massage therapy is the most common service provided in day Spa in Rapid City. This is because of the many health benefits that massage therapy has to your body.
Other conventional spa treatments offered include body wraps and salt glow. Nail salon may also be included in a day spa to provide manicure and pedicure. To ensure you enjoy all these services in one roof, popular spas such as resort spas and hotels combine all these services.
To make the whole experience awesome, all these activities are done in an orderly manner. For example, a body scrub is done before a massage therapy followed by a mini facial. Another good example is a haircut, which is followed by hair coloring and then hair styling.
Day spas present their services as a menu. To make sure everything is clear to their clients, they group all related treatment under a category. With related services grouped under one category, it's easy to choose the treatment that will suit you best.
Some of the popular services provided in day spas include:
Massage Therapy
Day spas in Rapid City offer different types of massage therapy. No matter the model you choose, excellent massage therapy should re-energize and help you recharge.
Deep tissue and Swedish massage are the most popular types. Deep tissue focuses on specific areas by applying pressure to the tight muscles. Swedish massage focuses on the entire body with strokes covering the whole body. Another common massage therapy that is included in the spa package is aromatherapy. This technique uses essential oils which are known to have a relaxation effect on your body. Through smelling different oils, you can achieve different levels of relaxation, and you can quickly notice the one that works best for you.
Another massage therapy that you are likely to find in day Spas menu in Rapid City is a hot stone massage. As the name states, the technique uses some hot stones that have been smoothened. These stones are heated using hot water, meaning it's easy to check their temperature. The hot stones are gently rolled on top of your muscles, back and also your belly.
Warming up your muscles creates a very relaxing effect, but this has to be done by a competent therapist for you to have a wonderful feeling. Remember a good massage therapist should use this approach as an extension of their hands. This means you can request your massage therapist to use their hands just in case the hot stones are not working well for you.
Couples can enjoy the same services in specials rooms set explicitly for them. This is a great way to please your partner while maintaining their health as well. Each partner can have their favorite therapist alongside making the whole process very efficient.
Specialty Massages
Standard massage therapies may not meet your specific need. As a result, you may need to seek specialized massage types such as reflexology or Thai massage. A massage therapist who offers this undergoes some specialized training, and therefore you might not find it in all day spas in Rapid City.
Sportspeople also require special massage therapy. Managing pain caused by sports may need some special equipment and training to avoid more damage. Another group of people who demand specialized massage is expectant women. Pregnant women should strictly undergo prenatal massage under a well-trained therapist.
Massage therapy should always be customized for a specific need. All the same, more emphasis to should be put on exceptional cases to avoid adverse outcomes.
Facial Treatments
Looking good can boost your self-confidence. That's why facial treatments remain at the top of the menu in all days spas in Rapid City. Some of the common facial treatments offered include deep cleansing, anti-aging, and European facial. Depending on your skin type, different products and techniques are used, but all are aimed at cleansing your skin. You may have a natural treat or an active treatment such as a hydro peptide. Your massage therapist can advise you on the one that works best for you.
Body Treatments
Common body treatments, such as body scrubbing can be done at home. All the same, doing it at home cannot be compared to what you get in a day spa in terms of efficiency. In a Day Spa, a body wrap is done to moisturize the scrubbed body. This exfoliates the dead skin cells, thus creating a thorough relaxing effect. Fruits enzymes are also used in day spas to loosen your cellular bonds.
Final Thoughts
Arriving at a day spa earlier than scheduled can spice your entire experience even more. You can begin by enjoying a steam bath or even a sauna before meeting your massage therapist. By the time you start the session, you will be relaxed, and the entire process will be impressive.
Day Spa Services FAQS
The following two tabs change content below.
Guy is a dedicated vegan, who prefers natural remedies to treat root causes of physiological problems, instead of turning to medication to merely treat symptoms. When he learned in December 2017 he was suffering from high blood pressure (hypertension), he turned to massage as a potential answer for his problem. Rather than engage massage as a client, Guy chose to become a massage practitioner and enrolled in the Black Hills School of Massage in Hermosa, SD. He is now licensed to provide Swedish, Deep Tissue and Trigger Point massage among other modalities. He, and his wife Irene who is also a massage practitioner, have joined forces with the Fountain of Youth Waterstore in Rapid City where they provide clients with comforting relief from body aches and pains. Be sure to ask Guy what happened with his blood pressure when you see him for your initial treatment session.
Latest posts by LMT Guy Siverson (see all)