5 Massage Chair Directory Comparisons



From many Fujita massage chair reviews, you will learn that these massage chairs are created by a company with over 45 years of experience for Rapid City. The company, in particular, prides itself in the promotion of balance and harmony between people and nature.
Located in Brea, the company has a dedicated team, efficient distribution method, effective marketing plan, and a simple ordering method. All these factors work hand in hand to ensure that the company can help its customers achieve a healthier, more productive lifestyle.
Today, Fujita designs and manufactures a wide variety of massage chairs. As such, Fujita massage chairs have been improving comfort and health for its customers based on the company's focus on acupressure, physical therapy, and natural healing.
TABLE OF CONTENTS FUJITA MASSAGE CHAIR REVIEWS
Introducing Fujita Massage Chairs
Popular Fujita Massage Chairs
Concluding Thoughts on Fujimi Massage Chairs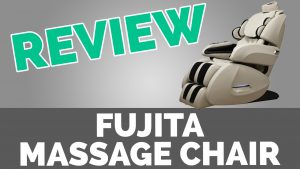 While shopping for Fujita massage chairs, you will come to realize that they fall into two broad categories. They are either excellent designs on paper with unusual features or really robust designs.
One of the main features in all Fujita massage chairs is that they boast 3D massage technology. This technology gives these chairs a cut above the rest in the marketplace.
Popular Fujita Massage Chairs
But what are some of the popular options among Fujita massage chairs? Consider the following:
The Fujita SMK9700 Massage Chair
The SMK9700 massage chair boasts 3D technology. It also comes in an L-shaped design – which makes it unlike many other options that you would find in the market today.
The Fujita SMK 9700 massage chair is an excellent and well-rounded product with a variety of features that are sure to pleasure you. In particular, it comes highly recommended for people who suffer from foot paint and chronic back pain.
Some of the features of the Fujita SMK9700 massage chair include:
3D and 4D switch technology
3D body scan
Air massage mode
Extendable ottoman
Heated massage rollers
Hip swing (instead of the more commonly used body stretching function)
It is Bluetooth compatible
Scalp and head massage
Simple to use remote control
Superior calf and foot massage
Zero-gravity seating
If you suffer from chronic back, foot, and leg pain, you might want to get this full-featured Fujita massage chair to relieve your pain and help improve your overall health and wellness.
The Fujita SMK9700 massage chair is almost perfectly designed. Although it comes with several collections of features as well as some innovations that you might not be able to find elsewhere, some of its implementations are somewhat problematic. Even so, the model is ideal for anyone in need of a high quality and ideally designed massage chair.
Fujita SMK9070 Massage Chair
Second on our list is the Fujita SMK9070 massage chair. It boasts an excellent design and has most of the right features that you would typically be looking for in a massage chair of its caliber. Additionally, it is highly recommended for those who suffer from chronic pain.
Some of the features that you will get when you invest in the Fujita SMK9070 massage chair include:
It boasts the "q" key design
It boasts the unique air massage mode
It comes with a "multi-heat" function
It comes with zero-gravity seating
It has been built using space-saving technology
It has mp3 support
It has the perfect quad rollers
It is available in black, latte, ivory, navy blue, maroon, and yellow
It provides twist and swing functions
The chair features an s-track design
The Fujita SMK9070 massage chair boasts an extendable ottoman
The Fujita SMK9070 massage chair has a Thai-style body stretch function
The remote control is fairly simple and easy to use
This massage chair can provide calf and foot massage
With it, you should be able to perform 3d body scan
If you are shopping for a high quality massage chair, therefore, you might want to try the Fujita SMK9070 massage chair. It has a great design and is a great model – at least by its outward appearance. However, some of the feature implementations are not the best – although this chair makes up for this flaw in its low pricing.
Even with these flaws, the model works well for people who often complain of chronic pain. In particular, this chair from Fujita has an impressive collection of features that work hand in hand to deliver high quality massage experiences.
The Fujita KN9005 Massage Chair
On the other hand, the Fujita KN9005 makes use of high quality 3D massage rollers. With this chair, therefore, you can be sure that you will be getting outstanding flexibility and range in your massage experiences.
The Fujita KN9003 Massage Chair
The company has added foot roller massage techniques to the Fujita KN9003 massage chair. This means that it is an upgrade from other models in the same line of products, such as the Fujita KN7005R. It has also been hailed for its ability to sooth sore muscles and provide deep relaxation. Additionally, this chair is useful in relieving lower back stress and tension.
All in all, finding the right massage chair should not be a problem. In particular, if you are considering Fujimi massage chairs, you can be sure that there is a whole spectrum of options for you to choose from.
All of these chairs are well designed, meaning that you shouldn't have any cause to complain when you get one of them. They also come with a whole spectrum of enviable features – some of which you would not be able to enjoy if you chose to invest in an alternative product.
It is because of all these features and designs that Fujimi massage chairs are now considered some of the best that you can find in the marketplace today. Also, since they come at different price ranges, it should not be too hard for you to get one that meets your needs – both in terms of design, quality, pricing, and more.
The following two tabs change content below.
Guy is a dedicated vegan, who prefers natural remedies to treat root causes of physiological problems, instead of turning to medication to merely treat symptoms. When he learned in December 2017 he was suffering from high blood pressure (hypertension), he turned to massage as a potential answer for his problem. Rather than engage massage as a client, Guy chose to become a massage practitioner and enrolled in the Black Hills School of Massage in Hermosa, SD. He is now licensed to provide Swedish, Deep Tissue and Trigger Point massage among other modalities. He, and his wife Irene who is also a massage practitioner, have joined forces with the Fountain of Youth Waterstore in Rapid City where they provide clients with comforting relief from body aches and pains. Be sure to ask Guy what happened with his blood pressure when you see him for your initial treatment session.
Latest posts by LMT Guy Siverson (see all)