5 Massage Chair Directory Comparisons



Are you looking for one of the best massage options available on the marketplace today? Then you might want to consider reading MB massage chair reviews. Made by Medical Breakthrough, these massage chairs are considered to rank among the most exceptional products you can find to help massage yourself from the comfort and safety of your own home in Rapid City and beyond.
Today, many off-brand companies have been promoting their massage chairs. As such, it might be difficult for you to know where to turn when you are looking for the best choice.
If you are working on a budget, your options will be further limited. This is because some of these companies do not always provide the best return policies and warranties to their customers.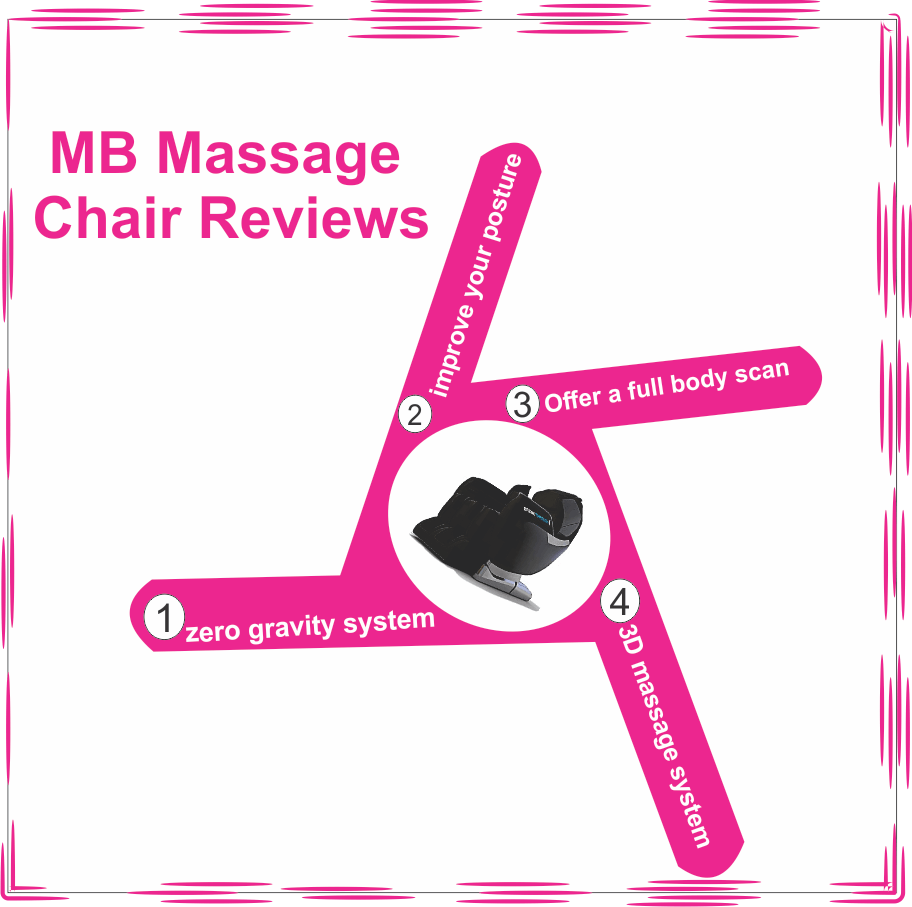 TABLE OF CONTENTS

MB CHAIRS
Introducing MB Massage Chairs

Investing in MB Massage Chairs

Product Description

Product Features

Why MB Massage Chairs?

Concluding Thoughts on MB Massage Chair Reviews
MB massage chairs are different in the sense that they have become popular in the medical community. From many online reviews, you should be able to learn why this is the case.
The company also uses a strong and compelling advertising strategy. This is why there are so many positive reviews of these chairs – stating that they are designed by chiropractors and doctors to provide the greatest amount of comfort possible.
Investing in MB Massage Chairs
The massage chairs in the Medical Breakthrough Series are among the most advanced you can find in the market today. They are engineered scientifically to provide users with a healing experience.
Further, they can provide complete massage sessions through almost all inches of your body. Additionally, they can offer a wide variety of stretches and massage types – something that you might not always be able to find on other options.
These chairs also come with a wide variety of features that you might find useful. One of these features is the inbuilt Intense Heat Therapy that provides relief from deep tissue pain in the back. This feature is quite popular in other high-end massage chairs, so you can be sure that you are in safe hands when you get the MB massage chair.
Product Description
But what should you expect when you invest in an MB massage chair? The first thing that you will notice is that they provide full body massage systems. This means that you can count on these chairs to work on just about everything on your body – from the bottom of the toes all the way up to your upper neck region.
When you sit on it, you can also adjust the settings so that the chair provides a Shiatsu massage – one that will make you feel that you have traveled all the way to Japan.
This means that you can always count on MB massage chairs to help melt away your stress, tension, pain, intensity, and any other factor that has been troubling you. The chairs provide nice and soothing massages that you will always want to get more of them.
Since MB massage chairs are among the most effective in the market today, they are highly recommended. Even doctors prescribe these chairs for the relief of neuromuscular pain as well as for the provision of long-term posture correction.
The chair comes with more than 12 highly advanced massage techniques. You can rely on these techniques to improve your circulation, dramatically get rid of stress, and improve your overall health and wellbeing.
Product Features
Investing in an MB massage chair means that you can take advantage of the following features:
It comes with the zero gravity system

It provides deep tissue massage, lower back massage, arm massage, and more

The 3D massage system on this chairs are designed to relieve pain almost immediately

The chairs are designed to offer a full body scan through their smart medical scanning technology

The chairs can improve your posture after a couple of uses

The chairs provide 3D deep tissue massages
The chairs provide 3D full body scan

They come with a full toe to head through the back massage system

They were made to provide relaxation for all body types

With an MB massage chair, you should be able to get a relaxing and effective massage experience that is clinically based

You can count on them to deliver quality massage experiences through the Zero Gravity sleep system

You can depend on them to add more control over a lifestyle that is free of pain

You can get a whole body massage with these chairs

You will experience full relaxation every time you sit on the MB massage chair
Why MB Massage Chairs?
Living through the struggles of day to day life, you are likely to experience pain and stress quite frequently. People are increasingly becoming less active – and many have allowed themselves to develop unhealthy postures because of sitting most hours of the day.
This often leads to neuromuscular pain that you might not always be able to treat – even if you use painkillers on a regular basis. Further, many people experience compensating forward head tilts, a weak thoracic region, shifting of the anterior pelvic region, and poor gluteal activation.
If you do not get a massage on a regular basis to correct these problems, the movement of your body will be increasingly limited. Additionally, the lack of constant and prompt correction could ensure that you continue experiencing additional dysfunctions while trying to compensate for those that you are already suffering from at the time.
Concluding Thoughts on MB Massage Chair Reviews for Rapid City
In the long run, the best solution would be to invest in an MB massage chair. Medical Breakthrough has made a name for itself by creating products that rely on years of clinical evidence and research in the massage sector.
These chairs come with multi-massage techniques – including those that are recommended by professional massage therapists to promote proper posture and for the full relaxation of the body.
The following two tabs change content below.
Guy is a dedicated vegan, who prefers natural remedies to treat root causes of physiological problems, instead of turning to medication to merely treat symptoms. When he learned in December 2017 he was suffering from high blood pressure (hypertension), he turned to massage as a potential answer for his problem. Rather than engage massage as a client, Guy chose to become a massage practitioner and enrolled in the Black Hills School of Massage in Hermosa, SD. He is now licensed to provide Swedish, Deep Tissue and Trigger Point massage among other modalities. He, and his wife Irene who is also a massage practitioner, have joined forces with the Fountain of Youth Waterstore in Rapid City where they provide clients with comforting relief from body aches and pains. Be sure to ask Guy what happened with his blood pressure when you see him for your initial treatment session.
Latest posts by LMT Guy Siverson (see all)