5 Massage Chair Directory Comparisons



From many Luraco massage chair reviews, you will learn that these massage chairs are exceptional at providing therapeutic relief. Made locally in the country, they come with a wide variety of high-value features that you cannot afford to ignore when looking for a massage chair in Rapid City or beyond.     
If you are shopping around for a high-quality US-made massage chair that comes with tons of options and therapeutic features, therefore, you might want to give Luraco massage chairs a try.
It comes with many amazing features and therapeutic benefits that you will want to try out. This is one of the reasons that they are ranked among the best massage chairs you can find on the market today.
TABLE OF CONTENTS FOR LURACO CHAIRS
Introducing Luraco Massage Chairs

Concluding Thoughts on Luraco Massage Chair Reviews
S-Track Design
For starters, Luraco massage chairs are built around the standard S-Track frame. As such, they have quad rollers that will follow your spine's natural curvature. Although other chairs have the Hybrid L/S track frame, they are still quite uncommon. The Luraco is still like many other high-end chairs in the sense that it sticks to the S-Track.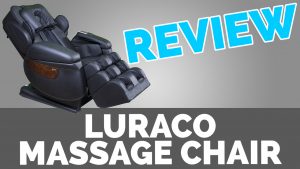 Investing in Luraco massage chairs is always a good idea. This is particularly because of the wide variety of amazing feature and benefits that they come with – including but not limited to:
3D Body Scan
Secondly, Luraco massage chairs build on the quality of every massage therapy session they provide since they have 3D body scanning technology. This is an enviable feature that will allow the chair to scan your back before you start any massage session. In the process, it subtly adjusts the positioning of the rollers to deliver exceptional massage experiences.  
The chair also has a remote control that comes with a variety of buttons for you to manually adjust the position of the rollers as well as the overall width of the complete massage field.   These two features work hand in hand to guarantee that you will always get perfect massages every time you decide to use your Luraco chair.
3D and 4D Massage Technology
The chairs also incorporate this technology into their design for purposes of enhancing all your massage experience. Although this technology is referred to as 3D, it is something of a misnomer.
Every S-Track massage chair is 3D in design because the rollers were made to move all along the X, Y, and X axes. However, the Luraco massage chair has a different technology in the sense it comes with extension arms on its rollers. This means that they can move some 3 inches away from the track.
This feature results in more penetrating and deeper massage experiences. In fact, when you set the maximum intensity setting on your Luraco, you can be sure that it will feel like you are getting a real deep tissue massage from a qualified human masseuse.  
Zero-Gravity Seating
The Zero-G seating feature on the Luraco was inspired by NASA. This new technology is designed to enhance all your massage therapies on this chair. It works by reclinisng you to the position in which the knees are elevated somewhat slightly above the heart.
This way, gravity will see the greater segment of your body weight pressing tightly against the massage rollers. This feature will, therefore, allow you to experience deeper massage experiences with your Luraco chair.
Different Options
Any review of Luraco massage chairs would not be considered complete unless it mentions the various options that these chairs come with. To be more specific, the chair was designed to deliver a wide variety of massage combinations.  
Some of the massage techniques that you will get with this chair include:
K

neading

Shiatsu

Kneading and tapping

Rolling

Swedish

Tapping
Additionally, it covers all the basics by providing 2 highly advanced massage techniques. Using the remote control, therefore, you should be able to choose from any of the following regions of the body:
Feet

Head and neck

Lower back

Shoulder

Upper back
This means that you should be able to use your Luraco massage chair to customize and design the perfect massage experience according to how your body is feeling. Additionally, it will allow you make the necessary changes using the 6 intensity settings on the remote control. As such, the different number of combinations that you can achieve with this chair is incredible.  
The other advantage that you get with these chairs is that they come with 9 different pre-programmed options, including:
Health

Night

Quick

Soft

Sport

Stretch  

Tapping

TV Mode
When you activate the TV mode, in particular, it will recline the chair to a position that is suited to watching television shows. In the meantime, the chair will treat you to low intensity and soothing massages. This is one of the best ways to enjoy your favorite movies and shows – and a wonderful alternative to the inbuilt music support that you might consider for a change of routine.
Air Massage
Another interesting addition to Luraco massage chair is that they come with 80-second-generation airbags. This is an incredible number of airbags – and you can be sure that the chair should be able to deliver exquisite massage therapy sessions.  
You can also activate the airbags selectively to focus on different regions of the body, including:
Calf

Foot

Hand

Head

Hip and Thigh

Lower Arm

Shoulder

Upper arm
Therefore, if you are not in the mood to get a full body massage, you should be able to use your remote control to only turn on those that you are interested in getting. You can also adjust the intensity of the massage through the remote control through the 5 levels of intensity we discussed earlier – thereby allowing you to customize the Luraco massage chair to a virtually unlimited number of options.  
Others
The other features that you get with the Luraco massage chair include:
An impressive warranty

Body stretch

Extendable ottoman
Mp3 support

Surprisingly simple remote

Adjustable timer

Extensive heat

Heart rate and blood pressure monitoring

Memory function
Concluding Thoughts on Luraco Massage Chair Reviews for Rapid City
Overall, the Luraco massage chair comes with a fantastic design and several powerful and enviable therapeutic benefits. It is also very user-friendly and relatively affordable – given the various features you get with it.
The following two tabs change content below.
Guy is a dedicated vegan, who prefers natural remedies to treat root causes of physiological problems, instead of turning to medication to merely treat symptoms. When he learned in December 2017 he was suffering from high blood pressure (hypertension), he turned to massage as a potential answer for his problem. Rather than engage massage as a client, Guy chose to become a massage practitioner and enrolled in the Black Hills School of Massage in Hermosa, SD. He is now licensed to provide Swedish, Deep Tissue and Trigger Point massage among other modalities. He, and his wife Irene who is also a massage practitioner, have joined forces with the Fountain of Youth Waterstore in Rapid City where they provide clients with comforting relief from body aches and pains. Be sure to ask Guy what happened with his blood pressure when you see him for your initial treatment session.
Latest posts by LMT Guy Siverson (see all)