5 Massage Chair Directory Comparisons



Reading Kawaii massage chair reviews can improve your understanding of the various massage chair options available on the Rapid City marketplace today. Additionally, these reviews can open up your eyes to the benefits that you would gain if you decided to invest in a massage chair from Kawaii.
Essentially, Kawaii has been producing a variety of health and wellness products since 1988. During their time in the market, the company has fine-tuned its products to provide exceptional massage therapy to tens of thousands of clients around the globe.
The daily struggle and stress of a demanding life can take its toll on your body and mind. This is why you might want to consider investing in a Kawaii massage chair to take better care of your body so that you can continue enjoying a more productive and active lifestyle.
TABLE OF CONTENTS KAWAII MASSAGE CHAIR REVIEWS
Introducing Kawaii Massage Chairs

Kawaii Massage Chair Options

Understanding the Kawaii HG1310 Series Massage Chair

Benefits of Kawaii Massage Chairs

Concluding Thoughts on Kawaii Massage Chair Reviews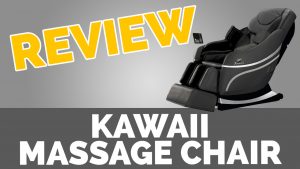 Kawaii massage chairs are designed and manufactured to increase comfort and improve health based on some core theories and time-tested research that Kawaii has been investing in.
Buying one of these chairs, therefore, means that you should be able to enjoy physical therapy, acupressure, and natural healing. This is because Kawaii creates its massage chairs to help relieve stress, stimulate blood circulation, and relax joints, nerves, and muscles.
In the process, the company is able to fulfill its core mandate and mission of sharing the benefits of its years of effort and experience in innovation and research in acupressure massage chairs with those who need them.
Kawaii Massage Chair Options
When you decide that a Kawaii massage chair is for you, you will still need to choose between the various options available today. These options include:
The CK190H Kawaii massage chair

The CK190H Kawaii massage chair

The HG1310 Kawaii massage chair

The HG1501 Kawaii massage chair

The HG20s Kawaii massage chair
Since the HG1310 is the most popular, it will be the focus of this review.
Understanding the Kawaii HG1310 Series Massage Chair
The Kawaii HG1310 Series massage chair is more than just a massage chair; in fact, it has been described as an experience that will massage, relax, and comfort your body as you sink into it.
So, what can you expect from the Kawaii HG1310 Series massage chair? Essentially, this chair is manufactured in LG Electronics (South Korea). As such, you can be sure that it is equipped with some of the highest innovation and best technology. Further, the chair features unique massage therapy movements that you might not be able to find in other chairs available in the market today.
That said, the Kawaii HG1310 Series massage chair is an incredible option that can even provide a variety of massage options – starting with a foot massage at the sole of the feet and going all over your entire body. In the process, it will gently ease all the strain, stress, and tension you might be feeling in your head, neck, back, shoulders and all other parts of the body.
As such, it is not altogether surprising that the Kawaii HG1310 Series massage chair has been described as a spa-like experience that you can get right in the comfort of your office or home.
3D Massage Hands
Another interesting thing about the Kawaii HG1310 Series massage chair is that it also features highly intelligent 3D massage hands. This means that the chair can memorize a total of 3 of your favored programs. Therefore, you won't have to bother with readjusting the settings each time you sit on this chair.
Foot Roller Massage
Additionally, it comes with 6 rollers for the foot massage option. These rollers will provide the relaxation that the soles of your feet need while simultaneously massaging the tops of the feet and your Achilles for the soothing and complete gentle care of your overworked, aching, and tired feet.
Auto Scanning Feature
An amazing massage chair, the Kawaii HG1310 will also hug your body while conforming to it and scanning your back automatically. In the process, it will also stretch out your legs and waist while giving you the option to pick the massage that best meets your needs and preferences.
In the long run, therefore, you can count on the Kawaii HG1310 to provide you with fully therapeutic massage therapy experiences to improve your health. What is more, you can use it on an as-needed basis since it will be right there when you feel that the time has come for a massage.
Benefits of Kawaii Massage Chairs
But what are some of the benefits that come with using Kawaii massage chairs? Essentially, these chairs are designed in such a way that they can imitate the motions and techniques of a professional massage therapist.
As such, you can count on them to relieve tension and stress while reducing any pain you might be feeling in different parts of your body – the neck, the bag, the feet, or any other part that needs massaging.
Medical doctors now agree that getting an option like a Kawaii massage chair can work miracles in helping relieve back pain and tension while allowing you to enjoy the same benefits you would get if you went to a human massage therapist. This is primarily because they are designed to simulate the same effects that come with the human touch.
With a Kawaii massage chair, therefore, you can improve your lymphatic and venous flow. This is because the chairs are designed to manipulate the muscles and increase blood flow to all the right areas. In the process, they also serve to provide better circulation and improved absorption of the essential nutritional elements into the tissues muscles.
Concluding Thoughts on Kawaii Massage Chair Reviews for Rapid City
Overall, the Kawaii HG1310 series massage chair is one of the best options available on the marketplace today. This could also explain its popularity relative to the other massage chairs from the same company.  
The following two tabs change content below.
Guy is a dedicated vegan, who prefers natural remedies to treat root causes of physiological problems, instead of turning to medication to merely treat symptoms. When he learned in December 2017 he was suffering from high blood pressure (hypertension), he turned to massage as a potential answer for his problem. Rather than engage massage as a client, Guy chose to become a massage practitioner and enrolled in the Black Hills School of Massage in Hermosa, SD. He is now licensed to provide Swedish, Deep Tissue and Trigger Point massage among other modalities. He, and his wife Irene who is also a massage practitioner, have joined forces with the Fountain of Youth Waterstore in Rapid City where they provide clients with comforting relief from body aches and pains. Be sure to ask Guy what happened with his blood pressure when you see him for your initial treatment session.
Latest posts by LMT Guy Siverson (see all)