5 Massage Chair Directory Comparisons



While shopping for the right massage chair, you might want to read a couple of Daiwa Legacy massage chair reviews Rapid City. These reviews will introduce you into what is clearly one of the best, most effective options available in the market today. Read on to learn more:
TABLE OF CONTENTS FOR DAIWA LEGACY CHAIRS
Summary
Top Daiwa Legacy Features
Concluding Thoughts on Daiwa Legacy Massage Chair Reviews
The Daiwa Legacy massage chair has been variously described as a solid
therapeutic massage chair with powerful features that you are likely to love. In particular, it comes highly recommended for anyone suffering from chronic pain – meaning you should not view it as a hobbyist chair for casual use.
Top Daiwa Legacy Features
The most popular chairs in the Daiwa Legacy series come with the following features: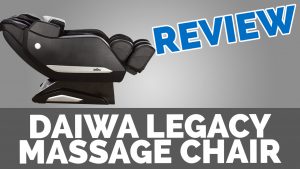 Hybrid L/S Track Design
If you are shopping for a massage chair that is packed with amazing features and tons of therapeutic benefits, then you might want to give the Daiwa Legacy a try. It comes with a solid design and powerful features.
The chair also boasts a hybrid L/S track design as well as quad rollers. As such, you decide about the tracks and rollers to use will largely determine the massage experience you can expect to get from it.
In particular, the hybrid track design will provide you with long massage strokes extending all the way from under the seat and through to the back of your things and to your glutes.
Additionally, this Daiwa Legacy chair comes with quad rollers that are designed to closely resemble the unique feeling of a professional massage experience. The chair also employs many other technologies that will enhance your core massage.
3D Body Scan
Although you might think that the 3D body scan is a standard in the massage chair industry, it is not. Before you get started with the Daiwa Legacy massage chair, therefore, it will scan your body and adjust the width of the field of massage and the positioning of the rollers. These adjustments will be based on the type, shape, and size of your body.
In case you don't feel like the 3D body scan worked perfectly, you can press the buttons on the wireless remote control to manually adjust the massage experience. As such, the Daiwa Legacy provides a dual approach that will guarantee that your massage hits all the right spots.
Zero-Gravity Seating
The Zero Gravity technology on the Daiwa Legacy chair will enhance all your core massage experiences. It will, to this end, place you in a position in which the knees are slightly elevated above the heart. This will allow most of your body weight to press against the rollers – which allows for deeply penetrating massages.
Although you might be glad to see that Daiwa Legacy boasts this feature, you may also be disappointed that the chair only comes with one seating position. Other top-selling chairs provide two or three seating positions – which the Legacy seems to have missed out on.
Massage Options
In terms of massage experiences, the Daiwa Legacy massage chair provides a variety of massage techniques, including:
Kneading
Knocking
Music Sync
Shiatsu
Tapping
Apart from the above, the Daiwa Legacy will also provide a variety of pre-programmed massage options for the upper body, the lower body, the refresh, the relax, the recovery, and the extend (which stretches the body).
Unfortunately, you won't be able to adjust the settings of the intensity of each massage experience. Still, this chair will provide you with deep tissue massages and you can adjust the strength of the massage by removing some of the extra pads in the chair.
You can also change the roller speed using the remote control through 5 different speed settings. However, these changes will not expand the massage combinations that you can achieve with this chair.
Air Massage
Unlike many other massage chairs in the same price range, the Daiwa Legacy massage chair also boasts 48 2nd generation airbags. These bags are positioned strategically all through the chair and can deliver an experience that is remarkably close to getting a full body massage experience. You can also use the remote control to adjust the experience through 3 different levels of intensity.
You can also activate the airbags selectively in terms of the body part that needs a massage – if you don't want to get the full body massage experience. These body parts include the calves, the arms, the thighs, and the shoulders.
Partial and Spot Modes
Another interesting feature that you will get when you invest in the Daiwa Legacy massage chair is the partial and spot mode – a feature that adds tremendous therapeutic value to this chair.
This is because you will finally be able to interrupt the massage program so that the chair focuses the rollers on the parts where you are feeling the greatest pain. This way, the Daiwa Legacy provides users will more flexibility than is possible with other options out there.
Through this feature, therefore, you can work on the areas of your body that need the greatest amount of relief for as long as is required. After relieving one part, you can move on to another body part.
The sports massage feature will focus the massage rollers on areas that are roughly about 6 inches in diameter. On the other hand, the partial massage feature will cover about a third of your entire back.
Last but not least, the Daiwa Legacy massage chair comes with many other enviable features including but not limited to:
Body stretch
Calf massage
Deep tissue massage
Extendable ottoman
Foot massage
Full track heat
Manual adjustment options
Rocking rotation technology
Well-designed remote
Concluding Thoughts on Daiwa Legacy Massage Chair Reviews for Rapid City
However, in the long run, you might prefer the Daiwa Legacy on account of the intense relief it provides from chronic pain. Even though it is by no means the best chair out there, it does come with some enviable features – including but not limited to its relatively low cost.
Who are the manufacturers of the Daiwa massage 💺chair?
The designing of Daiwa massage chairs is done in 🏢California, but the manufacturing is done in 🏢china factories.
Is it right to use a 💺massage chair every day?
The amount of massage you have each day will depend on what you want to achieve. If you are fighting severe tension or stress, you can have it twice a day for a period of between⌚ 15 to 20 ⌚minutes. To avoid soreness in your muscles, you should not have an excess massage.
What is the recommended price for a good massage💺 chair?
With around 💵$2500, you can own a decent massage chair. This is for average persons, but some massage chairs with more features can cost up to $10,000.
The following two tabs change content below.
Guy is a dedicated vegan, who prefers natural remedies to treat root causes of physiological problems, instead of turning to medication to merely treat symptoms. When he learned in December 2017 he was suffering from high blood pressure (hypertension), he turned to massage as a potential answer for his problem. Rather than engage massage as a client, Guy chose to become a massage practitioner and enrolled in the Black Hills School of Massage in Hermosa, SD. He is now licensed to provide Swedish, Deep Tissue and Trigger Point massage among other modalities. He, and his wife Irene who is also a massage practitioner, have joined forces with the Fountain of Youth Waterstore in Rapid City where they provide clients with comforting relief from body aches and pains. Be sure to ask Guy what happened with his blood pressure when you see him for your initial treatment session.
Latest posts by LMT Guy Siverson (see all)