You are up to a smart kitchen but no idea what it takes? Well, having the right tools is all you need. The beauty of it all is that you don't have to jump into a shopping store one day and buy everything. You can achieve your dream kitchen by slowly building up your stock starting with the essential tools.
Having the right tools in the kitchen makes the whole cooking experience awesome and the time spent in cooking is reduced significantly. Having trendy kitchen utensils makes your kitchen environment exciting but this should be a gradual process and with time you should be able to achieve the targets.
Depending on the type of food you make often, you should come up with a checklist of all the tools you need and prepare and priority list. Having a priority list ensures that you buy the essential tools first. Kitchen tools can be divided into different categories and in this article, we will discuss each category.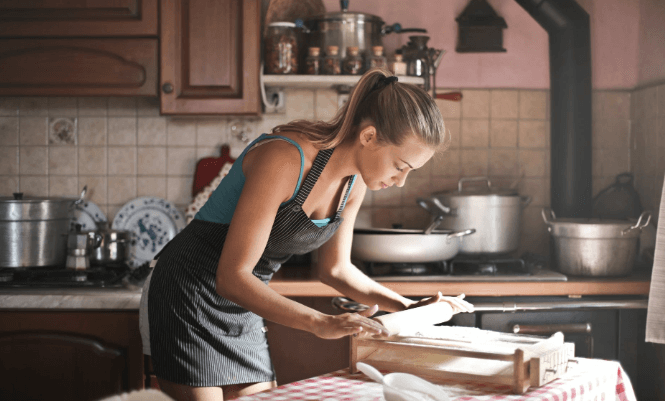 Cookware
Frying pan (Non-Stick)
A frying pan is an essential tool in every kitchen because it is used to make quick and simple meals such as pancakes and eggs. When buying a pan always ensure it is non-sticky to avoid black spots that are left on pans when food burns out. With a non-stick pan, you can also sear meat, makes sauces, or even sauté vegetables. Sometimes you may need to simultaneously prepare meals that require a pan and therefore you can buy more than one pan to save time.
Saucepan
Sometimes you will need to prepare foods that have some liquids such as sauces and beans or boiling pasta and vegetables. Sause pan is the best choice in such cases following its design of longer and well-insulated handles. The Sause pan should also be non-sticky and stainless.
Stock pot
Sometimes you will need to prepare food with soup or stew and an ordinary pan will not hold it. In such cases, a stockpot will do the task considering its base is designed to withhold much heat and it enhances even distribution of heat
Sheet pans
Sometimes you need to prepare a meal without making many utensils dirty. A sheet pan is a multipurpose tool and it can be used to bake meat, roast vegetables, or even toast nuts.
Utensils
Knives
A knife is one of the basic requirements in a kitchen setup. Many believe that a kitchen without a knife is not complete. Knives are used for dicing vegetables, cutting meat, slicing herbs, disjointing some cuts, and chopping nuts. Knives come in different types and it's upon you to decide on the type of knife to buy depending on the type of food you cook often. Carving knives are used for carving and slicing dense meats. Another category of knives you are likely to find in kitchens is Slicing knives which are used for cutting thinner slices of vegetables and fruit.
Measuring spoons
Are you a member of that group of people that trust their eyeballs in measuring the amount of ingredients to add to a recipe? Well, you can use you're your eyeballs if you don't have the required utensil but the truth is you cannot achieve maximum accuracy without a measuring tool and in this case measuring spoon. Sometimes missing the required amount proportions when preparing a meal can mess up the whole process and this is never a wish for any chef.
Measuring cups
Measuring cups perform the same duty as measuring spoons but the difference is measuring cups comes in different sizes and therefore, they provide a wider choice to choose from. Using measuring cups is also convenient especially when handling ingredients that are in liquid form.
Wooden spoons
Wooden spoons are sturdy and strong making them best for stirring thick polenta or cream puff paste without breaking. Having a strong mixing tool allows you to scrape the bottom of the pan without scratching the surface.
Fish turner
The name is more focused on fish but this tool can be used to flip pancakes, burgers, or even eggs. Its power is hidden in the beveled edge which makes slide freely beneath the food. To ensure the unwanted grease is drained, the fish turner has some slots at the bottom that are strategically positioned
Peeler
Many foods require the chef to remove peels before cooking. A good example is potatoes though some people cook without removing the peels. When handling vegetables and fruits you will need to remove peel in different stages and therefore you should always have the required peeling tools.
Whisk
A whisk is an essential tool in professional cooking since it is used to incorporate air into a mixture or blend ingredients in a process known as whipping or whisking. Modern whisks are designed with a narrow handle with a series of wire loops joined at the end.
Tongs
Some call it extended hands because it used to move around some of the ingredients on areas under risk of burn. They are also used to flip food on frying surfaces.
Dishes, Gadgets, and Other Tools
Cutting board
Cutting boards not only make work easier but they protect you from chopping off your fingers. In a kitchen setup, it is recommended to have a number of them to ensure unnecessary mix-up of ingredients. Cutting boards come in sets in many cases and the material of make can either be plastic or wooden. Many prefer plastic ones because it is easier to clean and many cases they can be cleaned together with other utensils.
Colander
A colander is a kitchen utensil used to rinse vegetables or strain foods such as pasta. The perforated nature of the colander allows liquid to drain through while retaining the solids inside. Some chefs refer to this tool as a kitchen sieve or pasta strainer.
Can opener
This is one tool that you are likely to forget but it can mess up your entire kitchen experience. Can-opener is necessary when handling crushed tomatoes, curry paste, packed fruits, or coconut milk just to mention a few.
Microplane zester
This another tool that is ignored by many but people who understand the importance of accuracy in the kitchen value a zester just like other basic tools. Checking whether your dish has a well-balanced amount of flavor may be a hard test especially with the wrong kitchen tools. A zester is used for zesting limes, lemons, cheese, and ginger.
Closing thoughts
Ever checked your kitchen and your cooking moods just faded? Having a great kitchen set is key to living a healthy life because it boosts your morale to prepare a dish of your choice. In this century when living a healthy life has become critical, it is wise to invest in a welcoming kitchen to ensure you enjoy your cooking.
The following two tabs change content below.
Guy is a dedicated vegan, who prefers natural remedies to treat root causes of physiological problems, instead of turning to medication to merely treat symptoms. When he learned in December 2017 he was suffering from high blood pressure (hypertension), he turned to massage as a potential answer for his problem. Rather than engage massage as a client, Guy chose to become a massage practitioner and enrolled in the Black Hills School of Massage in Hermosa, SD. He is now licensed to provide Swedish, Deep Tissue and Trigger Point massage among other modalities. He, and his wife Irene who is also a massage practitioner, have joined forces with the Fountain of Youth Waterstore in Rapid City where they provide clients with comforting relief from body aches and pains. Be sure to ask Guy what happened with his blood pressure when you see him for your initial treatment session.
Latest posts by LMT Guy Siverson (see all)