Looking for good salons in Rapid City?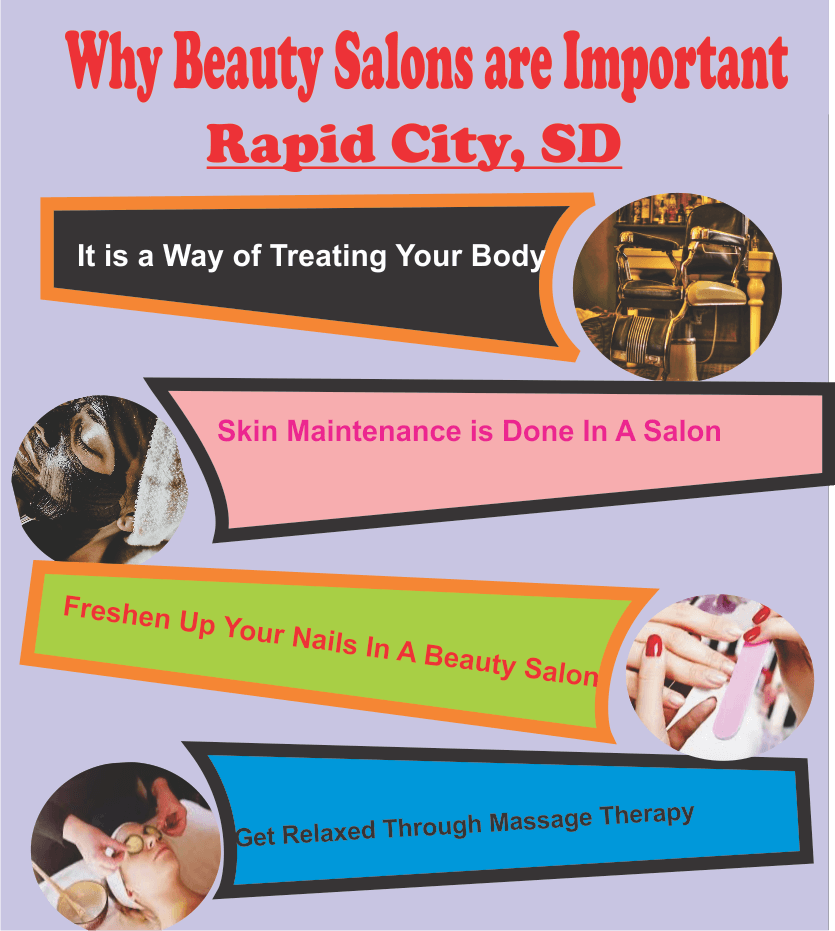 What follow's is a list of 10+ Salon's for you to review and choose.
Salons in Rapid Table Of Contents
Salon One
Cost Cutters
Sibelle Salon & Spa
Planet Hair
Leo Thomas Salon & Spa
A Perfect 10 Nail & Beauty Bar/ Rushmore Crossing
New Wave Salon
AJ's Wicked Salon & Spa
Salon de Soleil
The Man Salon
Eclips Salon on Sixth
SmartStyle Hair Salon
Mystique Edge Day Spa & Salon
Salons in Rapid City Listings
Salon One
ADDRESS: 2030 Jackson Blvd, Rapid City
CONTACT: (605) 343-7777
WEBSITE: Salon One
FACEBOOK

A visit to Salon One will treat your skin and senses. They specialize in relaxing, renewing, and unwinding of your skin. They offer therapeutic and beatifying treatment that makes you feel natural for long.
Cost Cutters
ADDRESS: 1612 Eglin St #400, Rapid City
CONTACT: (605) 791-5911
WEBSITE: Cost Cutters
FACEBOOK

At Cost Cutters, you can get your favorite haircut at an affordable price. They also offer hair coloring and even hairstyling. The Salon is run by well-trained professionals who use the latest styling products, shampoos, and conditioners to make the best out of your hair.
Sibelle Salon & Spa
ADDRESS: 325 Omaha St #3, Rapid City
CONTACT: (605) 791-5112
WEBSITE: Sibelle Salon & Spa
FACEBOOK

These teams of beauty professionals always offer what you asked for or even better. They are excellent in communication, and they are keen on instruction. Through their creativity and technical skills, they always meet the customers need.
Planet Hair
ADDRESS: 607 St Joseph St, Rapid City
CONTACT: (605) 342-1900
WEBSITE: Planet Hair
FACEBOOK

At planet hair, you can get a perfect look through personalized service. They offer classic haircuts based on the customers' expectations. Planet Hair can grace your party by bringing an exceptional beauty look to everyone.
Leo Thomas Salon & Spa
ADDRESS: 816 South St, Rapid City
CONTACT: (605) 721-6970
WEBSITE: Leo Thomas Salon & Spa
FACEBOOK

Leo Thomas Salon is located in Rapid City, and they can easily make your hair look new. They specialize in hair coloring, massage, and haircuts. They operate in a Victorian home, which has a relaxing atmosphere.
A Perfect 10 Nail & Beauty Bar/ Rushmore Crossing
ADDRESS: 1745 Eglin St #770, Rapid City
CONTACT: (605) 791-2600
WEBSITE: A Perfect 10 Nail & Beauty Bar/ Rushmore Crossing
FACEBOOK

Here your Nails can get a new look at affordable prices. The stylists in this nail bar specialize in gel polish while maintaining natural beauty. They are known to impact the hearts of women, children, and even men when it comes to beauty.
New Wave Salon
ADDRESS: 430 Quincy St, Rapid City
CONTACT: (605) 737-7755
WEBSITE: New Wave Salon
FACEBOOK

The New Wave Salon is always up on the latest beauty trends. With well-trained professionals, they guarantee 100% efficiency when it comes to beauty. The high standard beauty services and hair care offered here makes one have a new look and of course, a happy feeling.
AJ's Wicked Salon & Spa
ADDRESS: 610 St Joseph St, Rapid City
CONTACT: (605) 791-5898
WEBSITE: AJ's Wicked Salon & Spa
FACEBOOK

A team of hardworking beauty professionals runs this Salon. They portray a lot of passion when serving their customers. They offer hair and beauty services guided by customers review as well as the company's culture and values.
Salon de Soleil
ADDRESS: 717 Columbus St, Rapid City
CONTACT: (605) 348-2790
WEBSITE: Salon de Soleil
FACEBOOK

Salon de Soleil was founded in 2007 and is located in Rapid City, SD. They offer a wide range of beauty services, which include spray tanning, hair styling, and pedicures. The staff here is friendly and super-talented they are always ready to serve their customers.
The Man Salon
ADDRESS: 1745 Elgin St. Suite 220 Rapid City
CONTACT: (605) 791 4005
WEBSITE: The Man Salon
FACEBOOK

Shawn Ericsson founded the man salon intending to create a package that focuses more on men. He had noticed a flaw in this industry since many beauty salons concentrated on women only. At The Man Salon, you can get Stylish haircuts at affordable prices, and in a relaxed atmosphere.
Eclips Salon on Sixth
ADDRESS: 613 6th Street, Rapid City
CONTACT: (605) 343-2107
WEBSITE: Eclips Salon on Sixth
FACEBOOK

This is a premier beauty salon and spa that gives personalized services to Rapid City residence. They provide hairstyling, designing, and hair treatments at reasonable prices. If you visit this beauty parlor, you can write a review almost immediately due to the excellent services offered here.
SmartStyle Hair Salon
ADDRESS: 100 E Stumer Rd, Rapid City
CONTACT: (605) 343-2887
WEBSITE: SmartStyle Hair Salon
FACEBOOK

Smart Style Salon offers a full package of haircut service. Skilled stylists run it, and they understand the latest haircuts and products that make you feel the best. They provide quality services, and you can be sure to have a fantastic experience at this hair salon.
Mystique Edge Day Spa & Salon
ADDRESS: 318 Mt Rushmore Rd E, Rapid City
CONTACT: (605) 737-0095
WEBSITE: Mystique Edge Day Spa & Salon
FACEBOOK

Mystique Edge always ensures their customers feel thoroughly pampered. They emphasize on quality services that are aimed at creating a custom look for each client. Their services include min facial, shoulder massage, and also hand massage.
Both Salon's And Massage Can Increase Your Ability To Enjoy A Good Chill
With that said let me introduce you to our 3 top Massage Therapy directories.
My goal is to update these details as often as possible.
I could use your help in that regard.
Things are constantly changing. From new businesses to those that have closed keeping up with it call can be challenging. That's why I could use your help.
Please comment below if you see details that can be improved upon in our directory. We will review and update where found necessary.
Thanks in advance for your help.
Why Beauty Salons are Important in Rapid City
One way of ensuring you have a positive attitude is ensuring you are beautiful.
Beauty creates a feeling of happiness, similar to what you get after a good massage.
Being happy attracts the attention of people, and in today's era, this is crucial to the majority.
All the same, beauty should be maintained, and that's why professionals in the beauty world are vital in your life. A beautiful appearance boosts your confidence as well as self-esteem.
Achieving a fantastic beauty level can be very expensive if done at home. Even if you buy all the tools and products you need, a professional can make the entire process much more affordable and efficient not to mention fun.
Beauty professionals have become part and parcel of the community in Rapid City. Just like a Massage Therapist, beauty professionals can help you discover yourself while helping you to feel special.
Why should you visit a beauty salon?
It is a Way of Treating Your Body
One of the best ways to treat yourself is a manicure, facial, and pedicure. Heat treatment, combined with gentle pressure on the skin creates a lot of pleasure just like massage therapy can.
Additionally, you can have quality grooming time in a beauty salon.
In a Rapid City beauty parlor, you simply need to relax, and the beauty expert will take you through the process in a fun stress-free enjoyable way.
Skin Maintenance Can Be Done In A Salon
Skin is a very important part of our body since it displays our personality.
Unfortunately, people are busy, and they forget about themselves. This hectic schedule can easily make you neglect your skin without even noticing.
By sparing a few hours a week, you can nourish your skin by removing dead cells and other forms of impurities. Treatment of acne and other skin conditions can also be done here.
That's why beauty parlors are believed to have health benefits similar to that of a Massage Therapist.
You Can Get Relaxed Through Massage Therapy
Massage therapy is a necessity for a healthy human body.
Even though massage makes you feel relaxed and happy, it also heals back pains and other conditions caused by strain.
Massage remains one of the best treats you can get in beauty salons too.
This can help you ease tension and rejuvenate your emotions. The massage therapy provided in beauty salons can also boost your blood circulation, which will help you to live a much healthier life.
You Can Freshen Up Your Nails In A Beauty Salon
Healthy nails create real good feelings for you to enjoy.
Nail art focuses on making your hand look amazing by applying various designs that are in fashion.
Beauty parlors in Rapid City integrate this service in their shops to make sure your nails freshen up every time you visit them. Having quality time for yourself is very important no matter what you do for a living.
Ensure you have a divine feeling by making sure your nails are well polished.
Your Hair Can Be Treated In A Spa
Do you enjoy having bouncy, shiny, and dandruff free hair?
Do you know a beauty professional can make your day marvelous by treating your lovely hair?
Hair treatments in a spa can help you manage your damaged hair by revitalizing your hair and removing impurities. Impurities can be caused by the polluted atmosphere or use of wrong products on your hair.
By use of deep conditioning, your hair can get strengthened, thus creating a shiny effect.
Plus revitalization of your scalp restores the natural hair oil, which contributes a lot to the roots of healthy hair.
Quality Products Can be Accessed in Beaty Salons
You can access a wide range of quality beauty products in a beauty salon. Though these products are available in a general store, a professional is needed to explain the best product for you.
A beauty professional will check your skin condition before recommending any product to you. This is very important since it keeps you away from the dangers that might come with the use of the wrong type of products for your skin.
Just like a Massage Therapist who checks your health conditions before treating you, a well-trained beauty professional will do the same on your skin.
It is recommended you avoid seeking beauty treatments in the street or from untrusted stores since it may cause more harm than good to your overall wellbeing.
To make sure your body is well nourished and relaxed, book an appointment with a beauty professional in Rapid City today, and your beautiful look will be both maintained and restored.
The following two tabs change content below.
Guy is a dedicated vegan, who prefers natural remedies to treat root causes of physiological problems, instead of turning to medication to merely treat symptoms. When he learned in December 2017 he was suffering from high blood pressure (hypertension), he turned to massage as a potential answer for his problem. Rather than engage massage as a client, Guy chose to become a massage practitioner and enrolled in the Black Hills School of Massage in Hermosa, SD. He is now licensed to provide Swedish, Deep Tissue and Trigger Point massage among other modalities. He, and his wife Irene who is also a massage practitioner, have joined forces with the Fountain of Youth Waterstore in Rapid City where they provide clients with comforting relief from body aches and pains. Be sure to ask Guy what happened with his blood pressure when you see him for your initial treatment session.
Latest posts by LMT Guy Siverson (see all)