For years people have been using massage for therapeutic purposes. It helps people to relieve pain, reduce stress and decrease muscle tension. Most people still like to have a massage every week. However when you are an employee who has to work more time as compared to the time taken to rest, visiting a spa can be difficult. Paying for a massage every week might not be affordable as well.
To reduce pain most people take painkillers but we all know it is not the right solution. You can't get the relief from a painkiller that you can have from massage. The best alternative for hands of masseur is massage chair. There is a huge variety of these chairs available in the market. However, we have OSIM Uastro2 Massage Chair Reviews to help you understand why it is the best.
Table of Contents for Uastro Chairs
Introduction to OSIM Uastro2 Massage Chair
Product description
Product features
Pros
Cons
Concluding thoughts
Introduction to OSIM Uastro2 Massage Chair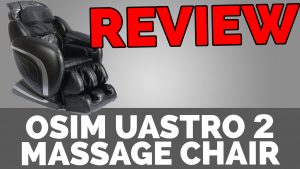 People are showing interest in a massage chair. They want to invest in the best quality chair which can relax their muscles and tissues effectively. That is why they are reading different types of OSIM Uastro2 Massage Chair and Panasonic Massage Chair Reviews. While writing a review every product tester has his/her own point of view.
You might come across several misleading reviews available on the internet. Reading such reviews will create confusion that whether you are investing in the right product or not. A right massage chair will always be good for your health. If you decide to go with OSIM Uastro2 Massage Chair it can be the best choice.
Product description
OSIM Uastro2 Massage Chair is designed with special technology to fit in the needs of readers. The experts have paid special attention to features and types of massage this chair can provide.
It is designed with the latest technology to give users a complete massage experience. From heating to movements of rollers you will feel like you got a free spa day at home. It will improve your quality of sleep by relaxing all tight muscles in your body and reduce sensations of pain you have been feeling. It has a simple and attractive design. OSIM Uastro2 Massage Chair has the capability to adjust a person of any weight and size.
Auto scan technology
The biggest attraction of OSIM Uastro2 Massage Chair is the auto body scan technology. There are special sensors in the chair that will scan your entire body. However, the scanning system is different from traditional scanners available in other massage chairs.
Instead of scanning the issues in your body and identifying all painful regions, it will locate all pressure points of your body. The information will be sent to the massaging system of the chair. That is how when you will sit on the chair for a massage it will directly target all highlighted pressure points of your body. It will allow you to quickly relax and improve the flow of blood in your body.
Zero gravity feature
The OSIM Uastro2 Massage Chair is developed with zero gravity technology. It will help maintain your body in a position where the level of knees is higher than your heart level. At this stage, the flow of blood will improve. It will also remove pressure from the spine and allow the muscles to relax. It is a very useful position that helps to reduce pain and inflammation on the back and the lower region of the body.
Various massage programs
OSIM Uastro2 Massage Chair is developed with various massage programs. It means that as soon as you will be on the chair you can select from a variety of massage options available. From deep rolling massage through rollers to automatic and manual massage, it will give you the satisfaction that you want.
If you are suffering from lower back pain, it has lumber heating facility available. You can heat a painful region of your body before the massage to soften the muscles and get best effects every time. The airbag compression massage has 34 airbags that will provide full body massage for ultimate relaxation and soothing effect.
Product features
Some interesting features you will come across while using OSIM Uastro2 Massage Chair are.
8 automatic massage programs
4 manual massage options
4 localized massage programs
Airbag massage program
4 rollers for deep massage
During manual massage program where you can adjust the width of rollers
Heat function for lumbar area
LCD controller to show all massage programs and duration.
For easy mobility, there is a caster at the back of the chair
For different intensities backrest cushion pad is removable
For tapping and kneading, a speed adjustment facility is available.
Automatic timer for 15 minutes
Vibrating and squeezing function available in the armrest
Zero gravity facility available
For customized massage, the optical center will detect pressure points of the body.
Pros
While using OSIM Uastro2 Massage Chair, some interesting benefits you will get are.
Functional
Simple and easy to use
Spacious
Easily accommodate bulky people
For personalized massage experience, multiple programs are available
Remote control for convenient function
For deeper massage zero gravity recline available
All pressure points are detected by automatic scan system
Full body massage option available
For relaxation of tense muscles lumber area heat is available
Cons
A few drawbacks you might come across are.
It takes a lot of room
Heavy and hard to move around
Customer service is not reliable
Concluding thoughts
You must have read several Pisces Dolphin II Massage Chair Reviews and checked the ratings against different chairs. The OSIM Uastro2 Massage Chair will always remain at the top because it has complete spa facilities. You can have all the different types of massages that cost extra in a spa center. With different massage movements and rollers, it will be easier for you to enjoy a relaxing massage every day when you return from the office.
The following two tabs change content below.
Guy is a dedicated vegan, who prefers natural remedies to treat root causes of physiological problems, instead of turning to medication to merely treat symptoms. When he learned in December 2017 he was suffering from high blood pressure (hypertension), he turned to massage as a potential answer for his problem. Rather than engage massage as a client, Guy chose to become a massage practitioner and enrolled in the Black Hills School of Massage in Hermosa, SD. He is now licensed to provide Swedish, Deep Tissue and Trigger Point massage among other modalities. He, and his wife Irene who is also a massage practitioner, have joined forces with the Fountain of Youth Waterstore in Rapid City where they provide clients with comforting relief from body aches and pains. Be sure to ask Guy what happened with his blood pressure when you see him for your initial treatment session.
Latest posts by LMT Guy Siverson (see all)