5 Massage Chair Directory Comparisons

We live in a stressful world and probably there is not a lot we can do about that. However, you can do a lot of things to fight stress in and beyond Rapid City. Ranging from exercising daily to treating yourself at spas, the options are varied. However, not everyone has time to exercise daily or to go the spa three times a week. For those who want to relax at home, there are massage chairs.
Massage chairs, in general, are a fantastic invention. They give you a massage right in your own home while you just sit down. They offer different features or programs to fit your needs.
And there are so many options that you are guaranteed to find one that suits you the best. However, that many options can become a problem. Some brands are outright defective products that you should not spend your money on. And others are fine, but just fine. If you want to learn about one of the best massage chairs in the market, continue reading.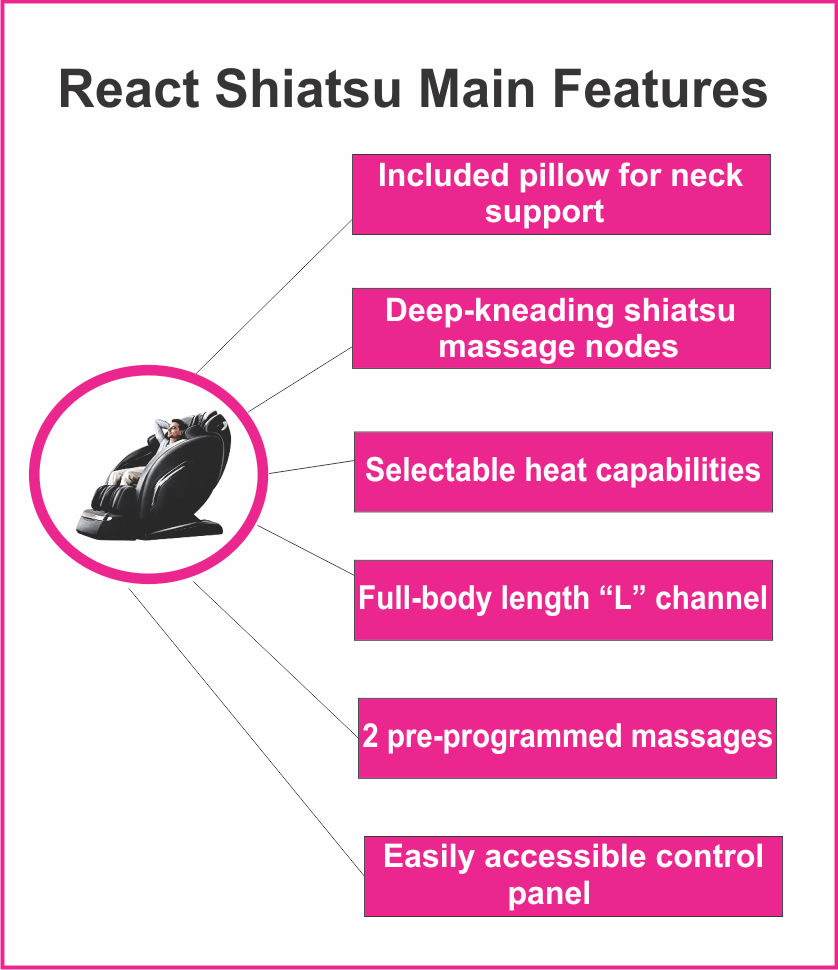 The React Shiatsu Massage Chair reviews indicate that this is one of the best options in the market. In this review you will find everything you need to know about this amazing product:
1. Design
Most React Shiatsu Massage Chair reviews agree on something at first sight. This massage chair looks simply amazing. It has a flawless and modern design that is guaranteed to brighten up any room you place it in. It comes in an elegant combination of black and red to pair perfectly with any décor you have.
Also, it is small compared to other massage chairs. Relax 2 Zero Massage Chair reviews, for example, agree that it is too big for some rooms. The React Shiatsu, however, fits anywhere. It is actually so small, that you can even take it with you to your office. You should note that, even when it is small, it is still very powerful and comfortable. The React Shiatsu is the perfect mix of practicality, comfort, and functionality. You will learn more about these features in just a few seconds.
2. Main features
The React Shiatsu massage chair has a wide array of features to help you relax. Some of those features are:
Deep-kneading shiatsu massage nodes: Shiatsu is a Japanese massage technique that has a lot of benefits. By using circular-motion pressure on acupressure points, it helps your sore muscles relax and release tension. And this chair applies those same principles. It comes with deep-kneading shiatsu massage nodes to make you relax and enjoy a pleasurable massage while you are sitting.
Selectable heat capabilities: Relax your back muscles by selecting how hot you want the chair to be.
Full-body length "L" channel: This chair massages your entire body, from thighs to back. It uses a continuous track to provide deeper relaxation.
2 pre-programmed massages: You can choose between a full-body or back massage.
Spot massage: The spot massage option lets you target small and specific areas to relax as much as possible.
Easily accessible control panel: The control panel is conveniently located in an easy-to-reach place. This way, you don't have to interrupt your massage to change the settings.
Included pillow for neck support: Support your neck and keep it comfortable with the included removable neck pillow.
Price: Price is one major feature of the React Shiatsu Massage Chair. Lucky for you, the React Shiatsu costs over 10 times less money than expensive massage chairs!
3. Benefits
The React Shiatsu Massage Chair combines the benefits of traditional massage chairs with the benefits that come with Shiatsu massage. Some of those benefits are:
Your React Shiatsu Massage Chair can improve your sleep by relaxing your entire body.
Having regular massages can increase your flexibility.
It accelerates muscle recovery in case of mild injuries.
It improves the circulation. The deep-kneading massage nodes get the blow flowing. That, naturally, comes with several health benefits.
It alleviates muscle pain. That makes the React Shiatsu massage chair perfect for relaxing after working out.
A Shiatsu massage on your chair reduces your heart rate. This helps you calm down and relax. It also can improve your concentration while you enjoy a pleasant massage.
4. Specifications and safety information
By now, you probably are absolutely enchanted with the ReAct Shiatsu Massage Chair. And it should not surprise you at all. With all the benefits it brings and the amazing features it has, it is indeed an amazing option. If you want to know further specifications and safety information, this section is for you.
Couples Massage Rapid City Spa Therapy
Size: The ReAct Shiatsu Massage Chair is versatile and small. Thanks to https://wwhttps://www.brookstone.com/pd/react-shiatsu-massage-chair/973068p.htmlw.brookstone.com/pd/react-shiatsu-massage-chair/973068p.htmlits reduced dimensions, you can place it anywhere or even bring it with you. The dimensions are 24 x 34 x 34 inches.
Weight: This massage chair is also very lightweight. That makes it easy to move it around to vacuum or clean, or even to transport it. The ReAct Shiatsu Massage Chair only weighs 61 lbs. this is practically a feather compared to other massage chairs.
Maximum user weight: Although this chair is small and lightweight, it is very durable and resistant. The maximum user weight 265 lbs.
Safety information: You should keep in mind that this chair is designed only for adults. Also, if you are pregnant, have a spine condition or any other medical issue, you should consult with your doctor before using the chair.
The following two tabs change content below.
Guy is a dedicated vegan, who prefers natural remedies to treat root causes of physiological problems, instead of turning to medication to merely treat symptoms. When he learned in December 2017 he was suffering from high blood pressure (hypertension), he turned to massage as a potential answer for his problem. Rather than engage massage as a client, Guy chose to become a massage practitioner and enrolled in the Black Hills School of Massage in Hermosa, SD. He is now licensed to provide Swedish, Deep Tissue and Trigger Point massage among other modalities. He, and his wife Irene who is also a massage practitioner, have joined forces with the Fountain of Youth Waterstore in Rapid City where they provide clients with comforting relief from body aches and pains. Be sure to ask Guy what happened with his blood pressure when you see him for your initial treatment session.
Latest posts by LMT Guy Siverson (see all)