Are you looking for the ultimate in luxury? Then you have come to the right place. From other Osim uComfort massage chair reviews, you might already have learned that all Osim massage chairs are designed in a contemporary and modern way and built with the highest quality materials available in the market today.
In terms of design, these chairs also feature highly advantage massage therapy technology. For instance, Osim uses a mobile application that you can rely on when you need to control the settings of the chair.
Although the uDivine is among the most popular of all of Osim models – particularly because it provides human-like massage experiences, other options in include the uAstrol2 and the uComfort. Read on learn more:
TABLE OF CONTENTS FOR OSIM UCOMFORT MASSAGE CHAIRS
Introducing the Osim UComfort Massage Chair
Product Description
Product Features
Concluding Thoughts on Osim uComfort Massage Chair Review
A recliner chair in terms of design, the Osim uComfort massage chair is an enviable product within its class. If you have ever been to a mall, then you have probably already seemed these chairs in some stores or even being used for a small fee.
But what exactly can you expect from the uComfort? Essentially, you just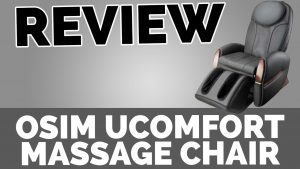 need to get into the chair and use the remote control at hand to select any of the automatic fully body massage experiences that the chair providers. This will start the action and you will experience the real sensations of a near-human massage.
Product Description
With the Osim uComfort massage chair, therefore, you can expect to get high-quality massage experiences every time you sit on it. Although the chairs are relatively premium priced, you can now buy them second hand for a fraction of the factory price and still be able to enjoy the luxurious massages that you would have benefited from if you have invested in a new chair.
But what can you expect when you buy an uComfort? Essentially, the chair was designed to deliver powerful full body massage experiences. When you start any of the programs embedded into the chair, the massage rollers will start gliding all along the entire length of the back. In the prices, therefore, it will customize the massage experience.
Through this precision calibration feature, therefore, the Osim uComfort will ensure that you receive more effective and sensitive massages to soothe all the right spots on your body.
You also get the option to choose from three unique full body massage programs as well as 6 additional programs that are highly targeting to hit all the right spots – particularly those that need special attention (like the back and the shoulders).
However, you can use the manual massage controls on the chair to customize your own massage experience. Either way, you can rest assured that the Osim uComfort massage chair was designed to provide four types of neck, kneading, back, and deep massage experiences. Further, it has an airbag massage feature to relieve any stress and tension you might be feeling in your hips, seat, ankles, and calves.
As both a manual and an electric massage chair, the Osim uComfort also comes with an easy to use remote control feature. This feature is user-friendly to ensure that you can get the exact type of massage that your body needs and wants without much hassle on your part.
Additionally, it has a foot elevation feature and an independently-controlled power recline position. This way, you can always be sure that every time you sit down in this chair, you will feel comfortable – whether or not you are getting a massage.
Even so, you can now rely on the Osim uComfort massage chair to relieve any tension and stress that you might be feeling in any part of your body. This way, it will provide you with the relaxation that you have been looking for.
Product Features
But what can you expect when you invest in the Osim uComfort? Consider the following features that this product boasts:
Every massage is calibrated to precision for your body
It comes with 4 different types of neck, back, kneading, and deep massages for you to choose from
It delivers powerful full-body massage experiences
It is covered in a highly durable and relatively easy to clean synthetic leather material
The chair boasts 6 targeted programs that will work on the areas of your body that require special attention
You get the opportunity to choose from 3 full-body massage experiences
NB: However, some people are advised against using the Osim uComfort massage chair. These include anyone who:
Has a pacemaker installed
Has anything mechanical, like screws and pins, in their feet, ankles, or legs
Is at high risk of developing a blood clot as a result of undergoing surgery recently
Is pregnant
Suffers from thrombosis, phlebitis, or diabetes
If you fall into any of the categories listed above, it is highly advised that you first consult with your physician before you use this product (or any other massage device that is designed to be used at home).
Concluding Thoughts on Osim uComfort Massage Chair Review
Over and above everything, there are many other massage chair options out there on the marketplace. Although each of these chairs comes with their own unique features and advantages, you can always count on the Osim uComfort to deliver a more comprehensive experience.
For starters, the pricing of this chair is right – especially when you consider the many features and advantages that it provides. Even if the price might initially seem too high for some people, most will eventually come to realize that it was worth every penny.
Last but not least, the Osim uComfort is ergonomically designed to provide comfortable massage experiences in almost every part of the body – this means that you can always rely on it whenever you need a massage but do not want to get a masseuse.  Further, for contributions to this massage resource.
The following two tabs change content below.
Guy is a dedicated vegan, who prefers natural remedies to treat root causes of physiological problems, instead of turning to medication to merely treat symptoms. When he learned in December 2017 he was suffering from high blood pressure (hypertension), he turned to massage as a potential answer for his problem. Rather than engage massage as a client, Guy chose to become a massage practitioner and enrolled in the Black Hills School of Massage in Hermosa, SD. He is now licensed to provide Swedish, Deep Tissue and Trigger Point massage among other modalities. He, and his wife Irene who is also a massage practitioner, have joined forces with the Fountain of Youth Waterstore in Rapid City where they provide clients with comforting relief from body aches and pains. Be sure to ask Guy what happened with his blood pressure when you see him for your initial treatment session.
Latest posts by LMT Guy Siverson (see all)