From most Luxor Health massage chair reviews, you will learn that these chairs were designed to provide you with high-quality massage experiences at an affordable price.
The company that makes these massage chairs tests them rigorously through its manufacturers and on its own. This is because it is important for them to know that the quality of its products is top notch before they are released into the market.
Additionally, it does all the demanding durability and performance requirement tests to ensure that you will get the best massage chairs available in the marketplace. This is why the company has made a name for itself for the exceptional Luxor Health massage chairs they market.  
TABLE OF CONTENTS FOR LUXOR CHAIRS
Introducing Luxor Health Massage Chairs

Different Luxor Health Massage Chair Options

Luxor Health A-Series Massage Chair

Luxor Health G2 Series Massage Chair

Concluding Thoughts on Luxor Health Massage Chair Reviews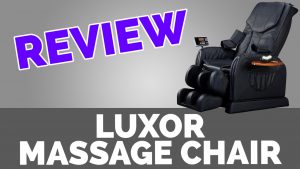 One of the benefits that you get when you invest in a Luxor Health massage chair is the extended warranties and limited warranties – which are completely unlike what you would derive from another option. This way, the company is able to provide high-quality products at affordable prices that customers can benefit from in the long run.
Different Luxor Health Massage Chair Options
Even if you have decided that a Luxor Health massage chair is for you, it is essential that you also choose an option that best matches your needs and requirements. The company makes a wide variety of these massage chairs, including:
Luxor Health A-Series Massage Chair
The A-Series Luxor Health massage chair comes with every massage function you can imagine – from Zero gravity and more. They also provide heat therapy for the feet and the back, as well as a hand-held jade heater that you can use on other body parts.
These chairs also boast an MP3 player complete with headphones. As such, you can rest assured that you will get every function that you have ever desired in a music support Luxor Health massage chair.  
Product Features
When you invest in Luxor Health A Series massage chairs, you will get:
4 enviable auto programs, including comfort, body care, activate, and ease

A maximum of 32 different types of massages working from your head to your toes

It boasts advanced digital and computer chip technology  

It boasts VFD chromatic displayers that display all the functions of the chair

It comes with 32inch rolling strokes

It comes with an S ergonomic design and a classy and luxury finish

It is equipped with automatically adjustable body scans for the shoulders and the upper body

The chair boasts mechanical massage hands and a muted voice design to ensure that you can take advantage of its 3D massage experience

The chair comes with a flash memory card, USB adaptor, and an MP3 player, as well as a unique coffee tray and headphones

The deluxe arm massage is removable and you can store it behind the back pad so as to massage your outer arm  

The Luxor Health massage chair has 3 heating systems, meaning that you can get the heated feet area, the heated back area, and infrared jade (handheld) heater with 5 jade rollers

The recliner has massaging motors placed strategically all over it

They come with true Zero Gravity experiences meaning that you can adjust the legs, back, and seat so that the feet go up about 12 inches above your head
You can also read massage chair cushion reviews and MB massage chair reviews for other options available in the marketplace today.
Luxor Health G2 Series Massage Chair
Second on our list of Luxor Health massage chairs is the G2 Series. This series comes with incredible under the heel, under toes, and underfoot roller massage settings. It has airbags above the foot and toes to press down the feet and toes while the roller massagers are functional.  
The leg portion also extends out – which makes the Luxor Health G2 series massage chair ideal for everyone – both tall and short. This portion will ensure that the foot massager is always on your feet.
When you invest in this series, you can also enjoy a finger, hand, forearm, upper bicep, hip bag, and seat massage experiences. It also comes with a shoulder massage feature that will grip your upper arms and shoulders while providing horizontal and vertical massages for your head, neck, and back.
It also boasts a waist stretching function. Through this function, the chair will use air pressure to hold your legs and shoulders before reclining automatically to stretch the lower back and waist.
Another feature with this chair is that it comes with five intensity settings that work on the back massage segment. You can, therefore, adjust your Luxor Health G2 series massage chair to any intensity – from gentle to extremely intense.
Product Features
It boasts an inbuilt speaker system complete with Bluetooth access so that you can easily control it with Android and any other gadget for music and movies

The chair comes with an incredible massage range to ensure that your entire body is taken good care of, from the back top of the head to the lower back

The Luxor Health massage chair G2 series comes with a 3D massage feature that goes all the way down and up your back

The upper back part of the chair has a thin cloth to ensure that the rollers can get through to your neck, shoulders, upper back, and the base of the head for deep massage experiences

There are massage airbags on the side working outside the rollers  

You can adjust the working mechanism of the Luxor Health massage chair to focus on particular parts of your body

You can move the chair to the upper part of the head
Concluding Thoughts on Luxor Health Massage Chair Reviews
If you are looking for a massage chair that is packed with enviable features but sold at an affordable price, you might want to give the Luxor Health massage chair a try. It has been tested and found to be worth every extra penny.  
The following two tabs change content below.
Guy is a dedicated vegan, who prefers natural remedies to treat root causes of physiological problems, instead of turning to medication to merely treat symptoms. When he learned in December 2017 he was suffering from high blood pressure (hypertension), he turned to massage as a potential answer for his problem. Rather than engage massage as a client, Guy chose to become a massage practitioner and enrolled in the Black Hills School of Massage in Hermosa, SD. He is now licensed to provide Swedish, Deep Tissue and Trigger Point massage among other modalities. He, and his wife Irene who is also a massage practitioner, have joined forces with the Fountain of Youth Waterstore in Rapid City where they provide clients with comforting relief from body aches and pains. Be sure to ask Guy what happened with his blood pressure when you see him for your initial treatment session.
Latest posts by LMT Guy Siverson (see all)