Are you shopping for best massage chairs available in the market today? Then you might be interested in iJoy massage chair reviews. Designed to provide the complete massage therapy experience, these chairs can relax both the muscles and the body.
If you use these chairs systematically, therefore, you can be sure that they will provide you with the relief your body needs from aches and pains. They will also rejuvenate your entire body as well as improve your circulation.
From most reviews of these massage chairs, the most popular options are the iJoy 2310 and the iJoy 2580. A good comparison of these models can help you make a more informed decision about the product that will be worth your investment.
Short Background
The iJoy 2580 Massage Chair
Comprehensive Review of the iJoy 2580 Massage Chair
The iJoy 2310 Massage Chair
Comprehensive Review of the iJoy 2310 Massage Chair
Concluding Thoughts on iJoy Massage Chair Reviews
>>> CLICK HERE TO READ Ideal Massage Chair Reviews<<<
Read on to find out more:
Short Background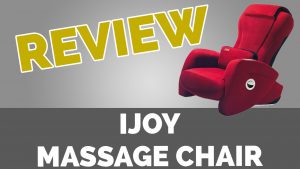 iJoy massage chairs are made by Human Touch – one of the leading producers of high quality innovative massage chairs. The company has been providing highly responsive products with patented systems. As such, you can count on it to replicate a professional massage experience right in the comfort of your own home.
The iJoy 2580 Massage Chair
With the iJoy massage chair, you will get the following product features:
It comes with 4 massage techniques
The chair boasts 3 preset massage programs
The recline positon on the 2580 is fully automatic
Comprehensive Review of the iJoy 2580 Massage Chair
As you can well expect the iJoy 2580 massage chair uses the proprietary Human Touch massage technology to deliver 4 primary massage techniques common in the massage therapy industry.
This technology was designed to provide intense action that closely resembles what you would get from a professional massage therapist. As such, the chair provides compression, percussion, kneading, and rolling.
a) Rolling
For starters, the chair applies the rolling technique all along the entire back. This feature comes with gentle rolling along the spine.
b) Kneading
On the other hand, the iJoy 2580 massage chair kneads the shoulders and neck by lifting the muscles in these body parts before stretching them. It has rollers that work in small circular motions – in the process moving on either side of your spine.
c) Compression
The compression feature is designed to spread pressure all over your body until it gets to your deep muscle tissue. At the same time, it will also provide a gentle rocking motion to accentuate the massage experience.
d) Percussion
Last but not least, the iJoy 2580 uses alternating strokes that tap rapidly to perform the percussion technique.
>>> CLICK HERE TO READ Inada Flex 3S Massage Chair Reviews<<<
Apart from the above features, the iJoy 2580 massage chair also comes with 2 motors as well as a quad roller. Additionally, it has 3 preset programs to focus on the entire back, lower back, and the upper back.
To ensure that you enjoy its automation, you just need to press a button on the chair. Each of these options lasts for 15 minutes – and provides relief and a refreshing feeling from any pain and tension you might be feeling.
As a reclining massage chair, the iJoy 2580 also moves back to a maximum angle of 165 degrees. In this position, you will be better placed to experience the full vigor of the massage experience. However, you can also change the angle and adjust it until you find the perfect position for you.
The iJoy 2310 Massage Chair
On the other hand, the iJoy-2310 comes with some unique features:
It boasts 4 massage techniques
The chair comes with 3 preset massage programs
The recline position is manual
Comprehensive Review of the iJoy 2310 Massage Chair
The second option from the iJoy line designed by Human Touch, the iJoy 2310 massage chair uses the same technology and massage system as the 2580. However, it is a lower priced option that is also smaller in size.
That said, it comes with 3 automatic programs – each of which are designed to provide 15 minutes of intensely relaxing massage experiences. With these options, therefore, you should be able to refresh and rejuvenate your entire back, sooth any soreness in the lower back, or relieve the tension you might be feeling in your neck and upper back.
Additionally, you can customize the massage experience you receive by setting the rollers on the iJoy 2310 massage chair to target particular parts of your body – depending on where you would like to focus the massage.
The massage techniques in this chair are similar to those that you would get with the iJoy 2580. For instance, the rolling action on the back can get rid of any tension in your muscles as well as prepare your back for a deep massage.
Kneading, on the other hand, can also relieve any tension you are feeling as well as improve the circulation of your body to bring back all the vital nutrients that the spinal area requires.
Additionally, compression works well especially if you strained yourself after heavy lifting, from exercise, or after a long week spent hunched over a working desk. This feature will induce the flow of your blood all over your body as well as soften your tissues.
Lastly, percussion will flex your spinal joints as well as strengthen and tone your muscles.
The iJoy 2310 massage chair is also a recliner. However, it works manually with an angle range of between 120 and 155 degrees. At the moment, you cannot adjust the intensity of the massage you get from the iJoy 2310 – all you can do is remove its softening pad.
Concluding Thoughts on iJoy Massage Chair Reviews
In case you are shopping for a robotic massage chair at an affordable price, you might want to consider getting an iJoy 2310 massage chair. These chairs come with proprietary technology, handy features, and the ability to provide an effective therapeutic massage experience. In particular, the iJoy 2310 is smaller and priced much lower while the 2580 provides more features but at a higher price.


The following two tabs change content below.
Guy is a dedicated vegan, who prefers natural remedies to treat root causes of physiological problems, instead of turning to medication to merely treat symptoms. When he learned in December 2017 he was suffering from high blood pressure (hypertension), he turned to massage as a potential answer for his problem. Rather than engage massage as a client, Guy chose to become a massage practitioner and enrolled in the Black Hills School of Massage in Hermosa, SD. He is now licensed to provide Swedish, Deep Tissue and Trigger Point massage among other modalities. He, and his wife Irene who is also a massage practitioner, have joined forces with the Fountain of Youth Waterstore in Rapid City where they provide clients with comforting relief from body aches and pains. Be sure to ask Guy what happened with his blood pressure when you see him for your initial treatment session.
Latest posts by LMT Guy Siverson (see all)