5 Massage Chair Directory Comparisons



With so many massage chairs available on the marketplace – as you will learn from most iDeal massage chair reviews – finding the right one to meet all your needs and requirements can prove to be something of a challenge. This is particularly true if you are working with a small budget in Rapid City.
However, the best way to make a choice would be to decide between your potential desires and your actual needs. This is where the iDeal massage chair comes in – something of a crossroads in the massage chair market.
An off-brand massage chair, this iDeal product is among the better options available that could potential catch your attention. In this review, you will learn that this is an affordable chair. The question, however, is if it is worth the money.
TABLE OF CONTENTS IDEAL MASSAGE CHAIR REVIEWS
Introducing the iDeal Massage Chair

Product Description

Product Features

Concluding Thoughts on iDeal Massage Chair Reviews
Some of the competitors that the iDeal massage chair has to deal with providing pleasant surprises while others come with undesirable downsides. To ensure that you do not waste your time and money, this review of the iDeal product could potentially ease your choices and help you learn more about this massage chair.
That said, the iDeal massage chair is a good option – even though it is somewhat limited in its capabilities. Even so, it comes highly recommended for anyone who is looking for a basic – albeit good – massage with tons of therapeutic benefits. In particular, it is ideal for people with chronic lower back pain as well as massage chair enthusiasts.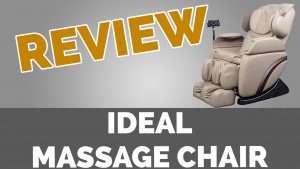 Product Description
But what can you expect when you invest in the iDeal massage chair? Essentially, this product from iDeal comes with the following enviable massage features:
S-Track Innovation
When you invest in this massage chair, you will be able to receive high-quality massage therapy sessions. This is all thanks to the S-track frame on the chair that ensures that its quad rollers will follow the curvature of your spine. This is one of the few features in this chair that makes it a leading contender in the marketplace.
3D Body Scan
In the same way, the iDeal massage chair comes with inbuilt body scanning technology. This is a feature that you would not ideally be able to find in other models within its budget.
This technology works by locating the pressure points on your body before adjusting the rollers on the massage chair. As a direct result, you will be able to enjoy higher quality massage experiences.
Zero Gravity Position
Most massage chairs in the same price range as this one from iDeal provide 2 level zero-gravity positions. This is in stark comparison to the iDeal massage chair that offers three such positions.
It can, for instance, position your knees right above your heart. By so doing, it should be able to provide you with better, deeper, and more thorough massage experiences in the long run.
Massage Option Programs
Another interesting fact about the iDeal massage chair is that it comes with a variety of massage techniques. This means that you get 4 different massage techniques, namely:
Kneading

Shiatsu

Spinal rolling

Vibration
Although vibration isn't considered an actual massage technique, it still works effectively in this massage chair. In particular, this feature involves the vibration of the seat to enhance the massage experience. However, this mode is quite noisy and you might find the seat vibrations a bit too intense – until you get used to it.
Additionally, this massage chair model also comes with 4 massage modes, including lower back massage, upper back massage, relaxation massage, and activate massage.
To this end, you should be able to adjust the speed, the length, and the intensity of each massage experience you get with the iDeal. It will also allow you to adjust the rollers and the airbags.
Air Massage System
Another one of the amazing features that you will get when you invest in this massage chair is that it comes with an air massage system. To be more specific, it has a total of 48 airbags – including foot and calf airbags, arms airbags, shoulder airbags, arm airbags, as well as airbags in its seating area.
Most budget massage chairs in the same range as this one do not provide any of these options – a definite advantage that the iDeal massage chair has over its competitors in the marketplace.
Additionally, the chair comes with 2 intensity levels when you put it into the air massage mode. You should also be able to adjust these levels of intensity through the accompanying control panel.
Heat Therapy
Although the iDeal massage chair is among the few options that provide lower back heat, it is imperative that you remember that it has limited the heat strictly around the lumbar region.
Even so, this is a big addition to this chair because you might not be able to find it in most other massage chairs – including some which are priced higher than it. Still, you should feel free to turn the heat on and off as you desire while remembering that it is impossible to regulate the temperature.
Foot and Calf Massage
It is also interesting to note that the iDeal massage chair has airbags in the leg and calf area. As such, you can count on it when you need a foot and calf massage – especially after a long day of standing up and/or queueing for long.
To take maximum advantage of this feature, you should move your legs all across the massage balls.
Product Features
Some of the additional features that you will get when you choose to invest in the iDeal massage chair include:
It comes with 4 massage modes and 4 massage techniques

It comes with an easy to use control panel instead of a remote control

It is made of synthetic leather of a high quality

It proves a 3-year warranty as well as a 10-day return policy

The ideal massage chair is available in red, beige, brown, and black

This chair boasts an extendable ottoman

With a total weight of 200lbs, this chair can accommodate anyone below the 300-pound mark
Concluding Thoughts on iDeal Massage Chair Reviews for Rapid City
Over and above everything else, the iDeal massage chair is an affordable chair packed with some enviable features that you might be able to get from another chair within the same price range.
The following two tabs change content below.
Guy is a dedicated vegan, who prefers natural remedies to treat root causes of physiological problems, instead of turning to medication to merely treat symptoms. When he learned in December 2017 he was suffering from high blood pressure (hypertension), he turned to massage as a potential answer for his problem. Rather than engage massage as a client, Guy chose to become a massage practitioner and enrolled in the Black Hills School of Massage in Hermosa, SD. He is now licensed to provide Swedish, Deep Tissue and Trigger Point massage among other modalities. He, and his wife Irene who is also a massage practitioner, have joined forces with the Fountain of Youth Waterstore in Rapid City where they provide clients with comforting relief from body aches and pains. Be sure to ask Guy what happened with his blood pressure when you see him for your initial treatment session.
Latest posts by LMT Guy Siverson (see all)