While reading HT 135 massage chair reviews, you might assume that these chairs are expensive luxuries – and they may be so for some people. However, if your body requires a regular massage because of medical reasons like intense back, leg, or neck pain, then you can be sure that these chairs are more than luxuries for Rapid City residents.
In fact, they can prove to be a necessity that ends up changing your life. This is one of the reasons that insurance companies sometimes pay for massage chairs when they are deemed to be medically necessary.
Human Touch, the company that manufactures HT 135 massage chairs has been providing the preferred technology according to ACCO – or the American College of Chiropractic Orthopedists.
TABLE OF CONTENTS HT 135 MASSAGE CHAIRS
Introducing HT 135 Massage Chairs
Product Description
Product Features
Concluding Thoughts on HT 135 Massage Chair Reviews
Introducing HT 135 Massage Chair Reviews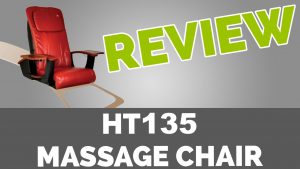 Today, HT 135 massage chairs use Human Touch technology. This might sound ironic when you consider that these chairs do not involve the use of human hands or fingers.
Even so, these chairs are designed to provide three-dimensional massage experiences. This means that they do not just vibrate. Instead, they will prod and poke your body in patterns that are unique similar to those used by professional masseurs and massage therapists.
In particular, these massage chairs come with 5 different massage techniques – including percussion, compression, kneading, and rolling, as well as a combination of kneading and percussion. Four of these massage functions work at different speeds.
Additionally, the footrest that comes with the HT 135 massage chair has a rotating foot and calf massager. This massage feels like strong hands are working on your feet and calves.
Therefore, if you have any problem that would require massage therapy, then you might want to invest in this massage chair. Although it will set you back financially, the therapeutic benefits it provides will be worth every penny you spend on this chair.
Even so, you can read these Human Touch HT 135 Massage Chair Reviews, IJoy Massage Chair Reviews, and Ideal Massage Chair Reviews for other options available in the marketplace.
Product Description
The HT 135 massage chair is a leather stretching robotic massage chair for the home. This recliner works in the same way as the hands of trained professional massage therapists. As such, you can rely on it to provide you with customized foot, leg, and back massages at the quick touch of a button.
This chair also uses a multi-patent massage system technology. The Human Touch technology is so similar to the therapeutic techniques you would get from spinal and back care professional that it has been recommended by the ACCO.
Further, the HT 135 massage chair was designed in such a way that it will follow the natural curvature and contours of your spine. It also moves in three dimensions through 4 different modes of operation.
In the same way, this chair will do exactly as you instruct it. From the rotating foot and calf massager to the ergonomic headrest, you can always rely on the HT 135 to deliver exceptionally professional and effective massage therapies.
Since it has an easy to use remote control, it also means that you can control the HT 135 massage chair as you please. To this end, you should be able to customize all movements according to your needs and preferences.
Additionally, the remote control will give you access to the 3 individual pre-programmed massage options that you get with the HT 135. Each of these sessions lasts for 15 minutes.
Last but not least – and not surprisingly – this Robotic massage chair is wrapped in a desirable and stylish exterior of superior quality. This exterior is virtually maintenance free so you shouldn't have to worry about cleaning it up every few days.
Product Features
It boasts a memory foam construction
It can provide quad Roller Massage techniques
It can recline from 115° to 170° depending on the angle you prefer
It has 3 height levels that you can adjust depending on the length of the require massage stroke (up to a maximum height of 21 inches)
It has a powerful footrest
It has an auto restore feature that will stop the massage functions automatically and restore the footrest and the backrest to their respective positions when the massage started
It has padded armrests for ease of comfort
It includes a softening pad
It is touted to use one of the most advanced robotic massage systems you can find on the market today
It provides three highly invigorating 15-minute pre-programmed sessions
Its rugged construction means that it is virtually maintenance free
The chair comes with 5 motor massage options
The chair comes with a robot rotating foot and calf massager in the footrest that works in 2 speeds (and one program)
The chair feels like you are getting strong hands working on your body to provide powerful 3-dimensional massages
The chair has luxurious leather on all its seating surfaces as well as on the sides and back
The chair swivels on the base from one side to the other, making it more convenient to use
The HT 135 boasts an ergonomically designed headrest
The HT 135 massage chair comes with a new stretching massage mode
The HT 135 massage chair comes with five massage functions, including percussion (2 speeds), compression (2 speeds), kneading (2 speeds), rolling (1 speed), and a combination of percussion and kneading massage (2 speeds)
The memory foam embedded in the seat cushions add further comfort to this chair
The power recline feature will allow you to adjust the back of your HT 135 massage chair with a handheld remote control
The robotic rotating foot and calf massager (in the footrest) works in 2 speeds
The width of the rollers in the percussion and rolling modes can be adjusted
This robotic HT-135 leather massage recliner boasts the human touch technology
Concluding Thoughts on HT 135 Massage Chair Reviews for Rapid City
Although the HT 135 massage chair is among the higher price of the options that you can find on the marketplace today, it comes with the advantage that you can get your insurance to pay for it. All you need to do is get in touch with your doctor so that they can prescribe this chair.
The following two tabs change content below.
Guy is a dedicated vegan, who prefers natural remedies to treat root causes of physiological problems, instead of turning to medication to merely treat symptoms. When he learned in December 2017 he was suffering from high blood pressure (hypertension), he turned to massage as a potential answer for his problem. Rather than engage massage as a client, Guy chose to become a massage practitioner and enrolled in the Black Hills School of Massage in Hermosa, SD. He is now licensed to provide Swedish, Deep Tissue and Trigger Point massage among other modalities. He, and his wife Irene who is also a massage practitioner, have joined forces with the Fountain of Youth Waterstore in Rapid City where they provide clients with comforting relief from body aches and pains. Be sure to ask Guy what happened with his blood pressure when you see him for your initial treatment session.
Latest posts by LMT Guy Siverson (see all)