Are you looking for a high-quality massage chair? Then you might want to look online for a couple of HomCom massage chair reviews. These chairs are designed to deliver the ideal massage experience without breaking the bank.
Today, the name HomCom has become synonymous with comfort and convenience. The company that produces HomCom massage chairs has made a name for itself in the manufacture of appliances and furniture. As such, it is known for providing a variety of affordable options for every home.
The company was launched globally in 2009. Since then, it has strived to become a leading source of trusted home furniture options. Its innovation and expansion have also seen it delve into the massage chair market with a variety of product types.
TABLE OF CONTENTS HOMCOM MASSAGE CHAIR REVIEWS
Introducing HomCom Massage Chairs
Product Features
Product Description
Additional HomCom Massage Chairs
Concluding Thoughts on HomCom Massage Chair Reviews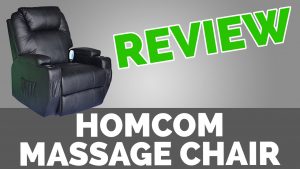 HomCom massage chairs are among the most popular massage recliners in the under $500 category. It has been holding up against other competing brands and now ranks among the best products you can find in the marketplace.
This deluxe heated vibrating massage recliner also comes at an affordable price tag. Therefore, if you are looking for a compact massage chair that can provide both a heat and a vibrating massage feature, then you might want to consider the HomCom massage chair.
Product Features
It also comes with a returns policy that lasts 90 days
It boasts a heating function on the waist
It can provide a multifunctional full body massage
It can recline completely
It comes with both manual and automatic functions
It has 5 pre-set massage modes
It has a maximum weight capacity of 150 kg
It is heated and provides a vibrating feature
It is one of the easiest massage chairs to clean
It is one of the most comfortable massage chair available in the marketplace today
The chair can automatically restore the functionality of your body
The chair comes with high-quality upholstery
The HomCom massage chair comes in 4 different colors at different prices, including red, brown, black, and cream
The HomCom massage chair is energy friendly and only consumes 200w
The HomCom massage chair provides massage sections for various parts of the body
The HomCom massage chair will automatically detect the position of your shoulders through its micro adjustment feature
The vibration and airbag massages work well on the thighs and buttocks to deliver relaxation, agility, and a feeling of lightness
There is no minimum or maximum user height range with this massage chair
This chair also comes with an easy to use remote control
This chair is entirely made of PU leather
This chair provides an air massage experience to the feet and calves
With it, you should be able to massage your feet, calves, buttocks, waist, and back
With the HomCom massage chair, you get a variety of massage modes, including vibration massage, airbag massage, Shiatsu finger pressure massage, and kneading massage
You can swivel the HomCom massage chair to 360 degrees
You can use the HomCom massage chair to knead and finger press your back
Product Description
The HomCom massage chair integrates an elegant design with modern technology. As such, you can count on it to deliver the high-quality full-body massage that you need.
Further, it boasts a multifunction capability. This means that it should be able to help you relieve the stresses, pain, and fatigue of work – making it the ideal companion for any private office or home.
With this chair, therefore, you can expect to experience the greatest relaxation and comfort imaginable. As a plush massage chair, it also provides 4 focal point massages. This means that you should be able to rely on it to target the most problematic areas on your body.
Further, the HomCom massage chair has a vibration and heating function. This function works well to promote circulation and health while relieving any pain that you might be feeling.
In the same way, the backrest can recline while you can pull out the footrest. This feature will allow you to lay back so that you can enjoy every massage experience you get from the HomCom massage chair.
Additionally, the HomCom massage chair is constructed using durable PU (polyurethane) leather. This means that it has a luxurious surface on which you can lie while receiving a massage. The chair also comes with 2 cup holders, so you don't have to leave your drinks in another part of the room while getting a massage.
Apart from the above features, the HomCom massage chair is available in a variety of colors. This means that you should be able to find one that can match your current interior décor.
Over and above everything else, this chair was designed to address painful tension, relieve stress, and improve your general health and wellness. Since it is exquisitely designed and relatively comfortable, you can be sure that it will soon be your go-to HomCom massage chair.
For other options, consider reading HT 135 Massage Chair Reviews, Human Touch HT 135 Massage Chair Reviews, and IJoy Massage Chair Reviews.  You may also want to consider the option of hiring a Massage professional.
Additional HomCom Massage Chairs
If you are looking for other options in the HomCom massage chair product line, then you are in luck. Additional product options from HomCom include:
HomCom Executive Ergonomic Heated and Vibrating Massage Office Chair
HOMCOM Foldable Massage Chair in steel red
HOMCOM Portable Folding Massage Table
HOMCOM Portable massager pillow for the shoulders, neck, and back
HOMCOM Professional Portable Massage Table with the headrest in black or red
HOMCOM Reclining Massage Chair with footstool
HOMCOM Salon Spa Saddle Stool in black
HOMCOM Salon Spa Swivel Stool with changeable covers in black, red, or white
Concluding Thoughts on HomCom Massage Chair Reviews
In conclusion, the HomCom massage chair has made a name for itself in the massage chair industry. With it, therefore, you finally have something to help you combat any pain arising from the long hours of sitting at the office. As an ergonomic chair, it also comes with support for the lumbar and upper back, thereby offering comfort all day long.
[/et_pb_text][/et_pb_column][/et_pb_row][/et_pb_section]
The following two tabs change content below.
Guy is a dedicated vegan, who prefers natural remedies to treat root causes of physiological problems, instead of turning to medication to merely treat symptoms. When he learned in December 2017 he was suffering from high blood pressure (hypertension), he turned to massage as a potential answer for his problem. Rather than engage massage as a client, Guy chose to become a massage practitioner and enrolled in the Black Hills School of Massage in Hermosa, SD. He is now licensed to provide Swedish, Deep Tissue and Trigger Point massage among other modalities. He, and his wife Irene who is also a massage practitioner, have joined forces with the Fountain of Youth Waterstore in Rapid City where they provide clients with comforting relief from body aches and pains. Be sure to ask Guy what happened with his blood pressure when you see him for your initial treatment session.
Latest posts by LMT Guy Siverson (see all)