From most Exacme massage chair reviews, you will learn that most massage chairs are sold between the prices of $2,000 and $5,000. The price largely varies based on the technology, features, brand, and many other factors. This is why you might be pleasantly surprised to learn that you can still find other models below the $500 mark – most of which will not require to give up on the functionality of the chairs.
A good example is the Exacme massage chair line of products. Although these chairs might provide all the bells and whistles that you would get from a more expensive option, they will still provide the relief and satisfaction that you need on a daily basis.
TABLE OF CONTENTS EXACME MASSAGE CHAIR REVIEWS
Introducing the Exacme Massage Chair
Product Description
Product Features
More on the Exacme Massage Chair
Concluding Thoughts about Exacme Massage Chair Reviews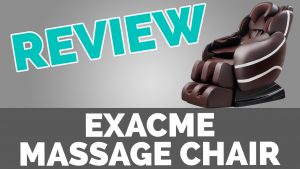 As you might well expect, Exacme massage chairs are designed to provide the peace and relaxation that you need. In particular, these chairs come with a wide variety of unique massage features that will simulate the manual massage that you would have got from a human masseuse – but all from the comfort and convenience of your own home.
Product Description
The Exacme massage chair comes with a variety of pre-programmed massage courses. These are delivered in 5 different massage techniques to ensure that you can choose the massage experience that you need at any given point in time.
Additionally, this chair features 30 airbags. All of them come with pulse mode. As a direct result, you can rest assured that you will always get a thorough massage experience when you sit on it.
Product Features
It can provide an air massage to relieve any fatigue you might be feeling
It comes with a wide range of motion on the lower back; this feature allows the roller heads to go all the way down to the tailbone – something that you might not be able to find in a competing brand
It has a neck massage feature
It is uniquely designed to provide rolling, finger pressing, kneading, tapping, and other massage experiences
It provides comfortable air pressure on the feet, legs, and seat through massage and kneading
It provides ultra-long range massage experience
The chair boasts a total of 20 airbags all along the lower body to massage the feet, thighs, and legs
The chair can reach all the way down to the tailbone and all the way up to the neck
The Exacme chair has a flexible and intelligent roller system that will conform to the shape and contour of your back
The Exacme massage chair comes with a soft air massage with multiple layers to work on both sides of your shoulders
The Exacme massage chair comes with over 30 air bags
The Exacme massage chair was designed to promote improved circulation in the lower extremities
The massage heads on this chair are designed to provide highly targeted stress relief especially in the Tsubo points of the neck
The rolling massager on this chair – especially at the bottom of the feet – provides a feeling of real hands with different levels of pressure combinations
The soft air pressure massager can improve your blood circulation
There is a soft air pressure massager around the leg that provides improve muscle stress and fatigue relief
When you retract the armrest, it looks like any soft armrest on a regular chair
When you stretch the armrest, it will apply the soft air pressure massager and knead your arm as well as relieve numbing and fatigue in your hands
You can retract the armrest with a single button hand control feature
You can stretch the legrest automatically
You can learn more about other options similar to the Exacme massage chair by reading Fujimi Massage Chair Reviews, Fujita Massage Chair Reviews, and Homcom Massage Chair Reviews.
More on the Exacme Massage Chair
The Exacme massage chair is sold for a little lower than $500. Even so, it looks just like any other of the more expensive massage chair models that you might find on the marketplace today. This is largely as a result of its comfortable cushioning and leather material make.
With this massage chair, you also get full-body Shiatsu massage experiences. This is thanks to the 18 rollers on it, which have been designed to target the waist, back, shoulders, and the neck.
Additionally, the leg and seat cushions are embedded with vibrating motors. These motors work hand in hand with the rest of the Exacme chair to deliver added relaxation every time you sit on it. It can, for instance, also massage the calves because it has airbags – which are a limited feature in many other competing products.
Further, the backrest of the Exacme massage chair can recline to a level of 170 degrees. When you combine this feature with the fact that the chair comes with a music player, you might probably understand why some buyers have described it as the ultimate relaxation massage chair under the $500 mark.
At the moment, this chair is available in 2 colors. The black option goes for $490 – probably due to the popularity of black among massage chairs similar to the Exacme massage chair. The beige variety, on the other hand, will only set you back by about $439.
Additional features that you can expect from the Exacme massage chair include:
a) Shoulder Massage
It has a shoulder massage feature, which is hard to get in any other product. The shoulder massager will improve the soft air pressure massage the chair delivers to the shoulders. Further, you can adjust this massage experience depending on the body height of the person sitting on the Exacme massage chair.
b) Unique Massage Experience
The Exacme massage chair was uniquely designed. As such, it can provide a variety of massage experiences, including:
Finger pressing
Kneading
Massaging
Rolling
Tapping
c) Armrests
Finally, it has hidden armrests that can massage the hands, wrists, and arms through its air pressure massage option.
Concluding Thoughts about Exacme Massage Chair Reviews
With so many features, it should come as a surprise to you when you learn just how affordable this Exacme massage chair truly is. If you are looking for a high quality, low price option, therefore, you might want to give it a try.
The following two tabs change content below.
Guy is a dedicated vegan, who prefers natural remedies to treat root causes of physiological problems, instead of turning to medication to merely treat symptoms. When he learned in December 2017 he was suffering from high blood pressure (hypertension), he turned to massage as a potential answer for his problem. Rather than engage massage as a client, Guy chose to become a massage practitioner and enrolled in the Black Hills School of Massage in Hermosa, SD. He is now licensed to provide Swedish, Deep Tissue and Trigger Point massage among other modalities. He, and his wife Irene who is also a massage practitioner, have joined forces with the Fountain of Youth Waterstore in Rapid City where they provide clients with comforting relief from body aches and pains. Be sure to ask Guy what happened with his blood pressure when you see him for your initial treatment session.
Latest posts by LMT Guy Siverson (see all)