While looking for Elite Optima massage chair reviews, you will come to realize that the Optima is no longer being sold. Even so, however, thousands of Rapid City and beyond customers continue relying on this chair on a daily basis for professional massage therapy – primarily because the chair was and continues to be way ahead of time.
TABLE OF CONTENTS FOR ELITE OPTIMA MASSAGE CHAIRS
Introducing the Elite Optima Massage Chair
Product Description
Product Features
Concluding Thoughts on Elite Optima Massage Chair Reviews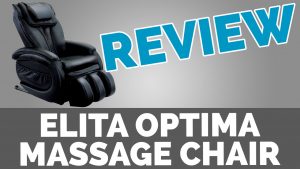 With an award-winning and timeless design, the Elite Optima massage chair managed to set the standard in the massage chair industry. This is primarily from the thousands of loyal and satisfied customers who are still using it today. Further, the chair was the first one in the market to deliver fully professionalized foot reflexology – a feat that has since been copied in other products but never truly duplicated.
>>>CLICK HERE TO READ Exacme Massage Chair Reviews<<<
Product Description
Designed to provide the ultimate massage experience and luxury from the tailbone to the neck, the Elite Optima massage chair boasts a 30-inch stroke length. This feature makes it among the longest acting massage chairs in the industry today. As such, you can rely on it to provide you with powerful therapies from the base of your spine all the way up to the top of your neck.
This is a remarkable feature particularly because it is hard to find another massage chair that can provide full coverage of the back – something that has put the Optima Head and Shoulders features way above the competition.
Additionally, the Elite Optima massage chair provides heat therapy in both the seat and the back. This feature is designed in such a way that the chair can add to the relaxation heat – further helping to relax and soften your muscles so that the chair can continue digging deeper into any tight muscles and knots that you might have.
>>>CLICK HERE TO READ Fujimi Massage Chair Reviews<<<
Today, the Elite Optima is the only high-end massage chair that currently provides heat therapy as a primary feature. This means that if you are looking for this feature but still want a relatively high-quality massage chair, the Optima is something that you should definitely consider.
In the same way, this massage chair was designed to deliver 12-point dual calf-and-food massage. It comes with both mechanical and air 12 contact point and multiple individual joints for the areas on your feet. This means that you can always count on this chair to offer a comprehensively accurate and effective lower body massage experience.
Apart from the above, the Elite Optima massage chair also boasts airbags. These bags will provide you with compression massage experiences for the lower parts of your legs. In the process, therefore, it will melt away your stress levels while improving your circulation. The mechanical massage, in particular, will provide your hardworking feet the deep tissue massage therapy they need.
This is particularly important because human feet contain 20 muscles that are densely packed as well as 26 bones. This means that you are going to require powerful massage motors to deliver therapy effectively to all the different segments.
>>>CLICK HERE TO READ Fujita Massage Chair Reviews<<<
Last but not least, the Elite Optima has a deep neck cutout with a specially designed window for the neck region. This feature will deliver powerful massage experiences to the neck – which is among the most common problem spots on the human body. In fact, many people suffer from tension and stress in the neck – a problem that the Optima can target and deal with effectively.
Product Features
As a time-tested chair with many satisfied customers, the Optima is among the best massage chairs you can find in the market today. With it, therefore, you can rest assured that you will get to enjoy the following enviable features:
12 whispering motors to power the massage heads in different directions; these motors work simultaneously for one of the most advanced back massage experiences you can expect
Both the seat and the back of the Elite Optima massage chair are heated
It boasts 6 intensity settings to ensure that you get the full range of sensitive to tough massage therapy for your back
It boasts advanced digital control
It boasts the highly advanced 4 roller pendulum massage system that will provide a full back massage even without losing power; this ensures a more consistent deep tissue massage experience
It combines value, versatility, and power
It comes with 30 inch rolling strokes
It comes with 3d body scanning technology to electrically measure your back during each use; this technology will ensure that you always get uniquely customized massage experiences
It has sophisticated massage programs
It is perfect for any type of interior décor
It was ranked as the Best Buy by Consumers Digest among every other premium massage chairs
The 30-inch stroke length (which is perhaps the best feature that you will get with the optima) will define the length and travel of the massage roller
The chair has powerful airbags designed to provide you with LAT massages that reach all the way down to the latissimus dorsi group of muscles
The chair is available in a variety of elegant styles
The chair provides deep tissue therapy
The chair was specifically engineered to deliver stronger and deeper massage therapy than other 2d chairs you can find on the market today
The company has 12 years of experience building high quality massage chairs
The customer service center is based in the US and staffed by professionals who are experts at massage chairs; as such, you should not have a problem with the customer experience
The Elite Optima also features a 9 inch extendable footrest
This chair 9-inch with a 5-year warranty, which is the best in class and something that you might not be able to get with another massage chair
To take care of the bottom of your feet, the Optima comes with full multi-speed inverse rolling massages
With it, you should finally be able to squeeze and stretch all your aches away
Concluding Thoughts on Elite Optima Massage Chair Reviews for Rapid City
Last but not least, the Elite Optima massage chair is ergonomically designed to deliver 10 point massage optimization. This is why it is now considered to be the most effective massage chair in its class for anyone who is looking for a comprehensive massage experience in the lower body. This feature that is also accompanied with soothing heat and a hamstring massage.
Through this feature, you should be able to reach 10 individual foot and calf points. It also uses both mechanical and air functions for the reflexology relief you need on your hardworking feet and legs.
When you invest in the Elite Optima, therefore, you can be sure that it will intensely compress your lower legs.
The following two tabs change content below.
Guy is a dedicated vegan, who prefers natural remedies to treat root causes of physiological problems, instead of turning to medication to merely treat symptoms. When he learned in December 2017 he was suffering from high blood pressure (hypertension), he turned to massage as a potential answer for his problem. Rather than engage massage as a client, Guy chose to become a massage practitioner and enrolled in the Black Hills School of Massage in Hermosa, SD. He is now licensed to provide Swedish, Deep Tissue and Trigger Point massage among other modalities. He, and his wife Irene who is also a massage practitioner, have joined forces with the Fountain of Youth Waterstore in Rapid City where they provide clients with comforting relief from body aches and pains. Be sure to ask Guy what happened with his blood pressure when you see him for your initial treatment session.
Latest posts by LMT Guy Siverson (see all)