Are you looking for a comfortable and yet durable and affordable massage chair? Then you might want to read a couple of EC77 massage chair reviews. From your research, you may be able to discern whether this chair is ideal for your needs.
As an electric full body massage chair recliner, this Shiatsu massage seat offers most of the features that you would typically find in a pricier model. These features include full body massage experience and zero gravity (with heat) massages. It accomplishes this feature through 8 massage points located inside the backrest as well as through its collection of airbags in the feet, legs, hips, shoulders, and arms.
TABLE OF CONTENTS FOR EC77 MASSAGE CHAIRS
Introducing the EC77 Massage Chair
Pros of the EC77 Massage Chair
Cons of the EC77 Massage Chair
Concluding Thoughts on EC77 Massage Chair Reviews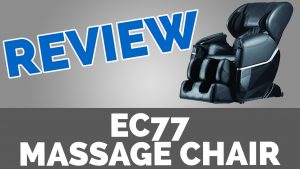 Retailing for just about $619 – depending on where you buy it – the EC77 massage chair can also be found online for around $500 or less. It is widely available on the health and beauty sections of popular retailers over the internet.
That said, the EC77 massage chair is an electric full-body massage seat. This might seem like the perfect value for money especially when you compare it other highly and luxury priced options you might find on the market.
However, before you invest in this electric massage recliner, it would be good for you to take some time to think about your needs and preferences – as well as the benefits and drawbacks of the models you are considering.
For other similar options, you can also read EC 06C Massage Chair Reviews, Elite Optima Massage Chair Reviews, and Exacme Massage Chair Reviews – all of which provide more or less the same features.
Pros of the EC77 Massage Chair
As we mentioned earlier, the EC77 massage chair comes with some of the same features that you would find on pricier models out there on the marketplace. Some of its benefits include:
a) Zero Gravity
The Zero Gravity construction means that you will feel weightless on this chair. The EC77, in particular, can recline as well as tilt backward – to an angle of 45 degrees. When you are on it, therefore, you should feel light as you get a deeper massage experience.
b) Airbags
The EC77 massage chair also has airbags embedded into it. These airbags will contribute to the chair's ability to provide a full body massage experience. In total, the chair comes with 30 airbags that span from the feet to the shoulders. This means that you can count on it to provide you with compression massage therapy experiences.
c) Heat Technology
In the same way, this chair comes with heat technology to promote post-workout recovery. The heating option can, in particular, warm your lower back and provide relief from any pain as well as recovery for your muscles – especially after you have been hitting the gym a bit too hard.
d) Massage Options
The EC77 massage chair provides 4 different types of massage options. It makes use of its 8 massage heads – which span from the lower back to the shoulders – to maneuver around your body. In the process, the chair provides 4 different massage types, including knocking, kneading, tapping, and Shiatsu.
e) Intuitive LED controller
This chair comes with an LED controller that will put the massage functions and changes right in the palm of your own hands. The handheld controller, therefore, will allow you to choose from the 3 pre-programmed massage experiences. You can, however, also use it to target the activity of the chair on certain areas of the body.
In particular, the intuitive remote control has buttons that you can use to change the speed at which the rollers work, choose the massage type you would like, and turn on the heating function automatically.
Cons of the EC77 Massage Chair
From the after sale services to the home delivery, the EC77 massage chair falls short in some areas:
Although it has an FDA listed designation, you should not use it to treat injuries and illnesses
Most customers who bought this massage chair said that their emails and calls were ignored when they tried to reach Best Massage and Cavalier Wholesales (the parent company)
Some reviews claim that the parts of the EC77 massage chair may break after some period of using it
Some users have reported that the chair provides uncomfortable and sometimes painful massages
The chair does not seem to be designed for large or tall people
The EC77 massage chair does not come with any extended warranty options (and only provides a limited one-year warranty)
You may be required to pay if you would like to get rid of this massage chair recliner
You might have to pay for the shipping as well as for repairs and some parts
You will have to perform some assembly work when you get the EC77 massage chair
Concluding Thoughts on EC77 Massage Chair Reviews
With some low quality components and unreliable customer service, the EC77 massage chair does not seem to have been built for longevity. However, the currently society we live in is inclined towards disposability. As such, many people do not mind keeping some pieces of furniture for a period of time before getting rid of it. This means that the limited durability of the EC77 is a blessing in disguise in the sense that you can always replace it with a newer model after a period of using it.
Overall, however, the EC77 massage chair comes with a wide range of benefits that you might want to seriously consider. It is these benefits and unique features – most of which you would only find on a luxury massage chair – that have given it an edge over other competitors.  In particular, you can be sure that the Zero Gravity construction, the easy portability, and the relative comfort and controllability of this chair will prove useful for the time you own it.
The following two tabs change content below.
Guy is a dedicated vegan, who prefers natural remedies to treat root causes of physiological problems, instead of turning to medication to merely treat symptoms. When he learned in December 2017 he was suffering from high blood pressure (hypertension), he turned to massage as a potential answer for his problem. Rather than engage massage as a client, Guy chose to become a massage practitioner and enrolled in the Black Hills School of Massage in Hermosa, SD. He is now licensed to provide Swedish, Deep Tissue and Trigger Point massage among other modalities. He, and his wife Irene who is also a massage practitioner, have joined forces with the Fountain of Youth Waterstore in Rapid City where they provide clients with comforting relief from body aches and pains. Be sure to ask Guy what happened with his blood pressure when you see him for your initial treatment session.
Latest posts by LMT Guy Siverson (see all)