At first glance, it might not be all that hard to understand the popularity of the EC 06C massage chair. In fact, from many online EC 06C massage chair reviews, you should be able to learn that the chair is lowly price and comes with many features that make it popular among buyers in and beyond Rapid City.
As such, the EC 06C massage chair is a solid and exceptionally budget friendly seat with many different features. To this end, it is the ideal option for both casual users and hobbyists.
Therefore, if you are on a tight budget and searching for a basic chair that has enough features to make it a delightful product, then you might want to consider getting the EC 06C.
TABLE OF CONTENTS EC 06C MASSAGE CHAIR REVIEWS
Introducing the EC 06C Massage Chair
Product Description
Product Features
Concluding Thoughts about EC 06C Massage Chair Reviews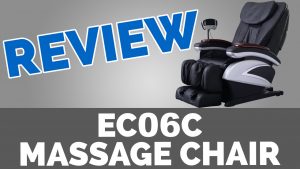 Since the EC 06C massage chair is an entry-level product in the market, it is not as perfect as you might expect. However, it does come with a variety of intriguing features and it is well priced. To this end, you should be pleased with this option if you are looking for affordability.
This chair is also unique in the sense that it is something of a pleasurable departure from other options in the marketplace today. You can learn more about these other options by reading these Elite Optima Massage Chair Reviews, Exacme Massage Chair Reviews, and Fujimi Massage Chair Reviews.
In particular, the EC 06C massage chair is an off-brand product because it is chiefly manufactured in China. As such, this chair is sold under different labels by a variety of vendors in the United States. However, it is still consistent in the sense that it still maintains its model designation of EC 06C.
Product Features
But what can you expect when you invest in the EC 06C massage chair? Consider the following product features:
a) S-Track Design
The EC 06C starts off on a strong point by providing the extended S-track design. The rest of the seat is built around this design. Through the S-Track, therefore, the quad rollers on the EC 06C can travel far enough along the length of the back all the way to the tailbone.
Additionally, since this chair comes with quad rollers, you can be sure that it will provide you with exceptional massage experiences – much more than you would expect from a chair in its price range.
b) Neck Massage Function
Added to the rollers and track, the EC 06C massage chair also has additional rollers embedded in the headrest. These rollers will deliver Tsubo point massage to the neck and shoulders.
Although you might not think this, the neck massage function certainly feels good and is, as such, an interesting addition to everything that the EC 06C has to offer to improve your massage experience.
c) Automatic Body Scan
In the same way, the EC 06C massage chair comes with an auto body scan mechanism. Although the product does not describe this feature as a full 3D body scan, you can be sure that it is adequate enough to emulate the 3D experience you might have expected from a higher priced massage chair.
If the body scan technology does not work as you expected, all you need to do is adjust your position so that the rollers get to the right spots that you want massaged. However, this does not happen often so you should not be too surprised when it does.
d) Slightly Heated Rollers
Another interesting feature of the EC 06C revolves around its heat technology. This is a feature that you might not find in other chairs from mainstream brands within the same price range – so it does make for an interesting addition. These rollers are heated, meaning that will add that inevitably satisfactory warmth that you need to your massage sessions.
Couple Massage Rapid City – 10 Reasons Why
As you will see in the following sections, this is not the only heating element that you get when you invest in the EC 06C massage chair. The rollers are also just mildly heated – meaning that they will not cause you to wince in pain – which might have happened if they were hotter.
e) Variety of Options
When you consider the fact that the EC 06C is an entry-level massage chair, you might not expect much in terms of the choices and options it offers. This is why you are highly likely to be surprised by the fact that this chair comes with many choices, including the massage options listed below:
Kneading
Percussion
Shiatsu
Tapping
Additionally, the chair provides three automatic massage programs, including:
Recover (which provides medium strength)
Refresh (the most vigorous option)
Relax (a gentle program)
As such, the EC 06C massage chair covers all the basics. This also means that it can deliver a high-quality Shiatsu massage experience – something that you are unlikely to find at the same price range on the current marketplace. Further, you can customize the intensity of the massage experience you get from these levels and programs.
f) Vibration Style Massage
Although this might seem like a minor feature, it works effectively. To be more specific, the EC 06C will shake when you sit on it – making for an ideal massage experience that delivers a full body therapeutic session every time you are on it.
g) Additional Features
The other features that you get when you invest in the EC 06C massage chair include:
Air massage mode
Easy to use control panel
Foot and calf massage
Lumbar and foot heat
Slightly extendable ottoman
Concluding Thoughts about EC 06C Massage Chair Reviews for Rapid City
To draw to a close, the EC 06C massage chair is not the most perfect option available in the marketplace. However, it does come with a wide variety of features that make it a top contender within its price range. Additionally, given the fact that it is such an affordable chair, it is not too surprising that it is one of the best-selling massage products you can find today.
The following two tabs change content below.
Guy is a dedicated vegan, who prefers natural remedies to treat root causes of physiological problems, instead of turning to medication to merely treat symptoms. When he learned in December 2017 he was suffering from high blood pressure (hypertension), he turned to massage as a potential answer for his problem. Rather than engage massage as a client, Guy chose to become a massage practitioner and enrolled in the Black Hills School of Massage in Hermosa, SD. He is now licensed to provide Swedish, Deep Tissue and Trigger Point massage among other modalities. He, and his wife Irene who is also a massage practitioner, have joined forces with the Fountain of Youth Waterstore in Rapid City where they provide clients with comforting relief from body aches and pains. Be sure to ask Guy what happened with his blood pressure when you see him for your initial treatment session.
Latest posts by LMT Guy Siverson (see all)