From most online reviews, it is clear that the Earthlite Vortex massage chair provides a wide variety of features and handy tools that give it an edge over its competitors in the marketplace. As you will see in this guide, the Vortex also has a lot to offer in terms of convenience, comfort, affordability, and more.
TABLE OF CONTENTS FOR EARTHLITE VORTEX MASSAGE CHAIRS
Introducing the Earthlite Vortex Massage Chair
Pros of the Earthlite Vortex Massage Chair
Cons of the Earthlite Vortex Massage Chair
Concluding Thoughts on the Earthlite Vortex Massage Chair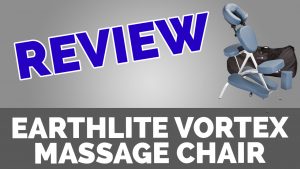 A stylish and luxurious option, the Earthlite Vortex massage chair is built to perfection and for durability. In particular, the chair boasts a frame made from strong oval tubing – which improves the strength of the chair over and above other standard frames you might find in the marketplace.
Additionally, the Earthlite Vortex massage chair comes with a curvy design, which gives it an attractive and irresistible look. Further, the chair is ultra-portable. This is because its frame is made using lightweight aircraft-grade aluminum. In total, the seat only weighs about 14 points – which makes it one of the easiest massage chairs to carry around and store.
In the same way, the Earthlite Vortex comes with the patented NaturSoft upholstery option. This upholstery is as soft and luxurious as it is durable. This is in stark comparison to most of the vinyl-like coverings that you would typically find on other chairs. The manufacturer has also used this upholstery option on the pro-lite cushioning on this chair. As such, investing in an Earthlite Vortex means that you will get a dual layer support system that is comfortable and will enhance your massage experience.
Further, the Earthlite Vortex massage chair is easy to move around and set up. This means that you should be able to use it in no time. The chair can also fold compactly – meaning that you should easily be able to store it. Last but not least, it has a simple design – which means that you should be able to set it up as well as make adjustments to it when and as you please.
From most online reviews of massage chairs – including but not limited to EC77 Massage Chair Reviews, EC 06C Massage Chair Reviews, and Elite Optima Massage Chair Reviews as well as Earthlite Vortex massage chair reviews – it should be easy for you to find the right massage chair for your particular needs and preferences.
Pros of the Earthlite Vortex Massage Chair
When you invest in the Earthlite Vortex massage chair, you will be able to enjoy the following benefits:
a) Build Quality
In terms of the quality of its build, the Earthlite Vortex is miles ahead of other cheap recommendations. This is both in terms of appearance and feel – making it a leader in the under $300 massage chair market.
It also has an aircraft-grade aluminum frame as well as a special tubing design that will add more to its already lightweight ruggedness. Last but not least, it comes with oval tubing that makes it strong while maintaining its slim profile.
b) Durability
The cushions of the Earthlite Vortex combine thick and adaptive PU foam and a vinyl outer coating. This features will ensure that this massage chair lasts much longer than most other models that you might find in the market. Further, this chair will not discolor or flake with time – or even develop wrinkles when you start wearing it in.
c) Capacity
At 300 pounds, the Earthlite Vortex has a working weight capacity that is similar to the Best Massage. However, it also feels more reassuring than other cheap massage chairs you might be tempted to buy. In fact, this is among the popular portable options both for personal use and for professional massage therapists.
d) Guarantee
The Earthlite Vortex massage chair was not just professionally manufactured – it also comes with a guarantee of durability and effectiveness over the long term. The manufacturer has covered its frame for life while the vinyl outer layer and the cushions are covered with a warranty for 2 years.
e) Adjustments
Another attractive feature of the Earthlite Vortex massage chair is that it has a wide range of adjustment options. This means that you should be able to provide massage experiences to both short and tall clients – thanks to the smooth and secure adjustment knobs on it. further, it has a reliable headrest adjustment that should allow you to tilt it to the most precise angles as well as lock it down in a snuggly way.
f) Lightweight
Among the lightest massage chairs, the Earthlite Vortex only weighs about 15 pounds. This is an impressive feature especially when you consider the fact that the chair feels so comfortable and plush. Due to this feature, you shouldn't have any problem carrying it around – which means that it is perfect for a full-time professional massage therapist as well as for anyone who needs it for home use.
Cons of the Earthlite Vortex Massage Chair
However, the Earthlite Vortex is like some other massage chairs out there in the sense that it comes with a couple of drawbacks, including:
At close to $250, it is quite pricey
Some buyers do not think that it is reliable for large clients
The customer service of the company isn't the best
There are some shipping and quality control issues that have been reported by some previous buyers
Concluding Thoughts on the Earthlite Vortex Massage Chair
Even with these drawbacks (some of which are supposed and not really true), when you invest in the Earthlite Vortex massage chair, you will get to enjoy a wide variety of features, including:
Although it is not quite affordable, you can still expect many years of reliable service form this chair
As a portable chair, it is among the most comfortable options available in the market today
At only about 15 pounds, the Earthlite Vortex massage chair is among the lightest in its class
It boasts an innovative oval tube that will improve your massage experience
It comes with a stylish design
It comes with the same strength as an airplane thanks to its airplane-grade aluminum design
It has a soft padded area to protect the sternum
It is among the most durable of all massage chairs within its range
With extra padding, it was clearly designed for comfort
The following two tabs change content below.
Guy is a dedicated vegan, who prefers natural remedies to treat root causes of physiological problems, instead of turning to medication to merely treat symptoms. When he learned in December 2017 he was suffering from high blood pressure (hypertension), he turned to massage as a potential answer for his problem. Rather than engage massage as a client, Guy chose to become a massage practitioner and enrolled in the Black Hills School of Massage in Hermosa, SD. He is now licensed to provide Swedish, Deep Tissue and Trigger Point massage among other modalities. He, and his wife Irene who is also a massage practitioner, have joined forces with the Fountain of Youth Waterstore in Rapid City where they provide clients with comforting relief from body aches and pains. Be sure to ask Guy what happened with his blood pressure when you see him for your initial treatment session.
Latest posts by LMT Guy Siverson (see all)