5 Massage Chair Directory Comparisons



While shopping for massage chairs, you might come across Earthlite Avila II massage chair reviews. These chairs are designed to provide an efficient, reliable, and comfortable massage experience for users in Rapid City and beyond. Additionally, they can provide with something so close to a professional massage experience that you will feel that you have a personal masseuse at your beck and call all hours of the day.
TABLE OF CONTENTS FOR EARTHLITE AVILA II MASSAGE CHAIRS
Product Description
Product Features
Concluding Thoughts on Earthlite Avila II Massage Chair Reviews
The Earthlite Avila II massage chair was designed as one of the most advanced of all massage chairs. As such, it is ultra-compact, infinitely adjustable, and ergonomically designed.
Further, the shapes of the seat and the leg – as well as the angles of the chair – were designed expertly. This means that they will maximize your support and comfort through optimal weight distribution.
Additionally, the Earthlite Avila II massage chair comes with a Soft Support cushioning system. When you combine this system with the supple NaturSoft upholstery, you can be sure that this chair will provide the ultimate in durability and design.
With this package, you also get a unique smart seat design that can ensure that you will be able to set it up quickly and efficiently. This is a great advantage in the sense that you don't have to waste valuable time getting this chair ready to deliver its world-renowned massage experience.
In the same way, the massage chair package that comes with the Earthlite Avila II also boasts a carrying case completely with a sternum pad and wheels. This is why the Avila II is among the most popular of all massage chairs among professional massage therapists looking to provide a chair massage.
In particular, therapists can now move from one appointment to the next one without any fuss or stress. If aromatherapy is an integral part of your massages and therapy sessions, then you might also want to the Earthlite Avila II essential oil. With this oil, you can be sure that you will finally be able to add aromatherapy to your massage offerings – a unique selling point that could help you attract more clients.
Apart from the above features, the Earthlite Avila II massage chair also comes with Massage Tools. This feature will allow you to choose the massage bundle that can best suit all your needs. Additionally, this package offers a deluxe massage chair and many other quality physical therapy and massage tools.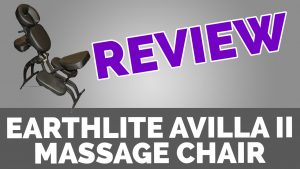 Last but not least, the Earthlite Avila II massage chair is widely regarded around the globe because of its advanced working mechanism. Its unique designs boasts a unique smart seat that can fit everyone and locks right into place. Further, it has 3 quick-release levers that you can use to enjoy infinite adjustability – creating complete comfort while acting as the perfect fit for you and anyone else who uses the chair.
The setup of the seat is also quite fast and incredible simple. You can even make adjustments when the chair is occupied. Similarly, the chair has a handy detachable pouch for watches, jewelry, and other movable valuables – which is useful for professional massage therapists looking to ensure that they are clients are at east with their personal items in close range.
Product Features
The complete Earthlite Avila II massage chair boasts the following features:
At just 22 pounds, the seat is quite lightweight and portable
It can also fit small children, with the maximum working weight set at 350 lbs.
It comes with a deluxe padded Cordura carrying case, complete with wheels
It has 3 quick levers that can optimize the fit of the chair for just about everyone below the weight of 350lbs
It has a patented composite frame
It has space age composite materials that have been pressure-molded into a stable and strong patented frame
It is luxuriously upholstered in 8 different color options (Vanilla Crème, Teal, Sterling, Mystic Blue, Latte, Burgundy, Black, and Amethyst)
It is ultra-compact and comes with an easy setup mechanism
The chair angles as well as the shapes of the seat and legs are designed to improve your comfort through optimal weight distribution
The chair boasts removable pads
The chair boasts soft support removable pads
The chair features the innovative Composite Avila II Frame
The chair features a durable and dependable aerospace carbon fiber construction
The chair package also includes a sternum pad
The chair is stable and infinitely adjustable
The compact design also boasts stainless steel clutches
The Earthlite Avila II massage chair comes with soft support removable cushioning pads that are wrapped in its uniquely supple NaturSoft upholstery to provide additional comfort
The reinforced chest clamp and stainless steel clutches are designed to provide unparalleled stability and strength
When you invest in the Earthlite Avila II massage chair, you will get to enjoy its Lifetime Warranty offering
Concluding Thoughts on Earthlite Avila II Massage Chair Reviews for Rapid City
The Earthlite Avila II massage chair is the most adjustable chair available on the market today. As such, it can comfortable seat anyone between 4' 6" and 6' 6". Further, it comes with a chest pad that tilts and slides, an adjustable armrest, and a fully adjustable face cradle for additional comfort and convenience.
a) Complete Package
The complete chair package is easy to store and move as you prefer. It can fold compactly and also boasts a lined-ballistic nylon carrying cases that features Urethane wheels to ease its portability.
b) High Working Weight
Additionally, the Earthlite Avila II massage chair is made using strong and superlight patented carbon composite frames that also feature replaceable and removable pads. It only weights 22lbs but can hold a maximum working weight of 350lbs.
c) Lifetime Limited Warranty
Last but not least, Earthlite provides a limited lifetime warranty for the Avila II massage chair. This is commendable considering Earthlite is one of the leading manufacturers of massage equipment in the United States.
Earthlite Avila II Massage Chair FAQS
What is the best massage💺 chair?
In this stressful life that is so involving, you need to get massage once for a while. It therefore means that you shall have a👨 therapist who will be able to offer amazing services. However, with the current coronavirus ☠️pandemic, you need to practice social distance and this means that you might not be able to visit a spa. You therefore need to have the best chair and of course some lessons so as you can have your massage from indoors. You need a portable 📍massage chair that is normally used by the therapist to offer such services. It is designed for portability and you can take advantage of these chairs and get a great massage.
How can portable💺 chairs compare with other massage chairs?
For you to achieve the complete massage, it will have to include the back and the neck. You therefore need a📍 flexible massage chair that can allow a therapist to reach every muscle💪🏽 that needs to be massaged.
What should I look for when buying a portable massage 💺chair?
A great massage chair ought to be comfortable for both the client and the 👨therapist. Here are some of the factors that you need to consider;
Quality and🙅 capacity- it ought to be stronger to accommodate different weights of the clients.
The following two tabs change content below.
Guy is a dedicated vegan, who prefers natural remedies to treat root causes of physiological problems, instead of turning to medication to merely treat symptoms. When he learned in December 2017 he was suffering from high blood pressure (hypertension), he turned to massage as a potential answer for his problem. Rather than engage massage as a client, Guy chose to become a massage practitioner and enrolled in the Black Hills School of Massage in Hermosa, SD. He is now licensed to provide Swedish, Deep Tissue and Trigger Point massage among other modalities. He, and his wife Irene who is also a massage practitioner, have joined forces with the Fountain of Youth Waterstore in Rapid City where they provide clients with comforting relief from body aches and pains. Be sure to ask Guy what happened with his blood pressure when you see him for your initial treatment session.
Latest posts by LMT Guy Siverson (see all)