5 Massage Chair Directory Comparisons



Are you looking for a massage chair that can provide a Shiatsu massage? Then you might want to consider reading these Cozzia massage chair reviews Rapid City. A company based in the United States, Cozzia uses the Shiatsu massage system technology to produce chairs for sale all over the world.
The company also uses technology that will closely simulate and copy the same relaxation and therapeutic benefits of getting a massage done by professional back therapists. Additionally, it relies on the highest quality parts to form the various components of their durable products. As such, you can count on your Cozzia massage chair to get years of active enjoyment and relief.
But what are the top massage chairs from Cozzia? Consider the following:
TABLE OF CONTENTS COZZIA CHAIR REVIEWS
Cozzia 16027 Massage Chair Review
Cozzia 16028 Massage Chair (Feel Good Series) Reviews
The Cozzia 16020 Massage Chair Reviews
Concluding Thoughts on Cozzia Massage Chair Reviews
The Cozzia 16027 massage chair boasts a unique design as well as options of brown and black synthetic leather. It also comes with innovative features, including but not limited to:
6 massage options
Adjustment options
Air pressure massage
Auto-body scan technology
Customizable intensity, strength, and speed
Massage length between 5 and 30 minutes
Multiple massages
Vibration option
Zero gravity positioning
When you first sit down on this chair, it will first do a full body scan and take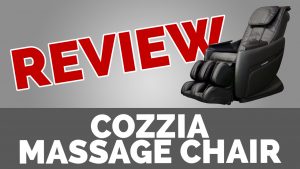 inventory of the size and shape of your body before adjusting the massage experience to meet your needs.
The chair also comes with Zero Gravity technology to adjust your body so that the massage experience is intensified and you receive the highest relaxation possible. This technology allows you to push a button so that you can recline into a position that will place your spine parallel with the group – a position that effectively removes all the vertical pressure being placed on your vertebrae.
In the same way, this chair comes with many amazing features, including a vibration mode, 5 levels of speed and intensity, and 6 massage modes – clapping, tapping, kneading, Shiatsu, and Swedish massage. Additionally, you should choose how long you would like the massage to go on for – mostly between 5 minutes and half an hour.
Since the Cozzia 16027 massage chair has so many features, it should be easy for you to customize it to meet your needs especially. You can perform such customization using the innovative Cozzia wireless controller.
Cozzia 16028 Massage Chair (Feel Good Series) Reviews
Second on our list is the Cozzia 16028 massage chair. Part of the Feel Good Series, this chair will provide you with a full body massage experience. Although it is packed with some amazing features, it is also quite affordably priced – consider it is ranked among the higher end massage chair models.
It also boasts features that are similar to the Cozzia 16027 but with some additional ones, including:
It boasts a heating option that works on the lumbar region
It works in dual action mode with a unique combination of clapping, Shiatsu, kneading, and tapping
Its massage systems relies on quad-style rollers so that you feel like you are being massaged by real hands
The backrest of the chair is designed in the S shape
The chair boasts 6 massage techniques, including rolling, clapping, vibration (for seat rest), tapping, Shiatsu, and kneading
The chair can provide an air squeeze massage because it has 22 air bags
The chair comes with 5 unique programs: full air, therapy, comfort, relaxation, and stretch (in the recline position)
The chair comes with infrared body scans that will adjust the massage experience to your particular body shape and size
The Zero Gravity technology will recline the chair to allow for your back's weight to be distributed evenly for more intensive massage experiences
You can choose whether to get a partial massage or a full body massage
You should be able to adjust the settings for every massage program according to your desired level of intensity and speed
The Cozzia 16020 Massage Chair Reviews
The Cozzia 16020 is a robotic massage chair. Although it is lowly priced, it also has many great features. The design is also amazing – and it is covered in synthetic leather that looks and feels like real leather. Further, the chair is generously padded for additional comfort while the upholstery is nicely tailored. It is available in two color options: brown and black.
The Cozzia 16020 also comes with additional features, including:
For dual action, the chair allows you to combine kneading with another massage technique
It boasts 6 pre-programmed massage modes, similar to those available in the 16027 and the 16028; all modes last for 15 minutes
It provides a variety of massage techniques, including vibration, dual action, clapping, rolling, tapping, and kneading
The auto-scan feature on the Cozzia 16020 can adjust every massage experience to fit your body type, shape, and size
The Cozzia 16020 boasts an air-pressure system for the feet, calves, and seat
There are two main levels of strength, speed, and intensity
Concluding Thoughts on Cozzia Massage Chair Reviews for Rapid City
However, investing in a Cozzia massage chair is a logical decision. In particular, this brand provides a wide variety of unique models that are priced way lower than their competitors in the marketplace.
For the value you stand to gain from the unique features and design of these chairs, you can be sure that they are well worth the investments. Each of these models comes with a variety of options. As such, you should be able to choose the one that is most likely to meet and exceed your expectations.
Overall, if you have been suffering from chronic back pain or you just need a comfortable seat that can provide you with rejuvenation and better health, then you won't go wrong with these Cozzia massage chairs.
The following two tabs change content below.
Guy is a dedicated vegan, who prefers natural remedies to treat root causes of physiological problems, instead of turning to medication to merely treat symptoms. When he learned in December 2017 he was suffering from high blood pressure (hypertension), he turned to massage as a potential answer for his problem. Rather than engage massage as a client, Guy chose to become a massage practitioner and enrolled in the Black Hills School of Massage in Hermosa, SD. He is now licensed to provide Swedish, Deep Tissue and Trigger Point massage among other modalities. He, and his wife Irene who is also a massage practitioner, have joined forces with the Fountain of Youth Waterstore in Rapid City where they provide clients with comforting relief from body aches and pains. Be sure to ask Guy what happened with his blood pressure when you see him for your initial treatment session.
Latest posts by LMT Guy Siverson (see all)