Have you been suffering from chronic pain? Are you a professed hobbyist looking for a good massage chair? Then you might want to read some Beauty Health massage chair reviews.
If you fall into these categories, you might be both intrigued and pleased by the wide range of Beauty Health massage chairs available on the marketplace today. Although most of the components in these chairs are made in China, every model is American made.
Further, Beauty Health has an interesting lineup of products – all of which are characterized by modest costs and impressive functionality. This is because the company uses old technology in combination with the new.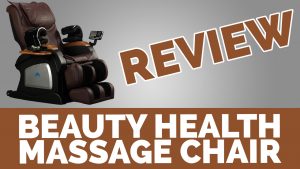 Although this strategy might seem risky, it actually makes sense. In fact, Beauty Health has proved time and time again to be effective at producing high-quality products, as evidenced by any other reviews of Beauty Health massage chairs you might find online.
While it is certainly true that some of their products come with some limitations, the capabilities are far more clear to anyone looking for a high-quality massage chair at an affordable price.
TABLE OF CONTENTS FOR BEAUTY HEALTH MASSAGE CHAIR REVIEWS
Introducing Beautyhealth Massage Chairs
Top Beauty Health Massage Chairs
Concluding Thoughts on Beauty Health Massage Chairs
There are some interesting things to keep in mind about every Beauty Health massage chair you will find out there in the marketplace. For starters, the company uses long Hybrid L/S-track although it sometimes sticks to the cheaper S-track that is currently the standard in the industry.
Beauty Health also focuses on heat – with every model featuring heat massage in one form or the other. The company has also taken advantage of its proprietary Jade Heat technology – which can allow you to control the temperatures of every massage you get.
On the surface, this might seem like a big win. However, the Jade Heat technology has been found to be somewhat lacking. Still, you can be sure that the ability to modulate and control the temperatures of every massage you get from these Beauty Health chairs is a big win all around.
Basically, this technology is a heating pad that you should position manually on those body parts that you need to warm up while getting a massage from these chairs. If you already have a heating pad, then you might not find this technology to be very useful.
Apart from the heating technology common in every Beauty Health massage chair, this line also takes advantage of paired massage balls – especially for the food massage feature. The seats can also augment calf massage.
This is an unusual proposition – one that you might not be able to find from another mainstream brand of massage chairs. This is because rollers might do a better massage on your calves.
Still, it is an enviable cost-saving measure. Additionally, since it won't degrade the overall quality of your massage experience, you can be sure that you are going to enjoy it.
Over and above everything else, the main unique selling point for Beauty Health is its ability to blend old technology with new. The company has managed to do this quite successfully – to such an extent that it has even carved out a unique niche for itself within the massage chair marketplace.
But what are the top massage chairs from Beauty Health? Read on to learn more:
Top Beauty Health Massage Chairs
Apart from Beauty Health massage reviews, you might also want to read Brookstone Massage Chair Reviews, Cozzia Massage Chair Reviews, and Daiwa Massage Chair Reviews to learn more about other similar products on the marketplace – products that could also provide you with an experience similar to the ideal Beauty Health Massage.
That said, the following are some of the best products from the Beauty Health line of products:
Beauty Health IDEAL Luxury Shiatsu Chair
The Beauty Health IDEAL Luxury Shiatsu Chair comes with the following features:
It boasts Body Scan technology to ensure that you get a massage customized to you
It features 3 true zero reclining positions that can relieve pressure on your spine
It has a double layer cushion and a neck pillow
It has a seat vibrator to provide special buttock massages
It includes options for manual and automatic mode, depending on what you would like
It provides an individual smart shoulder and arm massager
The back padding is removable for improved neck massages
The foot massage experience is accentuated by six stimulating and kneading rollerballs
The operating system is super quiet
The product comes with inbuilt back heat therapy for relaxing tired muscles
The product provides head to toe experiences anywhere between 5 and 30 minutes
The S-track rolling system on this chair is ergonomically designed
There are therapeutic airbags inbuilt for the seat, arms, calves, feet, and shoulders
You get to choose from 4 auto-program options, including vibrating, spinal rolling, kneading, and Shiatsu massage
Authentic Beautyhealth Shiatsu
If you invest in the Authentic Beautyhealth Shiatsu massage chair, you can be sure you will be making a wise choice. It has been hailed as one of the best options available online today. This is because it can provide outstanding massage experiences with a concentration on different parts of your body, as well as effective heat therapy.
The Authentic Beautyhealth Shiatsu from Beautyhealth also boasts a sophisticated design since it uses state-of-the-art technology to provide you with every benefit you would get from a full body massage.
Additionally, it has 69 airbags – although most of the air massage functions will focus on your lower body. If you are looking for a systematic massage experience, however, you can rest assured that this chair has synchronized MP3 massage options. Therefore, based on the frequency you choose, it can trigger changing intensity and speed for calf, buttocks, and back massage.
Concluding Thoughts on Beauty Health Massage Chair Reviews
From the above reviews, you can be sure that Beauty Health has some amazing products in store for you. Both of these choices are robust – especially if you consider that they use a blend of old and new technology.
Although these chairs are by no means perfect, they are much better than any other model you might find in the marketplace today. For instance, they use first generation massage balls and airbags.
Overall, therefore, Beauty Health has done a good job by releasing these chairs – which will not try to go overboard. If you are looking for a reliable massage chair, therefore, you might want to give these products a try.  If instead, you wish to find a Massage Therapist look for one online who has been correctly positioned by their Digital Media Marketing Consultant.
The following two tabs change content below.
Guy is a dedicated vegan, who prefers natural remedies to treat root causes of physiological problems, instead of turning to medication to merely treat symptoms. When he learned in December 2017 he was suffering from high blood pressure (hypertension), he turned to massage as a potential answer for his problem. Rather than engage massage as a client, Guy chose to become a massage practitioner and enrolled in the Black Hills School of Massage in Hermosa, SD. He is now licensed to provide Swedish, Deep Tissue and Trigger Point massage among other modalities. He, and his wife Irene who is also a massage practitioner, have joined forces with the Fountain of Youth Waterstore in Rapid City where they provide clients with comforting relief from body aches and pains. Be sure to ask Guy what happened with his blood pressure when you see him for your initial treatment session.
Latest posts by LMT Guy Siverson (see all)